To book a consultation with a House of Travel Otago specialist in Dunedin, Alexandra, Oamaru, Wanaka, Balclutha, Cromwell or Queenstown please refer to the contact details here. 
For quite some time now Vietnam has grown as an extraordinarily popular destination for travellers from our region. Beautiful beaches, sense-punching cities, delicious cuisine and direct flights from NZ to Ho Chi Minh with Air New Zealand, there's every reason to visit Vietnam. For the romantics amongst us think of all that glorious food you can share, the sunsets (and sunrises) you'll ​see together, and tandem rides through rice paddies and emerald waters, ​on bikes, kayaks and pedalos. For those of us with kids thinking Vietnam is the preserve for backpackers and couples, think again. For families in search of a holiday with a difference, step away from the obvious and into the remarkable and experience an inexpensive and vastly rewarding destination.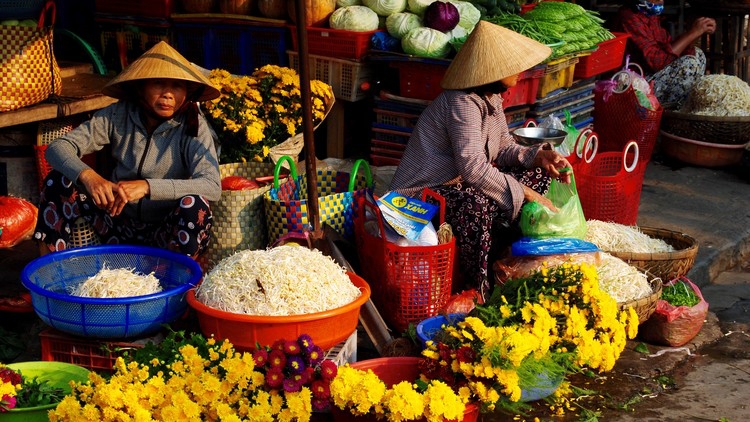 For Tony (Dunedin) he and his wife had wanted to take his boys somewhere extraordinary for ages. They had previously travelled as a family well-worn routes through North America and Australia but now it was time to challenge everything the boys thought they knew about the world. Vietnam was selected in the hope it would provide a physical, emotional and sensory experience the boys would never forget. For other House of Travel specialists travelling to Vietnam the reasons varied but a fascination for the exotic is a constant theme. Indeed Ashleigh (Balclutha) is there right now extending her comfort zone. Ashleigh (Alexandra) hit Ho Chi Minh City via a new and  different route, Guangzhou on China Southern Airlines. For Stephanie (Dunedin) it was a journey of discovery with a newly acquired husband. The intrepid Amber (Cromwell) travelled by overnight train spending three days hiking through rice paddies with a local guide, staying with a family in their home, drinking homemade rice wine and learning about the Hmong tribes and their way of life. Gary (Dunedin) and Maxine (Balclutha) have also experienced this amazing country.
The geography of Vietnam lends itself to travelling in one direction north to south or vice versa with international airports at either end of the country in Hanoi or Ho Chi Minh. If you were to start your journey in Hanoi we would recommend a transfer straight to accommodation in the old quarter amongst the hubbub of metropolitan Vietnam. Your first meal should be 'Pho', can there be a more delicious revitalising concoction known to man? Chicken broth, noodles, spring onions, chicken or beef, red chillies for a touch of heat and the coup de grace, a splash of lime. 
An introductory tour of Hanoi would include the Temple of Literature and, for the dedicated, a visit to the Mausoleum of Ho Chi Minh. However the city is also an artsy mix of good looks and entertainment, with a thriving art scene and plenty of contemporary charm. You'll find a little nugget of Paris in the French Quarter and bars spilling into narrow streets in the Old Quarter. But nothing eclipses the West Lake; locate corner cafés down its back alleys and drink coffee on the pavement, ride chintzy duck pedalos and stay until the sun goes down; enjoying Vietnamese Bia Hoi beer and an unforgettable sunset. 
North of Hanoi lies Sapa and for most a train journey by night. Although you can pay for various levels of accommodation on board be prepared for a noisey, bumpy old journey, kids love it! Amber would recommend only going to Sapa if you are intending to trek. The town is ok but not worth a visit of itself and you will see why once you head out into the wilderness along the Chinese border undoubtedly in the company of some Black H'Mong women. Rice paddy upon rice paddy dominate the scenery through the narrow, steep and twisty paths. The people will generally be indifferent to your presence along with the buffalo, pigs, dogs and chickens. There is also an opportunity here to live with the locals in homestay accommodation.
One thing to note about the traffic amid all of the horror stories is that no-one wants to have an accident and you are not specifically targeted by motorists when crossing the road. The pace is all very sedate, drivers and pedestrians just need to know what your intentions are so the rule of thumb of maintaining your pace as you cross the road is important. The motorists will adjust so you and they arrive safely.
Probably Vietnam's most famous attraction, the gorgeous Ha Long Bay is a collection of thousands of rainforest clad islands rising spectacularly from the ocean across this massive bay. The islands are dotted with small beaches, some of the world's biggest caves, and abundant wildlife. Visiting the bay on old Chinese junk style boats for one or two nights is the best way to see this UNESCO World Heritage site. Visiting Halong Bay from Hanoi offers two routes, one by road and the other by seaplane. If your budget can stretch to the sea plane this would be preferred as the four-hour journey by road is unremarkable. You will quickly get over it as the experience that awaits you is wonderful. Tony and his family spent the afternoon kayaking among the rocks and taking time out to play on one of the many small inlet beaches. The area was beautiful and serene. You also indulge in some squid fishing, tai chi and take some cooking lessons. 
Heading south by train, plane or automobile, Hue is very much worthy of consideration, the cultural heart of Vietnam. Hue is also an area where you can indulge in your undoubted fantasy to take on Vietnamese traffic by riding pillion on motorbikes. This option can be taken in many cities as part of a culinary or sightseeing tour. Our favourite motorbike guide in Hue is Mr Tam. A freelance journalist and son of a Vietnam war correspondent he adds contemporary relevance to ancient structures. For example the citadel is worth visiting in itself but Tam will take you through the history of the Citadel but adds his personal recollections of the 'American' (as the Vietnamese call it) War. The Citadel saw some of the heaviest ground fighting through the pivotal Tet offensive and was subjected to heavy aerial bombardment destroying many of the buildings. Tam's description of how they packed up their house during offensives and hid the house and themselves underground will remain long in your memory.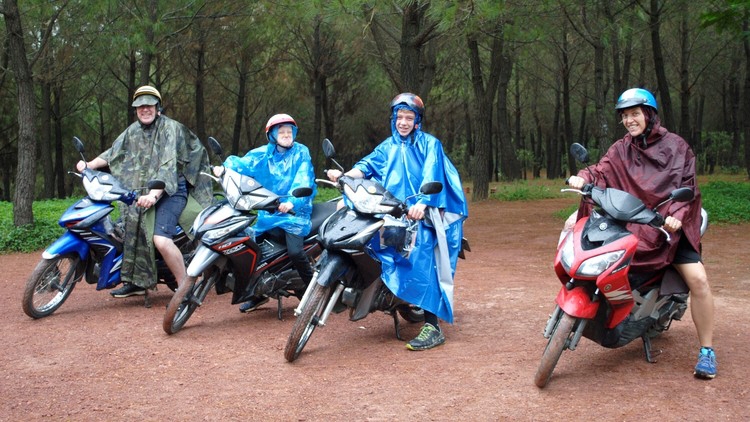 Most travellers will take the drive from Hue through Danang and over the scenic Hai Van Pass to Hoi An. If you are looking to relax at any point during your journey Hoi An presents an ideal opportunity with several well developed resorts on the coastline not too far away from the iconic town itself. Hoi-An is your immaculately preserved trading port, where silk lanterns adorn the trees and glistening eateries tickle the water. Borrow vintage bikes and navigate the narrow alleyways, stopping at Secret Garden Hoi An; the city's best kept dining secret and hidden down a lane off Le Loi Street, it's also the most peaceful sanctuary in Hoi An. Devour freshly baked bánh mi and explore Ho An's ceramic art scene, you could even try your hand at a potter's wheel. Timing is quite important when visiting Hoi An and we would suggest an early morning start to see the town in its' magnificence as the sun rises and the markets begin to open. 
Ho Chi Minh City, or Saigon as most Vietnamese seem to call it, is the big brash cousin to the quieter Hanoi. Iconic hotels abound, with sophisticated culinary and shopping options. From Hanoi, you can take a couple of day trips to the Cu Chi tunnels and Mekong Delta. One of the most popular attractions in Vietnam are the  underground tunnels built by the Viet Cong. The tunnels were central to the Viet Cong resistance, and as well as giving troops a safe way to travel about the country, they also housed hidden living quarters, weapons depots, and even hospitals.
It's not right to say the Cu Chi tunnels are fun but it is likely if you are travelling with children that they will have a complete blast rummaging through the microscopic tunnels. Adults will no doubt take a soberer approach given the Viet Cong never designed these for 6 foot 2 Anglo Saxon males. Before you experience the tunnels a demonstration of how the Viet Cong booby trapped this area is presented to you. This is a stomach churning affair. The traps were as ingenious as they were macabre. The air around the tunnels is punctuated by violence with the sound of automatic gunfire emanating from the firing range. 
You can complete your war education with a visit to the Presidential Palace and the  War Remnants Museum (careful with kids here, some of the images are graphic). 
My Tho, two hours from Saigon is the staging point for trips to the Mekong Delta. A visit here will highlight life on the islands and inlets of the delta. A highlight might be as simple as coming across a chap wandering through one of the canals plucking prawns from the riverbank for his lunch. Amber mastered the art of chopsticks here! Taking a private tour from Ho Chi Minh City, staying overnight with a local family and asked to help with dinner Amber entertained her hosts for hours as she mastered the art form!
For more in depth detail of Tony and Stephanie's journeys check out their blogs here: http://bit.ly/TonyVietnam and http://bit.ly/StephanieVietnam.