Inspired by the looks from this year's iD International Emerging Designer Awards, Brittany Pooley views this season's trends through the lens of local photographer Jodie Gibson.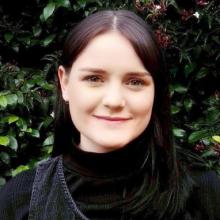 Every year, iD Fashion Week invites a string of international emerging designers to liven the Dunedin fashion scene at the iD Emerging Designer Show.
With high stakes, the selected 44 emerging designers brought their A game to the catwalk.
The spectacle of fresh, innovative collections created an awe-inspiring visionary experience but at their heart there are some wearable concepts.
This year, with the help of local photographer Jodie Gibson, I spot the trends that can inspire your winter wardrobe.
Headwear
Our top winter accessory takes inspiration from the show of winner Damir Begovic.
Headwear, such as a knitted balaclava, is big this season. Knitted headwear has appeared on international catwalks with pieces designed by Marc Jacobs, Gucci, Calvin Klein and Dior.
Begovic's 2018 collection ''Ex-Vonia'' featured a series of inspiring headwear, using the traditional techniques and motifs of Slavonian folk costumes. Begovic used an eclectic array of materials to create his vision.
Over the five looks of his collection were glimpses of gold, silver, leather, wool, fur, glass, velvet and PVC.
To align with this trend, opt for statement headwear pieces that also function to keep you warm this winter.
Kitsch knits
Auckland emerging designer April Gourdie's digital knitting embodies the ''Kitsch Knit'' trend this winter.
With colours and drawings taking us back to our childhood years, Gourdie's collection ''Playtime Download'' delighted the audience this iD Fashion Week with feelings of nostalgia.
To jump on this trend, take a playful approach to your grandpa's token knit. Opt for oversized silhouettes, colour and layers. Get thrifty and have a dig through your local op shops. If find you are drawn to duller shades, then style with more flamboyant pieces to bring in an element of fun.
Go big or go home
The silhouette of this winter season is go big or go home. Think outside the form with oversized woollen coats, leather trenches, volume through faux fur, draped capes and thick knits.
Take inspiration from New Zealand designer Ariane Ilagan's collection ''MONSTERS'' which exaggerates clothing to create monstrous versions of our everyday wardrobes.
Ilagan's chunky hand-knitted jumpers invite us into the warmth of the winter season.
To align with this trend, overstate your outerwear with garments that are oversized and chunky. Go for anything that obscures the body and keeps you warm over colder months.
Loud logos
Logos are back in a big way. Whether they're embroidered, printed or woven, brand logos are everywhere this season.
Take inspiration from English designer Jasper McGilvray. Adorned with applique and beading, McGilvray's pieces are plastered with branding, a reflection of British drinking culture.
The ''Loud Logos'' trend kicks back to the early 2000s. To get on board, wear your logos bold, scaled large and with a hint (a lot?) of irony.
Embroider-me
Hong Kong designer Hiu Ching Leung's collection ''Pique Nique'' inspires this winter's ''Embroider-me'' trend. Leung's collection elevates craft and fashion with hand-embroidered children's drawings on contemporary silhouettes.
Leung's fashion is designed to encourage self-expression at any age. The ''Embroider-Me'' trend has emerged from the slow fashion movement where we are urged to engage in practices of upcycling and mending.
To craft the ''Embroider-me'' trend, take your needle and thread to an existing jacket or coat from your wardrobe to give it new life this season.
Whose is whose?
The show saw a series of androgynous collections challenging fashion norms.
Local Dunedin designer Dylan McCutcheon-Peat's collection ''Is he a tomboy?'' stood out as a crowd favourite.
McCutcheon-Peat unifies the complex tailoring of traditional menswear with the delicate conventions of women's lingerie to challenge pre-existing ideas on gender, sexuality and their role in fashion.
This season, gender lanes continue to merge. Do not be confined to the notion of his and hers; build your winter wardrobe around what fits for you.
Accentuated sleeves
For the past two years, the trend of accentuated sleeves has transcended multiple seasons. This winter is no different.
Be inspired by English designer Jade Shields' collection ''The New Romanticist''.
Shields' designs take themes from the 18th-century Romanticism movement and seek to challenge gender roles.
Through her collection, she exaggerates male dress through accentuated sleeves made of fabrics that are typically used in womenswear.
You can experiment with this trend through your winter wardrobe by making a statement with your sleeves.
Seek out fabrics that are gathered, tied, tiered or flared. Find balance for the volume of the sleeve by styling the lower half of your look with a straight silhouette.