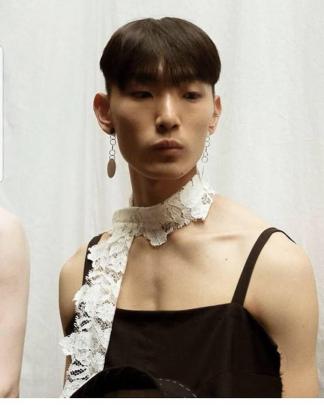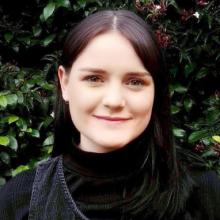 Emerging designer Dylan McCutcheon-Peat walked the international stage at London Fashion Week last month. Brittany Pooley finds out more about the Otago Polytechnic graduate.
Known over the years for his iconic personal style, Dylan McCutcheon-Peat has always been one to stand out on the streets of Dunedin.
Last year, he caught the attention of the local fashion scene with his graduate collection ''Is he a Tomgirl?'' at the Otago Polytechnic Graduate show Collections '17. This May, his collection was featured in the iD International Emerging Designer Awards as part of iD Fashion week.
McCutcheon-Peat continued his international streak this month when he took his collection abroad for the Swarovski International Catwalk Show at Graduate Fashion Week in London.
Considered to be the world's leading event for international emerging fashion design, this experience was something to write home about.
This week, he did just that. McCutcheon-Peat talks being local, London Fashion Week and travel.
Q Tell us about your experience at London Fashion Week.
The Truman Brewery was open all week with exhibitions from fashion schools from all over the UK. We were able to see the portfolios of the students as well as their garments.
It was a great experience to chat with various students about their collections and schools. Throughout the week there were talks and interview panels with people who work in the fashion industry. My favourite was a talk on mental health in the fashion industry.
The Swarovski International Catwalk Show was earlier this month. The show consisted of six-outfit collections from around 50 designers from all over the world.
Following the show was a reception at which I was able to talk with various fashion professionals as well as lecturers and students from the different institutions.
Q What led you to London Fashion Week?
I was selected by Otago Polytechnic as one of the top students in my graduating year. The selection was based on my graduate collection ''Is He a Tomgirl?'', which I developed during 2017 and extended for Graduate Fashion Week in 2018 by adding a sixth outfit.
Q Who were the key players on your journey with London Fashion Week?
I'd like to thank Otago Polytechnic for selecting me to represent the school as well as all the design lecturers for their support. It would not have been possible without Dr Margo Barton.
She is an incredible asset to the polytechnic - it is her connections and efforts that give students these opportunities. I was awarded funding by the Education Foundation to help me get to London. I'd also like to thank Ariane Bray for accompanying me on this journey.
Q What was the most valuable thing you learned from London Fashion Week?
The importance of connectivity. Having this opportunity has allowed me to meet and learn from key people in the fashion industry. The exposure of my work has been very impactful too, as Graduate Fashion Week is a huge international platform.
Q Where did you grow up?
I grew up in Dunedin and was mostly raised by women - my significant role models were my mum and nana. I think my interest in and respect for femininity grew out of these close relationships. I have two older sisters whom I would often play dress ups with, perhaps the start of my curiosity in clothing and gender.
Q What lead you to study design?
I had always been really interested in fashion, but it was modelling that introduced me to the design school. Often, the lecturers would encourage me to study fashion design as I had quite a distinctive style. After completing my studies in photography, I decided fashion was the career path I wanted to pursue.
Q Who are the key fashion influencers that have impacted your design identity?
When I started I was inspired by the Japanese designer aesthetic (as many are), including Juun J and Yohji Yamamoto. As I continue to developed my signature design style, I have started looking at art and film as my main influences. A favourite inspiration is Austrian painter Egon Schiele, whose paintings explore sexuality in an often vulgar style.
Q Has growing up in a fashion-oriented city like Dunedin influenced your design aesthetic?
While Dunedin is a great town for fashion, I have experienced that it can still be quite conservative in relation to men in fashion. This encouraged me to investigate the relationship between masculinity and clothing that my graduate collection was based on.
Q How does your personal style and identity play into your designs?
It is very much a personal story. My designs are a reaction to my experiences dressing in what is traditionally considered a feminine way, without wanting to reject masculinity. The designs aim to provoke the viewer and make them question the separatist way that we label people and clothing.
Q What are the key attributes of a Dylan McCutcheon-Peat design?
Traditional tailoring, the questioning of gender, a slow fashion approach, natural materials and handmade by the designer.
Q The culture of disposability is so topical in fashion today. What are your thoughts on the industry slowing down and shifting to a more sustainable model?
I operate as much as possible within a slow fashion context, and so I am fully supportive of the industry moving to a more sustainable model. I believe it is an integral move for fashion as fast fashion is exploitative of people and resources. As I establish myself, I want to offer bespoke garments for people that have emotional physical durability.
Q Where do you see your designs next?
I am hoping to collaborate with other creatives to further showcase my work, as well as developing a new collection.
I am taking a few months to travel in the UK and Europe before relocating overseas. I hope to set up a studio where I can begin designing again.