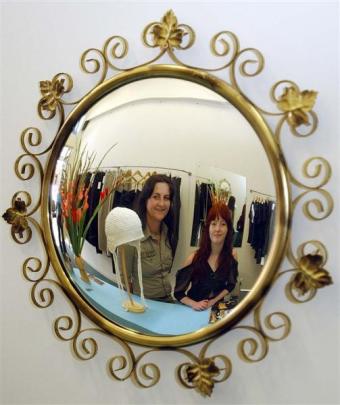 As Dunedin clothing store Belle Bird Boutique marks its 10th anniversary, Amy Parsons-King talks to owner and designer Shelley Tiplady.
Shelley Tiplady always envisioned a career in the fashion industry but she could not have anticipated the twists and turns of the journey she would take to arrive there.
''At the age of 13 I decided I wanted to be a fashion designer. I remember cutting up clothes, redesigning them and adding bits to them and was always a hoarder of vintage clothing, as well as an avid op-shopper,'' she recalls.
By that time she was living in Auckland, having earlier moved with her family from Wellington, and it was in the northern metropolis that she signed on to make her dreams reality.
First up was a fashion design course at AUT before an apprenticeship as a cutter for a cutting contracting firm. Then she headed overseas.
''I did a lot of travelling and worked random jobs like as a gardener, in a carrot factory and in the UK's first cyber pub before I got a proper job as a cutter and pattern-maker for a uniform company in Nottingham.
"It was such a great experience working there because we did a lot of tailoring, using traditional techniques, which has really helped with my own labels.''
After two and a-half years travelling, Ms Tiplady decided to return to Auckland.
However, it wasn't long before she was on the move again as her ''travel bug'' prompted her to explore New Zealand.
It was on a trip to Dunedin to visit a friend that Ms Tiplady fell in love the city and decided to make it home 17 years ago.
When Ms Tiplady first settled in Dunedin she began studying towards a computer science degree at the University of Otago and it was almost by accident, while walking past Otago Polytechic's fashion school that another possibility occurred to her.
''It was just by chance that I was walking past and wondered if I could get into second year, because I had a lot of experience working in the fashion industry.
"It just so happened they were holding the last of the interviews the following day, so I interviewed and they accepted me.''
Ms Tiplady went on to graduate from fashion school two years later, in 1999, with a diploma in fashion design.
With her new qualification and skills, she was eager to start her own label, but did not have the money to do so.
It was at this time that she and fellow fashion school student Catherine Callanan first began developing the concept of a fashion incubator.
''Cat and I both wanted to start our own labels, but neither of us had the money to do so.
"We knew Dunedin had been a textile industry hub years ago and that there was a lot of unused machinery sitting around in factories.
"Initially the concept was pretty basic, we were just hoping some people could lend us some machinery and that we could get a few people together to get a space and split the rent.''
Ms Tiplady and Ms Callanan approached the Dunedin City Council with their idea to see if there was any funding available for that sort of venture and were met with enthusiasm.
Before long the concept had become much bigger than either woman had ever anticipated, with a board being established and a general manager employed to oversee the project.
One year after their first meeting at the city council, Dunedin's fashion incubator was established and Ms Tiplady and Ms Callanan, with two other fashion designers, moved into their first studio space on Princes St.
The Dunedin Fashion Incubator (Dfi) is still operating and is now a part of the Otago Polytechnic School of Fashion.
It continues to support the next generation of fashion talent in New Zealand by offering low-cost resources, mentoring and networking opportunities.
• Both women enjoyed success during their time at the fashion incubator, each launching clothing labels and selling to the local and national market.
Ms Tiplady also showed her label Akimbo at New Zealand Fashion Week in 2001 as part of the Next Generation Show, as well as at Dunedin's iD Fashion Week for four years running.
In 2002 the opportunity arose to take over the lease of the George St clothing store formerly known as Atria and Ms Tiplady and Ms Callanan jumped at the chance to have their own outlet.
''Cat and I wanted a place where we could sell our own labels as well as other people's. We needed the assurance of weekly income because there are too many risks when you're a small wholesaler.''
The pair immediately changed the name of the store to Belle Bird Boutique and began stocking up-and-coming designers, as well as their own labels.
Shortly after opening the store they decided to create a single label under the Belle Bird brand.
In 2006 Ms Callanan left Belle Bird to pursue another career in the fashion industry, while Shelley stayed on to develop and expand the store and the Belle Bird label.
The boutique now stocks about 25 up-and-coming and established Australian and New Zealand labels including Karen Walker, Lonely Hearts, Deadly Ponies, Kate Sylvester, Coop, Miss Crabb and Meadowlark, as well as local label Mickey Loves Mallory, the new label by designer Cherry Hart, who previously co-designed the popular Dunedin brand Cherry Cotton Candy.
In 2009 Ms Tiplady took time off working full-time in the store and on the label to start a family, returning in 2012 to concentrate on the business, with a particular focus on Belle Bird's developing online store.
''I'm really happy with how the store's going, I have some great staff on board, including an amazing machinist who's been sewing for me for the last 12 years.
"I plan to continue to expand both the physical and online stores and am excited about what the future holds for Belle Bird.''
- Amy Parsons-King