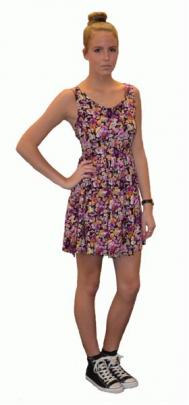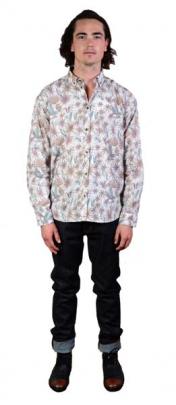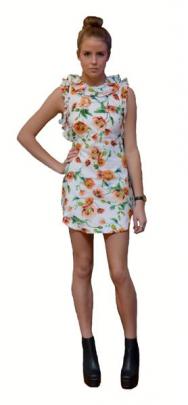 Flower is the fashion power this summer, Emily Cannan writes.
As the weather is warming and gardens are coming to life with new blooms, a huge surge in floral patterns and bright colours is also walking our famously black-on-black-on-black Dunedin fashion streets. A wide variety of shops, styles and garments are taking spring literally, using everything from bold tropical prints, to subtle paisleys, clashing floral combos, vintage florals and bright candy hues.
Denim is looking refreshed with many stores and designers offering a variety of floral skinny jeans. Floral jean-styles at Glassons ($49.95) are proving hugely popular, and the newly remodelled store is currently flooded with spring items. Floral lace in creams and salmon tones feature on the racks, next to bright floral shift-dresses and neon accessories.
Even socks are looking pretty in prints and bright colours with lace trimmings.
Evie Forno, owner of Quest Skate Store, has noted the increase in popularity of floral designs this season. Even in men's ranges, brands like Allabouteve, Jorge and Afends are all in on the floral buzz.
"Most of the women's brands, and a few of the men's feature floral on various garments in their collections - it seems like more earthy tones for guys, and girls with pinks, white and lilac."
"We have nearly sold out of all our men's pieces, and the Afends 'Fixed & Broke' shirt ($109) has been a standout.
"In the women's ranges, the amazing 'Lizzy' blazer from Jorge ($129) has sold really well. We've seen loads of women's pants in floral prints, dresses, shirts and hats. So far it seems that pants and dresses are where the floral's at."
Slick Willy's owner Amy Henderson isn't surprised by the floral trends this season,"I think floral has always been fashionable, it has been on our shelves as long as I can remember and there is plenty more to come - even for winter 2013 too. I noticed this year at fashion week the trend is to be super matchy-matchy, wearing the same print on the top as on the bottom - cool if it's done right.
"We had a Stolen Girlfriends Club poppy-print T-shirt dress arrive last week and sell out within one day. This print is super-popular - partly because of the design, but I think it's mainly because this designer is really popular too.
"My own favourite piece at the moment is the silk floral and dagger print by Blak Luxe. I love the colours she has used and I think it's cool she mixed something so feminine with daggers for a bit of a subtle bad-ass feel."
If you're not sure about committing to a fully floral outfit, why not add a subtle touch of spring in your accessories?
Sunglasses, bags and clutches, scarves and jewellery are all getting in on the bloom factor.
At Andrea Biani shoe store "Damsel" platform boots by Jeffery Campbell ($199) are finished in a classic floral tapestry fabric and though reasonably high-rise, would be an eye-catching option in any wardrobe. The Briarwood collection of leather clutches and bags are also spring-focused, particularly the larger "Findlay" bag ($399) in soft red leather with floral impressions.
For more wallet-friendly additions to your wardrobe check out Kmart's wide selection of clothing for spring and summer - chiffon floral singlets and floaty maxi-dresses in bold prints.
So brighten your wardrobe this spring and summer, invest in a bold floral print, or keep it subtle with some vivid accessories ... either way, just think bright, vibrant, colour!
- Emily Cannan.