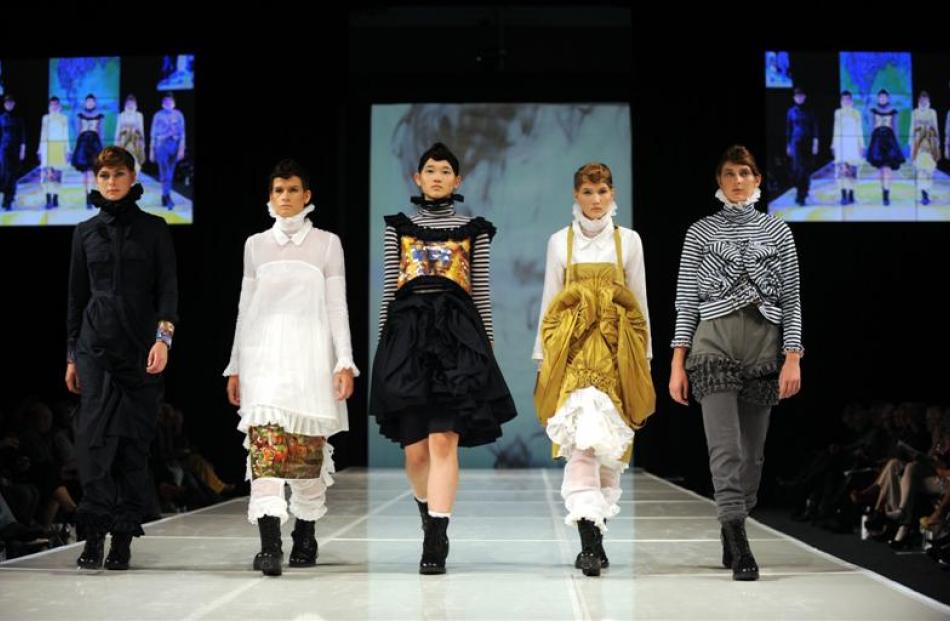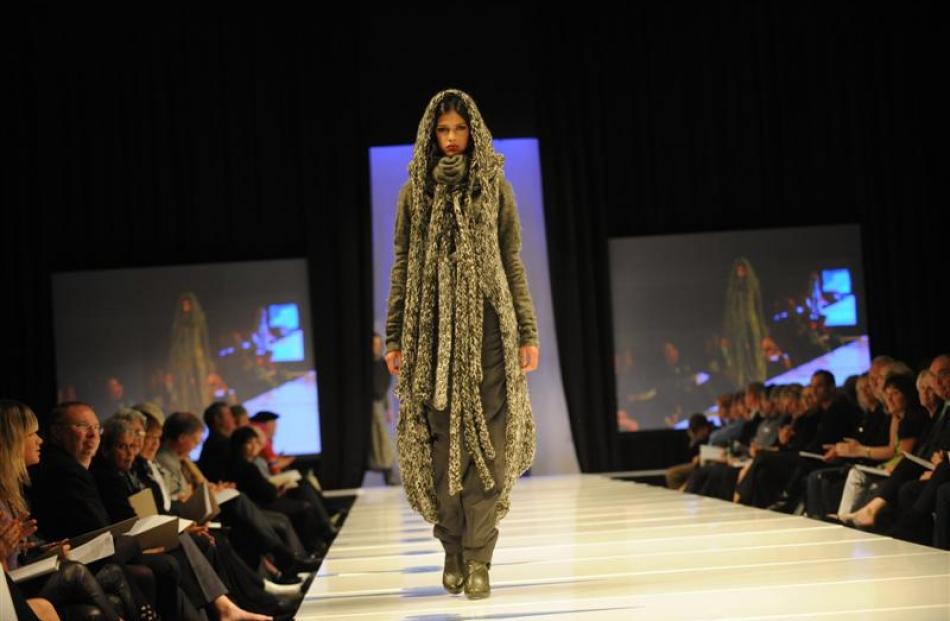 The iD Dunedin International Emerging Designer Awards is a global competition that attracts top fashion identities to its judging panel. This year, Australia's highly regarded Associate Prof Karen Webster is one of the judges. She talks to Jude Hathaway.
When Associate Prof Karen Webster, one of the most respected fashion figures in Australia, joins the other luminaries on this year's judging panel of the iD Dunedin International Emerging Designer awards next month, she will do so with a clear picture of what she is looking for in a winner.
''Innovation,'' she says, ''is absolutely vital. So is a point of difference. If a young designer looks as though he or she has mimicked or taken an international designer as a direct reference, I say that we do not need to do that - that we are better than that and we can have our own handwriting.''
She will also be looking for a level of manufacturing quality.
Other more nebulous aspects of a design can come into play and this is when Prof Webster, who is deputy head of fashion and textiles at RMIT University, Melbourne calls on intuition built up in more than 30 years at the forefront of the industry.
''Sometimes it is hard to pinpoint exactly what it is about a young designer's work that stands out, but you see something that is significant, that is right for the moment, is beautifully thought through and that you know will contribute and make a difference to the future of fashion. It's something about the design that blows you away.''
Since the Dunedin event began in 2005, Webster's chances of attending have been thwarted by her long-time commitment to the Melbourne Fashion Festival as a board member and, latterly, as the director.
''Until this year, the dates of the two events have clashed, but this time the iD awards are a little earlier and the festival a little later. I'm celebrating!''At this time of the year, she points out, there is a lot happening globally, including the major fashion shows in Europe, and it is good that the southern hemisphere events remain on the fashion world's radar and continue to attract wide interest.
The RMIT University's School of Fashion and Textiles has been closely engaged with the emerging designers event since it began as a small transtasman competition in 2005. Each year it has grown, garnering further international attention, illustrated by the fact that this year, 31 finalists representing nine fashion schools from five countries have been selected from 100 entries.
''What I love about it is that even for a small city such as Dunedin, the awards have such a global impact,'' Webster said.
''There are not many global awards events that attract the calibre of entries that the iD Dunedin event does. Just look at the array of finalists. They are from top-tier institutes from around the world. That Dunedin is now positioned as a premium award is fantastic.''
Webster recognises the contribution Dr Margo Barton, of Otago Polytechnic, has made to shaping and nurturing the successful event.
''You need someone with that degree of passion, vision and professionalism running something like this.''
The international clout of the competition has direct spin-offs, such as the ability of the organising committee, of which Barton is a member, to secure the services of highly regarded fashion representatives such as Webster. She will judge alongside UK celebrity milliner Stephen Jones, who has created headwear for a ream of international fashion designers through the years. They will be joined by high-profile Australian fashion writer and commentator Glynis Traill-Nash, who was most recently fashion editor of the Sunday Telegraph and has been a front-rower at fashion shows and events from New York, Paris, Milan and Berlin to Auckland.
Webster's long career in the industry has included being a designer, an academic, a public speaker and a consultant. Her knowledge and experience across many aspects of the industry, including consumer analysis, design directions and cultural trends, makes her a highly sought-after public speaker and consultant.
In 2010, she was appointed as the first female board director of Australia's premier fashion industry body, the Textile and Fashion Industry Association (TFIA), and chairwoman of the Australian Fashion Council. She has also served as a member of numerous government committees and advisory boards.
After her formal training at RMIT University, she was employed as a designer in Melbourne and Sydney before moving for a three-year stint in London, where she worked with large-scale commercial design teams creating lines for then fledgling retail enterprises such as Top Shop, H&M and Miss Selfridge while they were building their profile. She also provided fashion forecasts for Australian companies. Three decades later, she finds fashion as exciting as ever.
''Fashion is about change. It is also sensitive to what is happening culturally, acting like a social barometer, reflecting the way society moves and the way that we behave, and I don't personally think that one era is a healthier era than any other.''
She is seeing a return to the unique, to creativity, to the appreciation of vibrant design. She cites some of the big fashion groups that are reassessing how they present their clothing and looking to garments that are more distinctive and well designed.
''This is a global phenomenon. We've moved away from the days when designers sat and drew designs while pattern-makers and seamstresses stood by ready to grab them and realise the dream.
''We now have creativity happening in every corner of the earth. We can live and work anywhere and be a creative force.
''That's one reason why the Dunedin event is so successful. Designers can be anywhere in the world and creativity will prosper.''
Webster also believes that the opportunities for young designers are greater than ever.
''Our former students are more in demand in top fashion houses in New York, London and Paris than ever before. Today, a student can create a digital portfolio and present it online, putting them in the running for a job anywhere in the world.
''The shift has been phenomenal and we need to leverage off that on our side of the world and take advantage of it,'' she said. She points to the fact that Australians and New Zealanders have the benefit of their ability to look outwards, absorbing global trends, then adapt these trends into something uniquely theirs.
So what about the impact of chain stores and mass-produced, disposable fashion?
''It's simple. We just don't even try to compete. People on the street will suddenly tire of all the cheap crap and demand something better, something different that they will love for years,'' she says.
''This is our point of difference - our niche.''
---
See it
• The iD Dunedin Emerging Design Awards event will be held in the Lion Foundation Arena at the Edgar Centre, Portsmouth Dr on Thursday, March 14. Tickets are available from TicketDirect venues (including the Regent Theatre, Dunedin), 0800 4 TICKET or online at www.ticketdirect.co.nz. A booking fee applies.
• Prof Karen Webster will give a public lecture on ''slow fashion'' on Tuesday, March 12, at midday in the Dunedin Public Art Gallery - gold coin donation - door sales only.
---