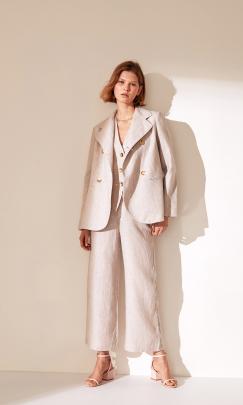 As hot weather hits, Brittany Pooley decodes the workplace dress code to find fashion that reflects the summer season.
Styling for work can be challenging in the warmer months - all the more for those battling a workplace dress code.
Although the sun shines on, the majority of us will be working indoors for the remainder of summer. But this does not mean we have to deny the beautiful weather happening outside.
Maintaining a summer feeling can boost morale and make for a happier, more lively work environment.
The Fabrics
First and foremost, it is important to know what fabrics to look for when styling your summer workwear.
Be sure to avoid synthetic fabrics such as polyester when selecting your workwear. Polyester is commonly found in corporate suiting and tends to retain heat and trap dampness.
Fabrics of natural origin such as cotton, linen and hemp are the most ideal for a warmer workplace. Their natural fibres breathe and wick away moisture, giving you a cooling effect throughout your day.
Seek them out in summer shirts and tees, wide legged trousers, cropped pants, summer blazers, camis and more.
Second best to this is rayon, due to its breathability. Keep in mind that rayon, though made from wood pulp, is still a manufactured fibre and will not wick away moisture like its fully natural counterpart.
The second thing to consider after fibre content of the fabric is its weight. This, and how it is constructed, plays a key role in how cool you feel throughout the day.
Fabrics with finer yarns will be more lightweight and fabrics made with a looser knit or weave will breathe easier, both resulting in a cooler garment.
Holding your garment up to the light is a simple, non-scientific test to predict how well your garment will breathe. The more light that passes through may allude to more breathability to keep you cool throughout your work day.
The Button Down
The classic white button-down shirt is a trans-seasonal, corporate-approved wardrobe essential.
It can elevate the most casual attire making it a good fit for any workplace.
From soft silks to crisp cottons, a white button-down can be the foundation of any fashion workwear look.
My personal go-to is the Kowtow Classic Shirt. The breathable organic cotton poplin alongside the traditional fit makes it a quintessential piece in my summer workwear wardrobe.
I style it under dresses and pinafores, tucked into culottes, untucked with cropped tailored pants, buttoned up with a long chained necklace or buttoned down with my favourite silk scarf.
Remember to opt for a lightweight fabric to make layering, even in hot weather, a breeze.
The Switch
Denim is a trans-seasonal favourite. However, a ''no denim'' workplace policy is not uncommon.
Personally, I'm a lover of this classic fabric in the workplace. It is comfortable and easy to style, making it a desirable item for a work capsule wardrobe.
However, the counter argument is strong: denim in the workplace means denim of all ages and stages including discoloured, distressed and in dire disrepair.
When denim is discouraged, a few simple, summer-friendly swaps can be made. Firstly, your favourite denim go-to can be traded in for anything linen. We are in the midst of our third summer of linen and it is clear that it is the one summer trend we cannot let go of.
While being our aesthetic preference, linen is also a cooler approach to summer workwear.
Swap out your black skinny jeans for a pair of tailored, linen cigarette trousers for a classic alternative. Cuff them at the hem and style with a French tucked shirt for a more fashion-forward finish.
Although bittersweet, letting go of denim can offer more variety and give you a more elevated work wardrobe.
The shirt dress
Consider this your extension of the classic button-down shirt. A simple shirt dress is an effective workplace outfit with endless options.
Black usually sets the tone for our southern, workwear attire so I challenge you to lighten up a little.
I am in favour of the new Tidal Dress from twenty-seven names. The gently-gathered sleeve and skirt offer a subtle feminine touch, offsetting a tailored, mandarin collar.
For something a little more unexpected, Harman has redefined the shirt dress with their Kay mini dress. This dress challenges tradition with its draped neck, contrast cuff and tie and painter's sleeve.
Shoe options are endless, from sandals to boots, so tailor your footwear to suit your workplace.
The mid-length skirt
Offering a freeing but formal alternative to trousers, a mid-length skirt can go a long way for summer workwear.
I have always appreciated a generous hemline, so having mid-length skirts in season is a plus!
However, there is a fine line between chic and dowdy with this style. Go for designs that drape from your natural waist and seek out something with volume.
I love a pleat or frill when it comes to this style.
Be sure to balance out your ensemble, keeping styling to a minimum.
Just a simple cami or white cotton tee will do. Top with a summer linen blazer for a more professional approach.
A finishing touch
No matter how strict your dress code, you can always express the season through your jewellery.
I love the ease of a silk scarf or statement earring as a finishing touch to any summer ensemble.
My summer obsession has been with these Liquid Drops - Moonlight earrings by emerging local brand Little Constellation. The handmade resin captures the light-bending nature and movement of cool sparkling water making them a perfectly refreshing summer accessory.
Finally, make sure you know your dress code. Company dress codes vary considerably over different industries.
Most of the time, we will just go with the general culture of the establishment - but do you really know what the expectation is?
Check your contract and ask around: you and your colleagues may be able to loosen your ties after all.