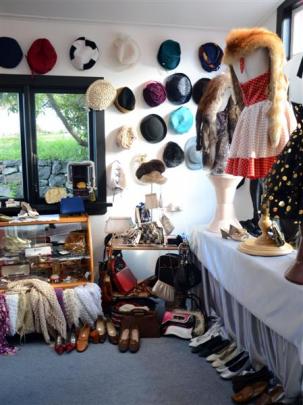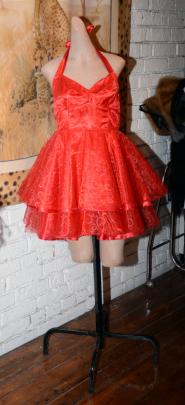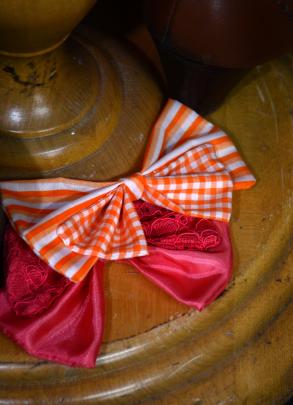 Having established herself as a champion of vintage, Dunedin designer Debbie Gilhooley is developing her own label, writes Emily Cannan.

It's a vintage-lovers' dream from floor to ceiling, dedicated to some of fashion's most vibrant eras.
Tucked just off Dunedin's main street up the first incline of London St, Debbie Gilhooley's Raspberry Beret Boutique is a time-travelling treasure trove of original vintage fashion and accessories, and her own label, Flamingo Love.
Gilhooley has operated the eclectic Purple Rain store south of the Exchange on Princes St with her partner Fritz Homburg for the past seven years, a favourite destination for vintage lovers in that time, with its authentic range of collectables and clothing. But as the popularity of the vintage clothing and Flamingo Love label increased, Gilhooley needed to establish her label's identity and give some of her much-loved fashion collectables their own space. All of which led her to open Raspberry Beret.
"It was good old-fashioned entrepreneurial skills ... This has been a long passion of mine, collecting and designing vintage clothing. Both Fritz and I are collectors, but my passion for preserving clothing history led me to set up the label Flamingo Love, since 2011.
"Flamingos are an icon of retro culture and the word 'love' represents such a beautiful emotion ... I feel the name represents the label perfectly."
The ground floor of the kooky two-level space is dedicated to a huge collection of original footwear, jewellery, scarves, men's and women's wear, and wide variety of other accessories. Classic mannequins display gorgeous cocktail dresses, draped with fur stoles. Drawers overflow with scarves and gloves, and funky glass cabinets house glittering displays of costume jewellery, purses and vintage eyewear. Hats polka-dot a whole wall and the shoe collection borders the rooms.
The second floor is a bright and colourful nook with a charming library of inspirational material for the funky and flirty Flamingo Love label, and doubles as both a showroom and design space.
Gilhooley talks me through the designs, noting that the fabrics used are both original and vintage, and explaining the conception-to-production process, which employs a team of pattern makers and trusted seamstresses who alter the designs to meet Gilhooley's evolving vision.
"Flamingo Love provides a combination of womenswear and menswear, specialising in designs that represent the past ... formal evening wear, cocktail dresses, ready-to-wear street-wear, and cabaret/burlesque. The designs fuse well with the collectables that we already had at Raspberry Beret but with a very strong contemporary feel."
Gilhooley, who has completed a certificate in fashion, is now studying towards a bachelor in design (fashion) degree while circulating between the two stores and continuing to add more designs to the range. She admits that sewing is not her strong suit, and credits an innovative team that works and shares with each other to help bring her sketchbooks to reality.
"Developing the practical side of my passion has been something of a challenge, co-ordinating the right people to achieve the design team that we have today has been so important.
"Once I have worked out a design that I'm happy with, the patterns are made, and then toiled, sent to our local professional cutter and then on to my seamstress - all here in Dunedin."
It's an unorthodox way for a young label to operate, but Gilhooley knows passionately what she wants. The designs are still current with today's fashion, though strongly grounded by Gilhooley's archive of knowledge from years of dedication to preserving vintage fashion. When asked what her favourite design is, she scolds that I can't make her choose, she won't betray any of them.
"Nothing is safe when it comes to using fabrics. I love them all. The more colourful the better," she says.
"Flamingo Love specialises in custom-made clothing. We love designing. For this generation we can fulfil a need for lost designs and size ranges that are sometimes unavailable in vintage clothing. We don't use vintage patterns, and we don't alter or remake from original pieces."
Gilhooley has big plans for expanding the boutique, including many more in-house fashion events and has already been adding to her profile by working with the Mayfair Theatre and Burlesque Hoochy Coochy. She opened the second half of the Darnell show that featured at iD fashion week 2012.
Gilhooley appreciates the support she has from the wider fashion community, which has encouraged her to develop Flamingo Love further.
"Dunedin is a cauldron of creativity and creating this label and boutique was a natural progression for me with the wonderful sustainability of fabrics, design culture and resources available. Our future plan is to continue to develop a stronger label as well as increasing its sustainability in Dunedin.
"We're looking forward to bringing the label outside of Dunedin with the Flamingo Love virtual shop website."
Check out www.purplerain.co.nz or find them on Facebook.
Raspberry Beret store is located at 24a London Street in Dunedin city, Phone: 474 5935.

- Emily Cannan.