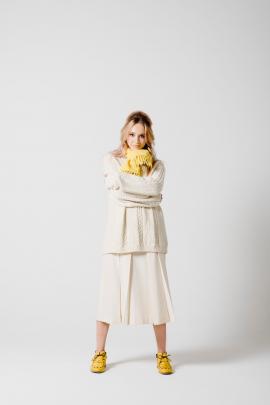 Otago creatives types are coming together for a collaborative fashion photo shoot for Hospice Awareness Week. Brittany Pooley speaks to stylist Cat Callanan about the campaign.
This week, a team of local creatives have come together to hold a fashion photo-shoot in support of the Otago Community Hospice for Hospice Awareness Week.
Several contemporary fashion looks were created using clothing donated to the local hospice shops across Otago.
The collection is a snapshot of what is available in-store - from winter casual to bridal-wear. The campaign is an honest showcase of the potential of second-hand clothing and a head-turning approach to hospice awareness.
Otago Community Hospice retail development manager Cat Callanan was the heart and vision behind the campaign.
Contributors included models Ella Barton Buchanan, Pippi Miller and Gauthier Dejace, make-up artist Kim Taliau, hair stylist Laura Simpson, with shoes by Andrea Biani Dunedin and a bridal bouquet by Estelle Flowers - all shot through the lens of Acorn Creative.
''The purpose of this shoot was to inspire people to shop and donate. And if you shop in any of our hospice shops you never know what treasure you will find. That is the magic,'' says Callanan, who was also the stylist for the photoshoot.
Among the pieces featured in the campaign are a Chanel Blouse, a handmade 1950s wedding dress, a pair of '70s-style Nina Ricci sunglasses, a hand-knitted sweater, a pleated sportscraft skirt circa 1980 and a handmade brown knit skirt.
The photos will be on display in hospice shops and on social media.
Callanan is no stranger to the local fashion industry. She has a background as a fashion buyer at Arthur Barnett, was co-owner and designer of Bellebird Boutique and was involved in the early stages of iD Fashion and the Dunedin Fashion Incubator.
''Our vision was to create beautiful imagery to show the Otago community the stylish outfits they can put together with a little imagination.''
Among the pieces were a combination of designer fashion, vintage pieces and other second-hand finds.
Callanan herself has a lifelong love of second-hand clothing and a wardrobe brimming with vintage treasures.
''Many of today's fashions have bad construction and fabric content that doesn't last. I know a vintage piece will last for years. I have stuff I have been wearing for 20 years because the quality is there.''
When it comes to second-hand fashion, Callanan has a couple of tips.
''Firstly, just go into the stores. Get yourself there. Secondly, take a little time. See what we have to offer.
''Scoring a well-made tailored jacked for $20 versus buying it new for $800, it's really not surprising people shop second-hand.
''We help to get things reused. We're an important part of the chain, stopping well-made things from ending up as landfill. Our items have so much potential.''
Callanan's dedication to the hospice runs in her family: her sister Jenifer manages the Oamaru Hospice Shop.
Callanan speaks to the liveliness of the stores.
''It's not easy work. Donating, processing and selling happens all day long.
''There's some really creative, committed people in our shops.
''For me, coming from working in high-end [fashion] where you have to work for a sale - all Hospice customers are happy getting a great deal. It's a great system.''
The hospice aims to fundraise $2.5million this year, and $750,000 will come from the hospice shops. This is all to ensure that hospice services can be provided free of charge to the Otago community.
''We feel lucky that the hospice is so well supported by the community. It's a very well-respected brand. Families who have used the hospice tend to come back and support the stores.
''Some people don't know the hospice exists until they really need it. This week is all about spreading awareness and sharing with our community how they can support us to support them.''
Thanks to: photography, @acorncreativenz; stylist, @catherinecallanan; makeup, @kimtuliau.makeup; hair, @laurajune-hairstylist; models, pippi@tongueand-groove, ella @-princessella, and gauthier @gaudjc; shoes, @andreabianishop; bridal bouquet, @estelleflowers; and Gillions Funeral Services.
Show your support
Shop at your local Hospice Shop. They can be found in Alexandra, Cromwell, Timaru, Milton, Oamaru, Mosgiel and Dunedin. You can also pay it forward and donate your preloved fashion. Share your finds on Instagram with the hashtags #shophospice and #shopgood.