Streetwear designer Eva Cambourn, one half of Dunedin label Grumpysuns, talks to Brittany Pooley as she prepares to show at  New Zealand Fashion Weekend.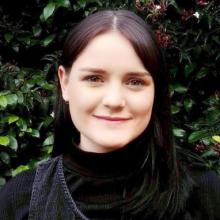 When asked how she is feeling about her label's New Zealand Fashion Weekend debut, Eva Cambourn's answer is simple.
''Very nervous.''
The former Dunedin student's passion for sustainability in design led to her and friend Nick Williamson's clothing label, Grumpysuns, attracting attention after they entered the Ceres Organics Good People Awards this year in Good magazine.
They have been invited to show at the magazine's NZFW-sponsored show aimed at showcasing designers leading change in the industry.
The weekend winds up the biggest week of New Zealand's fashion calendar, New Zealand Fashion Week.
Often misconceived as an exclusively trade and industry event, NZFW has grown into a multifaceted showcase of style.
The week-long event captivates thousands of industry delegates, before opening its doors to the public for the spectacle that is New Zealand Fashion Weekend.
With 30,000 annual attendees and an even wider media reach, NZFW is considered New Zealand's launch pad for local and international talent.
Hence its importance for labels such as Cambourn and Williamson's.
Cambourn had humble beginnings, living the Dunedin student life and studying zoology, archaeology and anthropology at the University of Otago.
She always had an interest in fashion, balancing her studies with retail work in street-style fashion stores. Her passion for graphic design subsisted with this, as she maintained her art as a hobby during this time.
Throughout university, Cambourn grew frustrated with the social, environmental and cultural issues of society that she was exposed to.
''I remember getting so fed up with uni at one point. I studied zoology, archaeology and anthropology and even though I'm passionate about those subjects, I couldn't help feeling like I wasn't doing enough.''
Eventually, Cambourn decided she needed a change of path. This leap of faith would later lead to NZFW.
''One day, I went to work and thought, 'I could do this, I could make my own brand, I'm going to do this,' and stopped walking the path I was on and started walking another one. It's easier said than done for sure, but that's another story,'' Cambourn says.
At the same time, Williamson, a former school friend, was making skateboards. Given that skate culture is a compass for many streetwear brands, Cambourn approached Williamson with her idea for a sustainable streetwear label.
''I told him about the idea and we decided to work together. These projects are huge when you start scratching off the surface and we both had a developed empathy for the same global issues or had already faced the consequences of some of them ourselves,'' Cambourn says.
This project would develop into the organic-cotton apparel brand ''Grumpysuns''.
The concept behind the name emerged out of one of Williamson's skateboard designs, a graphic that was used on their first T-shirt. It was later adapted to be the Grumpysuns logo we see today.
The label's aesthetic reflects its origins, drawing largely from skate, surf and music cultures.
As they expand their endeavour, Cambourn and Williamson continue to consider alternatives to unsustainable materials. Extensive research has led them to work entirely with 55% hemp, 45% organic-cotton blends.
''So far, hemp is the most sustainable material we have used,'' Cambourn says.
''If you look up hemp and see the thousands of other benefits that it can provide, you will see why that's the material we have chosen to promote the use of.''
It is Cambourn and Williamson's willingness to seek out alternatives that give their label its ethical edge.
''We understand that you can't do everything, especially, as we have learnt, on a shoestring budget.
''We are resourceful, use and upcycle heaps of second-hand things and are constantly looking at ways we can change our brand to become that one step better consciously.''
Grumpysuns' designs are kept minimal, with staples that give a diverse market the opportunity to wear hemp.
Their latest collection has a focus on colour and positivity, staying true to the brand's roots.
''This season I wanted to make our imaging fun and positive; personally, I'm a big fan of colour, especially bold pastels.
''I get inspiration from a lot of the music I listen to: some of the colour combinations come from my vinyl covers.''
Along with their sustainable endeavours, the pair try to share positivity through their graphic design prints, with slogans such as 'Increase the peace'. They also support New Zealand artists.
After a brief stint living and running the brand in Auckland, Cambourn decided to bring her experiences with more culturally diverse music back to the Dunedin music scene by throwing hip-hop gigs.
''I love this music because of the message; there is always a story, and you can choose to learn from it.
''New Zealand artists have an amazing way of talking about, developing, and having an extreme consciousness to different environments which, when understood properly, can have amazing messages to all sorts of levels of life.''
As for Grumpysuns' NZFW collection, it will be a showcase of positive messages told through their hemp designs, which will be paired with a curation of upcycled clothing collected over the years.
In anticipation of the event, Cambourn is excited to see some of her favourite New Zealand labels take the catwalk.
''Huffer are an inspo of mine. And, of course, all the other legends going eco!''
Overall, Cambourn is hopeful that the audience will walk away with Grumpysuns' message.
''Just know, as one person you can't do everything, but you can do something and if everyone does something, that's better than nothing.''
The Good Magazine Sustainability Show will take place on September 2, during Fashion Weekend.
NZFW events
Other notable Fashion Weekend events include headliners Zambesi and Superette, along with the first iD Fashion Week Showcase by Otago Polytechnic, featuring archival pieces from the 15-year history of the iD International Emerging Designer Awards and some of our favourite local designers including NOM*d, Carlson, Mild-Red, Lapin, Darlene Gore and more.
Pooley will be dusting off her 2016 entry to the International Emerging Designer Awards for the show and sharing a sneak peek into backstage antics next month.