Sales of push-up bras are plunging. The new lingerie is all about comfort and body confidence,  writes Kate Finnigan
In 2019, it will be 25 years since Gossard's Wonderbra unleashed what has been called the "most iconic'' advert of all time: Ellen von Unwerth's black and white photograph of Eva Herzigova gazing down at her own marvellous cleavage above the legend, "Hello, boys''.
Later that year, the waif-like Kate Moss endorsed the same push-up padded bra in the New York Times, declaring that "even I get cleavage''. Meanwhile in Soho, London, Joseph Corre and Serena Rees were opening Agent Provocateur, a brazenly sexual upmarket lingerie store whose ad campaigns Moss would later go on to star in.
Also in 1994, aka the Year of Our Cleavage, and in response to Wonderbra's dramatic uplift in sales, rival lingerie brand Victoria's Secret launched its first TV advert. VS has since become a global behemoth, best known for an annual catwalk show where its models, or "angels'', with spectacular bodies and pushed-up breasts - the highest paid of whom (models, not breasts) have included Adriana Lima, Kendall Jenner, Gigi Hadid and Joan Smalls - parade the catwalks in their next-to-nothings under the appreciative eyes of front-row guests, such as Leonardo DiCaprio, and a global TV audience of 500 million.
The push-up bra as tool for (hetero-)sexual attraction has been the dominant trend in the women's lingerie market for the past quarter of a century. But is its time up? Last month, Victoria's Secret came under fire for the lack of body-shape diversity in its most recent show (not helped by Ed Razek, its chief marketing officer, telling Vogue that he had no interest in transgender models or portraying a wider range of sizes and shapes), and there is evidence that the lingerie sector is ready to change into something more comfortable.
In 2017, Edited, a London-based retail technology company that tracks the clothing industry, noted that based on a sample of retailers in the US, UK and Europe "sales of push-up bras have fallen by 50% compared to a year ago, while sales of bralette, or triangle bras, have rocketed by 120%''. Revealing that the sector's traditionally most-stocked style, the padded bra, had fallen by over 20% in the same period, Edited announced: "Ladies and gentlemen, the status quo has left the building''.
"The definition of sexy has evolved,'' is how Heather Gramston, buying manager at Selfridge's Body Studio, the store's lingerie, hosiery and sportswear department, puts it.
"It is now defined as how a woman feels when she is wearing something - as opposed to what she looks like in archetypal lingerie created with men in mind.''
" Women,'' she adds, "are driving this.''
One of Selfridge's biggest brand launches this year is Myla. Originally founded in 2000, it was relaunched this year by former chief executive of Agent Provocateur Gary Hogarth. Leila Habibi, Myla's product and supply chain director and part of the original AP team, says of underwear in the '90s: "It was all about the push-up. Sometimes, my boobs were pushed up so far that by the end of the day they'd popped out.''
Myla now uses the best French fabrics, but its styles and fits have moved with the times. Soft bras with triangle cuts and bralettes in stretch lace feature, as do sportier silhouettes and pyjama bottoms that you could wear out as much as stay in. Although they don't like using the C-word (comfort) there's more than a suggestion of it.
"Women want to feel like they can move around, be active in their underwear, just like they are in their clothes. And we've got older,'' says Habibi of the design team. She points out a bra with a higher, potentially more flattering cut under the arm.
"Our bodies have changed and we wanted to reflect that in our cuts and shapes.''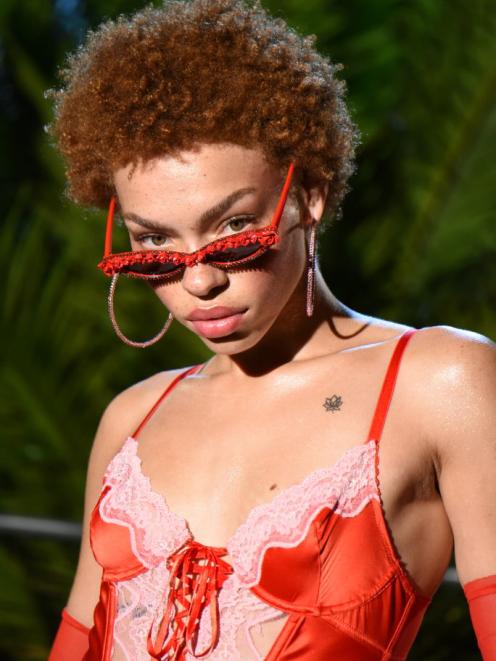 Away from the traditional wholesale model, digital native brands have been driving change with a new kind of messaging, building strong online communities often centred around body positivity, inclusivity and diversity.
Agent Provocateur's Serena Rees, led by a younger audience, has created Les Girls Les Boys, a "street-to-bed'' range of underwear that can be worn as outerwear aimed at gender-fluid millennials. It offers a more grungy take on sexiness for the Depop generation, a kind of Gen Z Calvin Klein - although thanks to a wildly successful relaunch in 2014, which encouraged customers to post lo-fi sexy selfies with the hashtag #mycalvins, that brand is still a huge player in the market.
The British label Beija London goes so far as to claim it's "definitely not selling sex''. Sister founders Abbie Miranda and Mazie Fisher have come up with an innovative range in which each bra is created in three versions to suit various shapes.
"The product is unsexualised, as are the model poses on the website, the hair, the make-up,'' says Miranda.
"It's the opposite of Agent Provocateur. Some people are happy bossing their sexiness, but that's not necessarily where you'd feel comfortable going with your daughter.''
Digital engagement allows customers to interact directly with brands and them to respond accordingly.
"What performs well for us on Instagram is if the model has a little bit of a roll on her tummy,'' says Miranda.
"It's like seeing your hot friend. We'll get an extra hundred likes for that more realistic image.''
The body positivity message appears to be getting stronger even as the years move on. Back in 2016, the New Zealand label Lonely attracted attention when Girls' creator/star Lena Dunham and star Jemima Kirke fronted its campaign in unretouched images.
Likewise, the minimalist underwear label Baserange prides itself on its no-retouching policy in its photography. Marie Yat Kan, founder of seamless underwear/swimwear line Marieyat believes that lingerie is "all about feeling comfortable and confident in your own body and not about changing the appearance of your figure by pushing up or flattening assets''.
The market researcher Mintel has forecast that the UK's lingerie market will grow by 11.4% between 2016 and 2021 to top £3 billion ($NZ5.5 billion).
There's money to be made and everyone knows it, including mega-star, mega-business woman Rihanna, who, not content with successfully disrupting the beauty market last year turned her attention to underwear with her Savage x Fenty range. In September it staged its first live show in New York. Bella and Gigi Hadid may have walked in it, but this was no Victoria's Secret: racially diverse and body positive, it embraced models of all ethnicities, shapes and sizes.
"I wanted every woman on the stage with different energies, different races, body types, different stages in their womanhood, culture,'' Rihanna told Elle magazine.
"I wanted women to feel celebrated and that we started this. We own this.''
Or, to put it another way: Hello, girls.
- Guardian News & Media