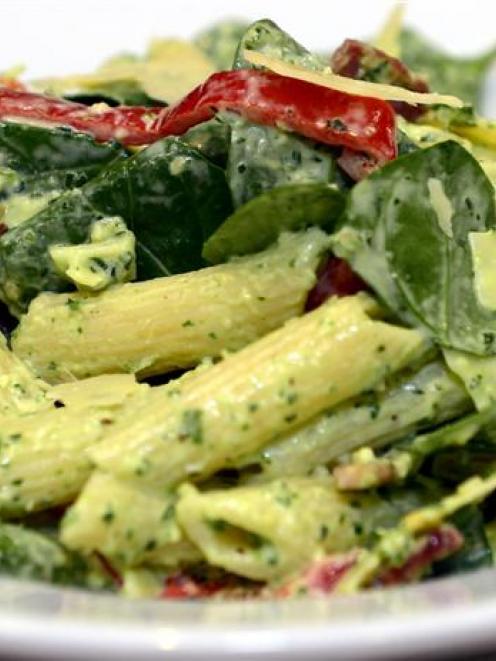 Ask a Chef reveals the secrets of those superb dishes you ate in cafes and restaurants and wanted to try making.
500g penne pasta
2-3 pieces lean bacon, cooked and sliced*
1 cup marinated capsicum
2-3 Tbsp pesto
2-3 Tbsp aioli
1 cup spinach**
½ cup shredded or shaved parmesan
Cook pasta according to packet instructions in well-salted, boiling water until al dente. Drain and cool.
Make dressing by mixing aioli and pesto thoroughly. Mix well with pasta, then mix in the other ingredients. Season to taste with salt and pepper.
*Bacon can be left out for a vegetarian version.
**You can substitute almost any other leafy green vegetable or herb for the spinach.
---
- Requested by Alison Galloway.
- Scott Verberne, of Arthur Barnett's Cafe, supplied this recipe.
- If you have enjoyed a dish in an Otago cafe or restaurant and would like the recipe, write to Ask a Chef, Features, Otago Daily Times, PO Box 181, Dunedin, fax 474-7422, or email odt.features@odt.co.nz, including your name, address and a daytime telephone number, and we will request it.
---