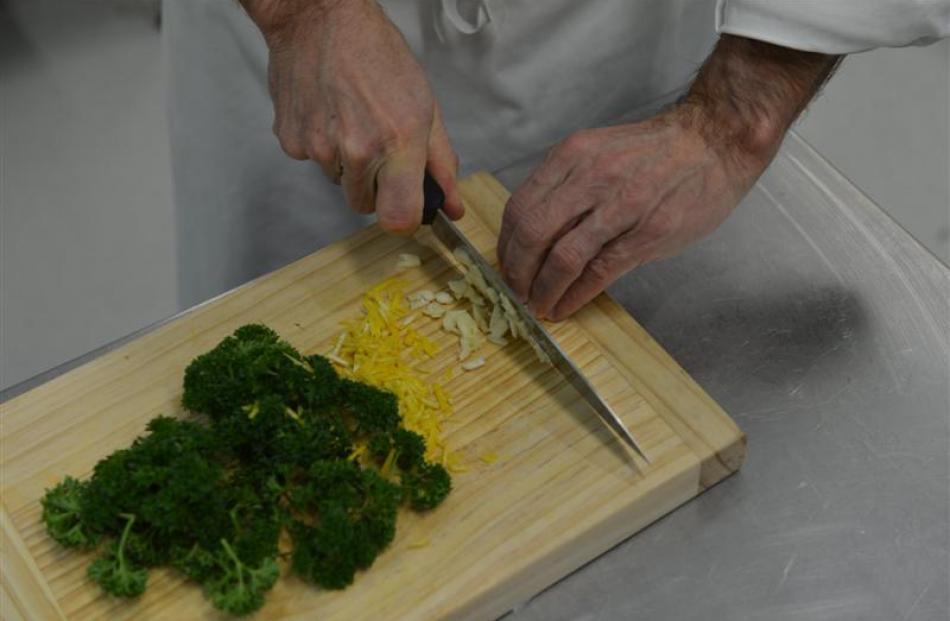 Daniel Pfyl, hospitality management lecturer at Otago Polytechnic, shares some professional techniques to make your cooking easier.

This is a hearty vegetable stew for which you can use other vegetables besides pumpkin, such as mushrooms or kumara. To make a vegetarian dish, leave out the bacon.
---
Chickpea and pumpkin stew with gremolata
Makes 6-8 portions


Ingredients
60 ml extra virgin olive oil
1 red onion, chopped
2 cloves garlic, crushed
3 rashers bacon cut into strips (optional)
1 red capsicum, diced
125ml red wine
1 tsp balsamic vinegar
1 tsp brown sugar
420g (1 can) chopped tomatoes in juice
1 bay leaf
1 clove
¼ pumpkin, peeled and diced
420g (1 can) cooked chickpeas

For gremolata
zest of one lemon
2 cloves garlic
a bunch of parsley

Method
1) Dice the onion and capsicum, crush the garlic and cut the bacon into lardons (strips)
2) Heat a generous splash of olive oil in a pot and sweat the onion, capsicum, garlic and bacon until soft but not coloured. A nice smoky bacon is good. When softened, add the red wine and stir in.
3) Allow to reduce for two or three minutes, then stir in the balsamic vinegar, sugar and tomatoes. Add the clove and bayleaf.
4) Chop the pumpkin into cubes; dice carefully. It is easy for the knife to slip because it takes pressure to cut through the hard, raw flesh.
5) Add the pumpkin to the pot. There should be enough liquid to cook the pumpkin, but if not, add a little stock or water.
6) Cover the pot and bring to a simmer.
7) To prepare the gremolata, pick the leaves from the parsley stalks, grate or peel the yellow zest from the lemon (avoid the white pith) and peel and crush the garlic. Chop them all together finely.
After 10 or 15 minutes test the pumpkin with the point of a knife. When done, it should be soft.
8) Add the cooked chickpeas. If you use canned ones, rinse them first.
Stir and cook for a few minutes to heat the chickpeas and check the seasoning (the bacon will be salty).
9) Serve sprinkled with the gremolata.
---
To check earlier Cooking 101 columns visit: www.odt.co.nz and search for "cooking 101".
More information on cooking from Otago Polytechnic can be found on www.otagocookeryl4.blogspot.com
• If you would like to request to a particular technique we have not already shown, please let us know. Write to Cooking 101, Editorial Features, Otago Daily Times, PO Box 181, Dunedin or email odt.features@odt.co.nz with cooking 101 in the subject line.
---