Daniel Pfyl, senior lecturer at Otago Polytechnic Food Design Institute, shares some professional techniques to make your cooking easier. This month he takes a look at the raw food movement. 
Taking inspiration from Auckland raw food advocate Megan May, of Little Bird Organics, Chef Pfyl adapted an apricot and ginger tart from her cookbook The Unbakery - Raw organic goodness.
The raw food movement is a reference to people who only eat unprocessed and uncooked food, that is, food that has not been heated to more than 46degC-48degC.
---
Apricot and ginger tart
Base
1 cup whole raw almonds
1¼ cups medjool dates, pitted
¾ cup coconut, dried
½ tsp vanilla essence with seeds
¼ tsp salt
1½ Tbsp ground ginger
2 Tbsp coconut oil, melted and cooled
Filling
2 cups raw cashews soaked in water overnight
⅓ cup almond milk
¼ cup filtered water
¼ cup lemon juice (one lemon)
⅓ cup organic maple syrup or agave syrup
pinch sea salt
1 Tbsp vanilla essence with seeds
¾-1 cup of coconut oil melted and cooled
10-12 fresh apricots, halved and destoned, or other fruits (such as rhubarb)
Ginger syrup
1 cup coconut sugar or agave
3 Tbsp ginger juice (100g fresh ginger, peeled, grated and squeezed througha muslin cloth)
2-3 Tbsp filtered water
Method
Base
1) Using a food processor, blend all the dry ingredients, including dates, together to a coarse crumb-like texture. Add the melted coconut oil and pulse until combined and the mixture holds together well. Add 1-2 tsp water if too dry and crumbly.
2) Line a 22cm tart tin with a removable base with plastic wrap and press the mixture firmly into the tin. It will need to be 4-5mm thick on the bottom and up the sides of the tin to maintain its structure. (Can also be done as individual tartlets)
 3) Place in the refrigerator while you make the filling.
Filling
1) Using a food processor or blender, blend all the ingredients, except the melted coconut oil and apricots, together. Being careful not to heat it, blend until really smooth. Pour in oil and blend again until totally combined.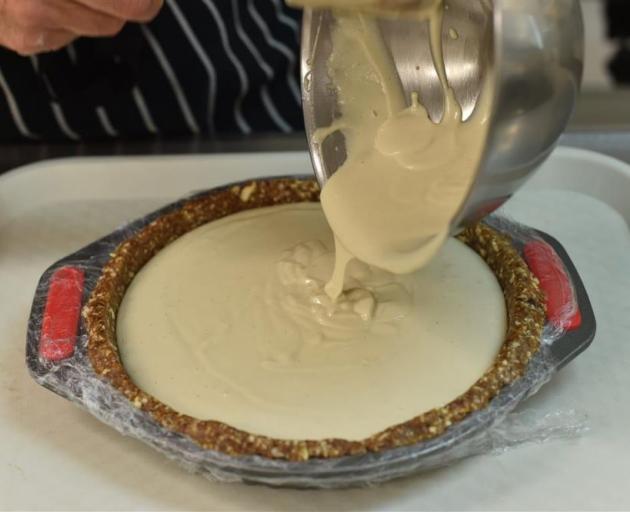 2) Pour filling into base, place in refrigerator and leave to set, preferably overnight.
Syrup
1) Add all ingredients and mix well.
To sous vide** the apricots
1) Place apricots in a vacuum bag and add syrup. Seal and sous vide at 46degC for three hours.
Alternatively put the fresh apricots in a dehydrator for 5-6 hours or in an oven set at the lowest temperature with the door open.
To finish
Top the tart with fresh or sous vide apricot halves, allow to press slightly into the mixture. Portion and present drizzled with the ginger syrup.
Note: As this is a raw dish, food safety is very important. Wear gloves when forming the base.
**Sous-vide is a method of cooking in which food is sealed in airtight plastic bags then placed in a water bath or in a temperature-controlled steam environment for longer than normal cooking times at an accurately regulated temperature much lower than normally used for cooking. The intent is to cook the item evenly, ensuring that the inside is properly cooked without overcooking the outside, and retain moisture.
---
Check earlier Cooking 101 columns at www.odt.co.nz and search for ''cooking 101''.
More information on cooking from Otago Polytechnic can be found on www.otagocookeryl4.blogspot.coms
• If you would like to request a particular technique we haven't already shown, please let us know. Write to Cooking 101, Editorial Features, Otago Daily Times, PO Box 517, Dunedin or email odt.features@odt.co.nz with cooking 101 in the subject line. 
---