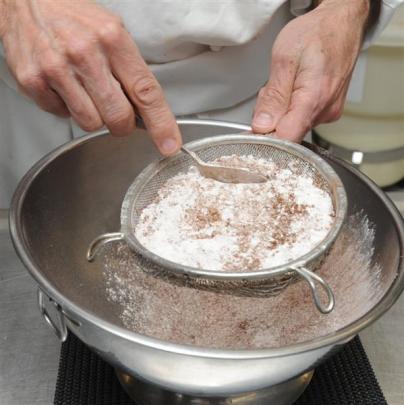 Daniel Pfyl, hospitality management lecturer at Otago Polytechnic, shares some professional techniques to make your cooking easier. This week he demonstrates a dairy and egg-free chocolate cake.
This cake is animal-friendly as it doesn't contain any animal products and is suitable for those on a dairy and egg-free or vegan diet. Chef Pfyl says the flavours of chocolate, cinnamon and brown sugar go well together. 
Animal-friendly chocolate cake
Ingredients
1½ cups plain flour
¼ cup cocoa
1 tsp baking soda
1 tsp cinnamon
¼ tsp salt
¾ cup brown sugar
⅓ cup rice bran oil
1 cup oat milk
½ tsp vanilla essence 
For the icing:
1 Tbsp rice bran oil
1 Tbsp cocoa
2-3 Tbsp boiling water
2 cups icing sugar.
Method
1) Spray a loose-bottomed cake tin and line with baking paper. Sift the flour, cocoa, cinnamon, and salt into a bowl.
2) Make sure there are no lumps in the brown sugar and stir into the flour mix. You may need to sieve some of the brown sugar to get rid of the lumps.
3) Mix the oil, oat milk and vanilla essence together and pour into the dry ingredients.
4) Mix until just combined. Do not over-mix.
5) Pour into the prepared cake tin and cook at 175degC for 30 minutes or until a skewer inserted into the middle comes out clean. Allow to cool before icing.
To make the icing:
1) Sift the icing sugar and cocoa to remove any lumps.
2) Add oil and 2 Tbsp of hot water.
3) Mix with a table knife. adding a little more hot water, if necessary, to make it just spreadable.
4) Pour the icing on to the cake and spread it around and down the sides.
5) Let it set for at least an hour until the icing is hard. Slice into wedges.
---
• If you would like to request a particular technique we haven't already shown, please let us know. Write to Cooking 101, Editorial Features, Otago Daily Times, PO Box 181, Dunedin, or email odt.features@odt.co.nz with cooking 101 in the subject line.
To check earlier Cooking 101 columns visit: www.odt.co.nz and search for ''cooking 101''.
More information on cooking from Otago Polytechnic can be found on www.otagocookeryl4.blogspot.com
---