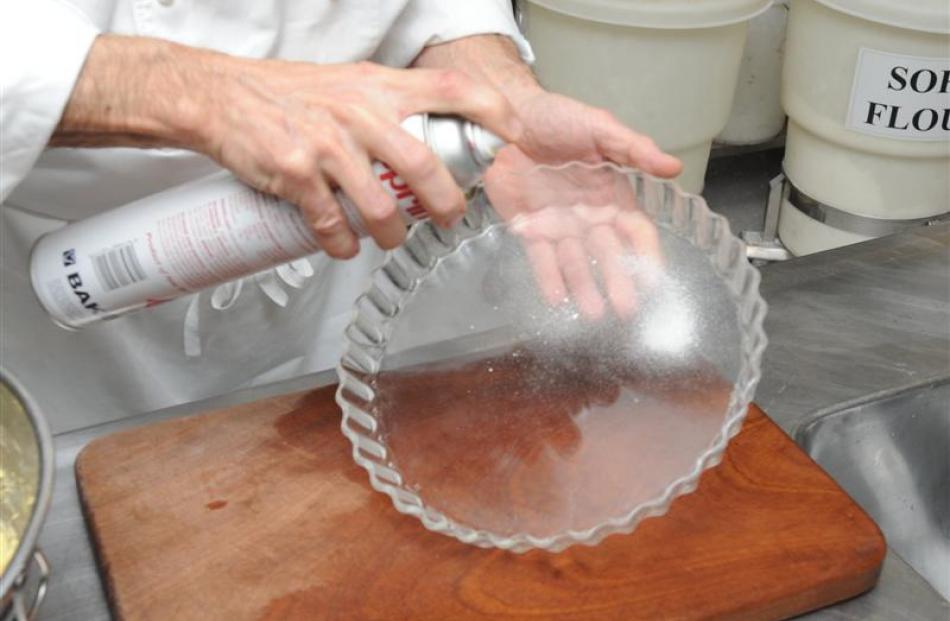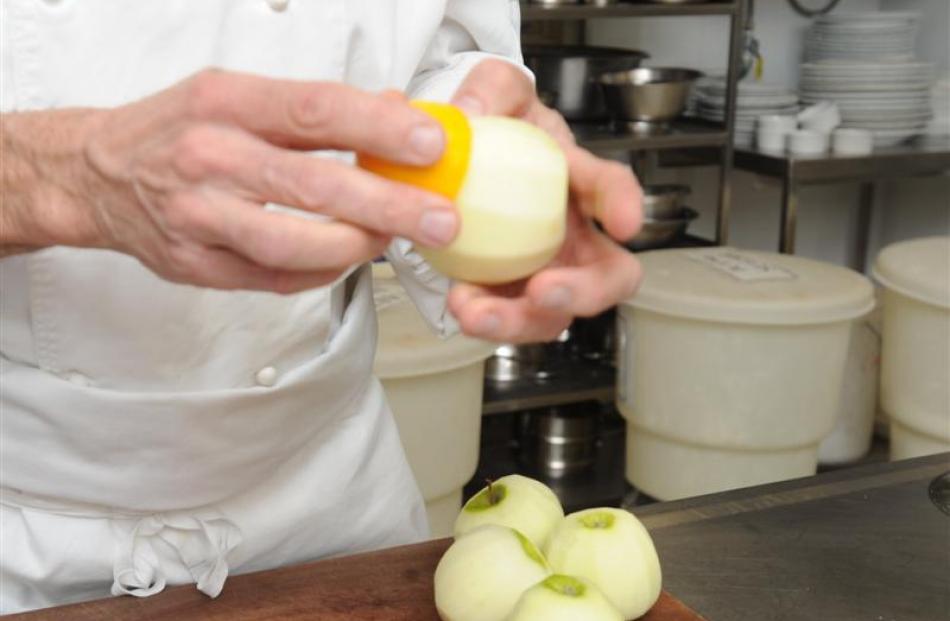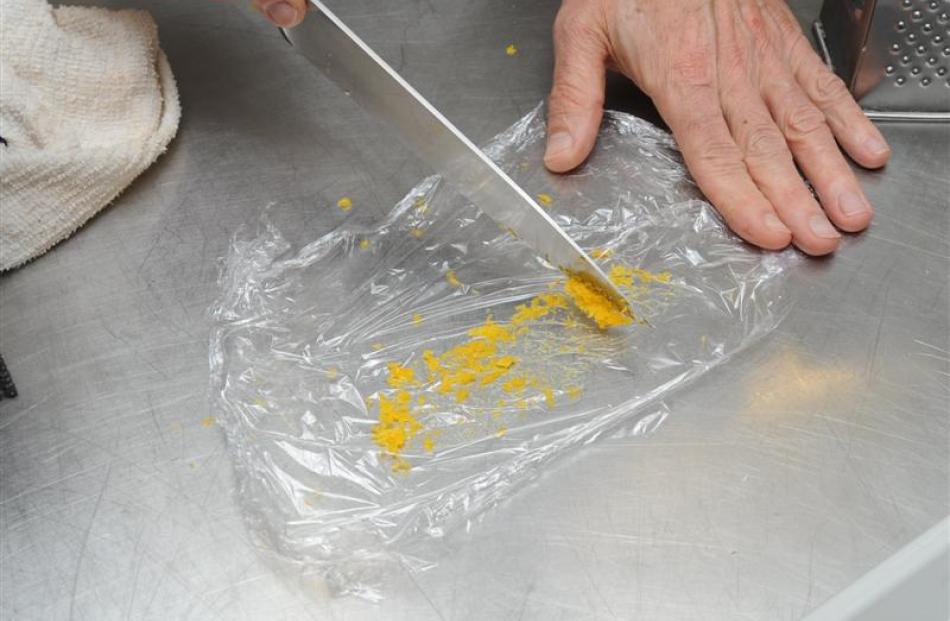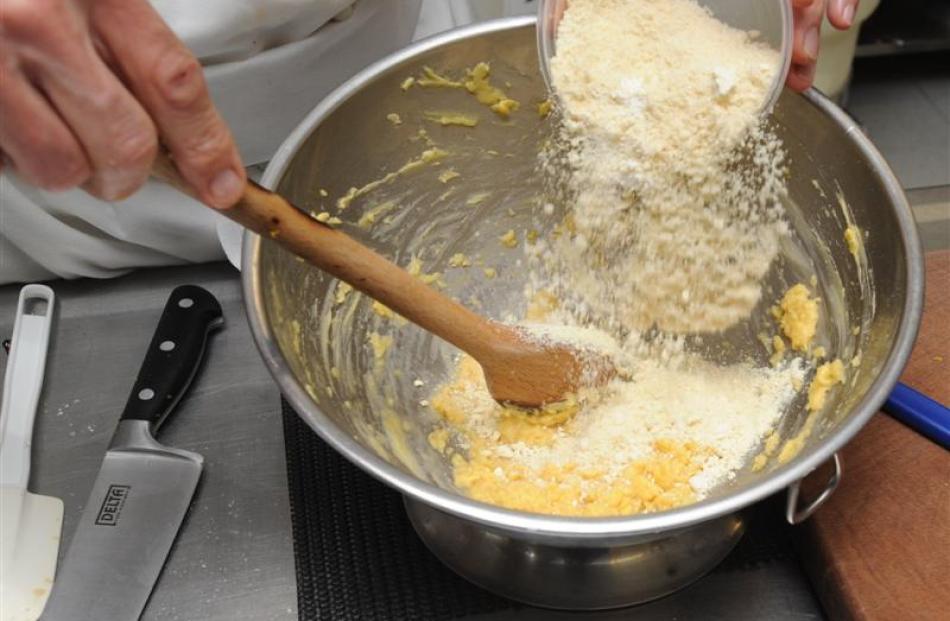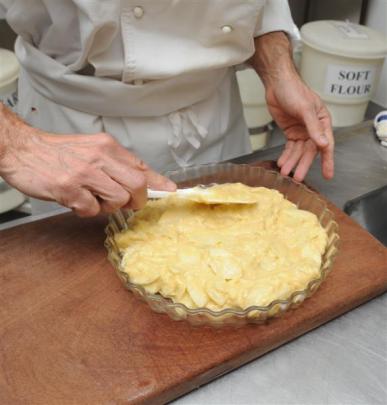 Daniel Pfyl, hospitality management lecturer at Otago Polytechnic, shares some professional techniques to make your cooking easier. This month he demonstrates how to make a gluten-free apple pudding.

Gluten-free apple pudding
Ingredients
700g cooking apples150ml water100g butter50ml liquid honey (3 Tbsp + 1 tsp)1 egg1 lemon, grated rind and juice1 tsp vanilla essence75g ground almonds25g soy flour tsp gluten-free baking powderGluten-free apple pudding served with frozen yoghurt.
Method
1. Spray a flan dish.
2. Preheat the oven to 180degC fanbake.
Peel the apples if you wish - it's not necessary, unless the skins are tough.
Skin adds more fibre and vitamins.
3. Cut apples into quarters, remove cores, then slice crosswise thinly.
4. Put in a pot with the water and simmer for five minutes until apples soften but retain their shape. Drain and cool.
5. Cut the softened butter into pieces and, using a wooden spoon, mix and beat it until it is thick and creamy and has increased slightly in volume.
6. Then add the honey and beat well until pale and creamy.
7. Add a pinch of the flour and beat into the butter mixture. This will help incorporate the egg better.
8. Beat the egg lightly, then add about a quarter of it to the mix. Beat in, then add the rest. The mix will separate initially, but will come together again as you continue to beat.
9. Grate the lemon zest with a microplane grater if you have one. If not, lay a piece of clingfilm over the fine side of a grater and grate the lemon on it.
10. This makes the zest easy to remove from the grater as you can scrape it off the plastic with a knife.
11. Add the zest and the juice of the lemon and the vanilla to the mixture and stir in.
12. Then stir in the sifted flour and baking powder and the ground almonds.
13. Stir the cooled apples into the mix. It should be soft.
14. Pour into the prepared flan dish and spread out. You could also use individual moulds.
15. Bake at 180degC for 30 to 40 minutes until cooked and golden brown on top.
Cool slightly before cutting into wedges.
16. Serve with yoghurt or frozen yoghurt.
---
• If you would like to request a particular technique we haven't already shown, please let us know. Write to Cooking 101, Editorial Features, Otago Daily Times, PO Box 181, Dunedin or email odt.features@odt.co.nz with "Cooking 101" in the subject line.
To check earlier Cooking 101 columns visit: www.odt.co.nz and search for "cooking 101".
More information on cooking from Otago Polytechnic can be found on www.otagocookeryl4.blogspot.com.
---