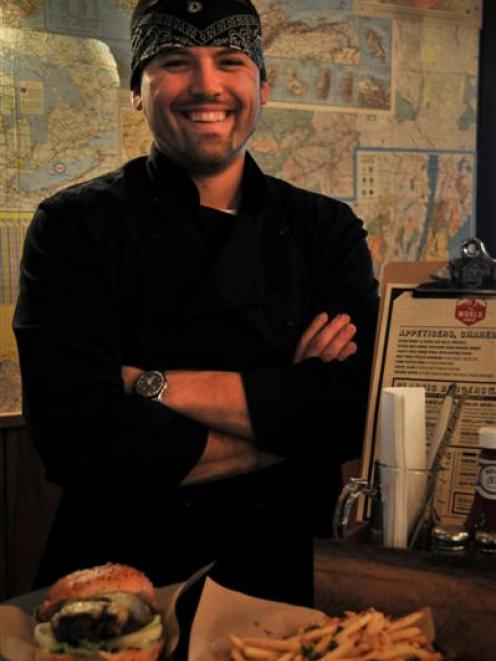 Delicious and quick family mealIn the last of our winter series of Cuisine, the World Bar head chef Dustin Sergenian explains the philosophy behind the Shotover St institution's "complete dining makeover".
Burger aficionado Dustin Sergenian, the new head chef at the World Bar, is looking forward to changing people's perceptions of the Queenstown night spot.
Mr Sergenian was drawn from his homeland, the United States, several years ago by Queenstown's snow and mountains.
A graduate of the Cook Street School of Culinary Arts, in Colorado, Mr Sergenian has notched up more than 11 years' experience in kitchens throughout the United States and has now added his touch to the World Bar.
"We've just launched a whole new look to dining at the World Bar, adding a great new dimension to what [it] has to offer that I think people are really going to love.
"The new dining experience is all about real food, keeping the produce and service uncomplicated and honest.
"And anyone who wants to check us out, can just have a look through the open kitchen - it keeps us honest."
In keeping with the unique style of the World Bar's decor, the new dining area featured handmade furniture from recycled materials, ambient lighting and a cosy and secluded atmosphere.
Family deals are available from 4pm-6pm, including "outstanding value" children's meals.
However, it is the burgers Mr Sergenian believes will give diners of all ages something to rave about.
"We've conducted a lot of research on perfecting our burger recipe.
"We've travelled the US and dined at just about every burger joint in Sydney, because someone has to do it.
"All this hard work has culminated in a burger that we think is pretty much perfect."
And what makes the perfect burger?
While not giving away any hard-earned secrets, Mr Sergenian said one of the features was house-ground, half-pound (225g) 100% Angus chuck steak.
"We serve them up nice and thick, medium rare with just salt and pepper to season.
"We believe they taste better served that way, but we're more than accommodating if you like yours a little more on the well-done side."
As well as serving up great burgers, the new World Bar menu features deep fried pickled gherkins with blue cheese dip as an appetiser.
"That's getting rave reviews, and even converting non-pickle lovers."
This week, Mr Sergenian shares his recipe for fish tacos, a delicious and quick family meal, from the new menu.
---
Fish Tacos


Ingredients
1 fillet blue cod
¼ cup cream
1 cup polenta
25g self-raising flour
Pinch of salt
25g hot chilli powder
25g smoked paprika
25g white pepper
3 tortillas (look out for delicious local tortillas)
Topping
Coleslaw
Juice of half a lemon (or lime)
Chilli pepper
Diced coriander

Method
Cut fish fillet into finger-sized strips.
Baste each piece in cream.
Mix the dry spices, flour and polenta and dust the fish.
Pan fry the fish strips in olive oil for about 2 minutes on each side, or until the strips start to turn nice and golden.
While the fish is cooking, heat the tortillas.
Place coleslaw on the bottom of each tortilla.
When the fish is cooked, place immediately on top of the coleslaw and add a squeeze of lemon or lime juice.
Sprinkle with chilli pepper and coriander.
---
• Chef's Tip
Fish tacos are delicious served with chipotle mayonnaise and crunchy tortilla chips.
---