A table with several little bowls of light, unfussy food to please and delight, and ultimately gently sustain, is British food writer Nigel Slater's preference for spring and summer eating.
His latest book, Greenfeast, is a collection of recipes based on what  he eats when he finishes work each day that can be mixed and matched to create such tables.
"I rarely hand someone a plate full of food. More hospitable and more fun, I think, is a table that has a selection of bowls and dishes of food to which people can help themselves."
Much of what he cooks in spring and summer is "exceptionally light" so does not include dishes that are carb-heavy or based on dairy produce.
For Slater it means a couple of light, easily prepared principal dishes with some sort of accompaniment such as toasted sourdough or noodles.
"Two dishes, often three, are very much the usual at home. I find the thought of being able to dip into several dishes uplifting in comparison to a single plate piled high."
Regular dishes on his table include bowls of yoghurt folded through with chopped mint and coriander, a splash of rice vinegar and chives, lightly  pickled vegetables such as carrots or beetroot, sauerkraut or a tomato and basil salad.
While he describes himself as "resolutely omnivorous" he has found his  everyday eating has become more plant-based, hence there is no meat or fish in the new book.
"It is simply the way my eating has grown to be over the last few years.
"The idea of collecting these recipes together is for those like-minded eaters who find themselves wanting inspiration for a supper that owes more to plants than animals."
Broad beans, spring greens, lasagne
Luscious, softly sustaining, a dinner for friends, and at first glance, daunting. Yet much of it involves little more than the chopping and blanching of vegetables.
There  is a white sauce to make, a couple of cheeses to grate and slice and the rest is an assembly job, layering vegetables, sauce and cheese in a dish. It's a full hour's work. The result is a creamy, herb-flecked main course that will generously feed six.
SERVES 6
a small onion
3 cloves
600ml milk
2 bay leaves
10 parsley sprigs
700g leeks
40g butter
3 heaped Tbsp plain flour
400g (130g podded weight)  broad beans
150g chard
150g button or small chestnut cabbage or spring greens
250g mushrooms
8 Tbsp olive oil plus a little extra
2 Tbsp tarragon, chopped
4 Tbsp parsley, chopped
300g ricotta
30g Parmesan
3 Tbsp grated breadcrumbs
Equipment
deep baking dish, approximately 22cm x 24cm
Method
Peel the onion, halve it and stud it with the cloves. Pour the milk into a saucepan, add the onion, bay leaves and parsley stalks, then bring almost to the boil. Remove from the heat and set aside to infuse. Set the oven at 200degC.
Trim the leeks, discarding any tough, dark green leaves, then thinly slice the rest and wash thoroughly. Melt the butter in a deep pan, add the leeks, then cover with a piece of greaseproof paper, pushing it down on to the leeks, and a lid. Let them cook for 8-10 minutes until they start to soften, then remove the paper, sprinkle over the flour and cook for a minute or two before pouring in the warm milk, removing the onion, bay and parsley as you go. Stir well and leave to simmer gently on a low to moderate heat.
Bring a large pot of water to the boil. Pod the broad beans and finely chop the chard stalks. Separate the leaves of the cabbage or spring greens and put into the boiling water. Soften for one minute, then remove and drain on kitchen paper. Repeat with the chard leaves. Finally, cook the broad beans for five to six minutes until just tender, then drain.
Thickly slice the mushrooms. Warm five tablespoons of the oil in a shallow pan, add the mushrooms and cook for five minutes or so until soft and golden. Stir the mushrooms, broad beans, tarragon and parsley into the leek sauce and season generously with salt and pepper.
Trickle a little oil in the bottom of the dish. Add two or three of the cabbage and chard leaves, then spoon in a third of the sauce. Cover with three more leaves, then some of the ricotta, followed by more sauce, ricotta and leaves until you have used them all, finishing with a layer of leaves. Mix together the chard stalks, parmesan and breadcrumbs, then scatter over the surface and trickle over the remaining olive oil.
Bake for 25 minutes until the surface is crisp and golden.
Roast spring vegetables, peanut sauce
SERVES 2
400g spring carrots
500g young beetroot
400g asparagus
4 Tbsp olive oil
2 tsp thyme leaves, chopped
100g roasted, salted peanuts
1 medium, mild red chilli
3 heaped tbsp crunchy peanut butter
juice of a lime
1 Tbsp maple syrup
1 tsp dark soy sauce
Method
Heat oven at 200degC.
Trim the spring carrots and slice them in half lengthways. Do the same with the young beetroots. Trim the asparagus, discarding any tough stalks.
Put the vegetables in a mixing bowl and add the olive oil and thyme. Season with salt and black pepper and toss gently to coat everything. Tip into a roasting dish and roast in the preheated oven for 25 minutes until tender.
Toast the peanuts in the frypan until they are deep gold and fragrant - a matter of a minute or two, no more. Transfer to a bowl.
Finely chop the chilli and put it in a frying pan together with the peanut butter, followed by 60ml water, the lime juice, maple syrup and soy. The sauce should be a rich chocolate brown and mildly spicy.
Remove the roast vegetables from the oven, scatter with the peanuts and serve with the sauce.
Note: You can use the sauce as a dip, but I like to tip it out over the vegetables and toss everything together.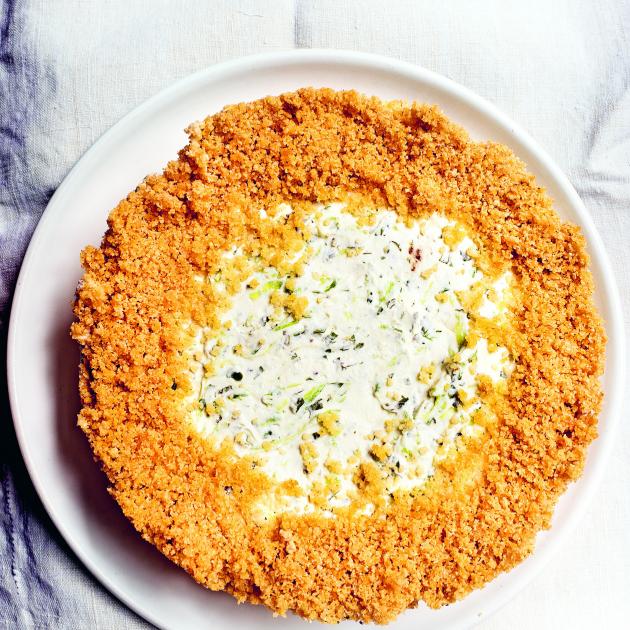 Cucumber, basil, cream cheese
A soft, savoury cheesecake for a summer's day.
SERVES 6-8
For the base
100g cheese oatcakes
120g rice crackers
For the filling
375g cucumber
12g basil
10g mint leaves
1 Tbsp tarragon vinegar
500g cream cheese
250g ricotta
Method
Work the oatcakes and rice crackers to crumbs in a food processor or using a plastic bag and a rolling pin. Use most of the crumbs to line the base of a 20cm round, springform or loose-bottomed cake tin. Chill in the refrigerator.
Coarsely grate the cucumber into a colander, sprinkle generously with salt, then leave to drain.
Finely chop the basil and mint, put them in a mixing bowl, then add the tarragon vinegar. Fold in the cream cheese and ricotta.
Squeeze the cucumber in your hands to remove any excess  water, then mix with the herbed cream cheese, adding a few twists of black pepper.
Scoop the filling into the chilled cake tin, lightly smoothing the top with the back of a spoon. Press the reserved crumbs around the edge, cover with a plate or clingfilm and refrigerate for two hours. Release the cake from its tin and serve.