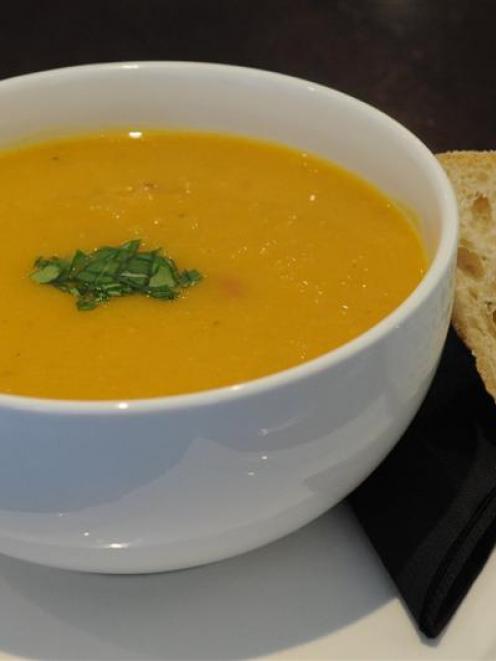 Ask a Chef reveals the secrets of those superb dishes you ate in cafes and restaurants and wanted to try making.
1 whole pumpkin
9 cups water
6 onions
6 tsp instant chicken stock powder
6 tsp instant green herb stock powder
6 tsp sugar
1 tsp grated nutmeg
6 cloves garlic
salt and pepper
6 slices shoulder bacon
cream to finish
Cook the bacon on a tray in the oven at 200degC (bake) for about 15 minutes. Cut into pieces.
Cut pumpkin into small pieces, removing skin and seeds. Place in a large pot with the water.
Peel and cut onions into quarters and add to the pumpkin and water.
Add seasonings, peeled garlic and half the bacon. Cover and cook briskly until boiling. Uncover and turn the heat down.
Puree with a stick blender until smooth. Add cream to reach the consistency you like. Season to taste with salt and pepper. Add remaining bacon and serve with bread rolls.
---
• Requested by Joanne Fallow, of Dunedin.
• Recipe supplied by Kirsty Brownlie and Christopher Scott of Mokha Cafe in Moray Pl, Dunedin.
• If you have enjoyed a dish in an Otago cafe or restaurant and would like the recipe, write to Ask a Chef, Features, Otago Daily Times, PO Box 181, Dunedin, fax 474-7422, or email odt.features@odt.co.nz, including your name, address and a daytime telephone number, and we will request it.
---