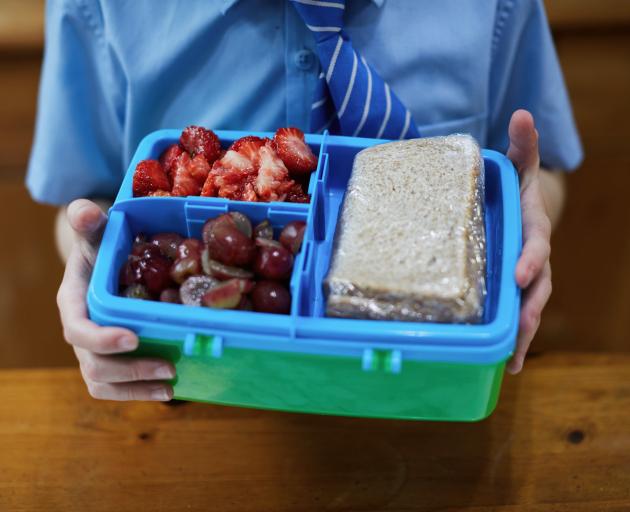 It's never too late to make positive changes in your diet, writes Deanna Copland.
Growing up, my siblings and I had the kind of school lunches you couldn't trade - brown bread sandwiches with cold meat or egg and salad (usually with the tomato next to the bread which equated to soggy sandwiches) fresh fruit, a carrot, scroggin occasionally, some home baking and water in the water bottle.
I can see now this was done for several reasons:
1. Cost - my parents were farming in the wop-wops and would have had a huge mortgage and didn't have access to frequent supermarket visits;
2. Love - this was nutritious, good food that now, as an adult paying for my own, thankfully minimal dental bills, I am grateful for and
3. Tradition - my mum gave us food her mother also served.
And my toddler's lunches are now just the same. History repeats, as we do what we know.
We always had home baking in the tins - my mum is famous for her afghans and caramel tan square, my grandma's Belgium biscuits and gingerbread men were also memorable.
While they have sugar in the recipes, it was a lot less than modern recipes call for.
Portions were small - not the width of the baking tin as served in some cafes and everyone was so active that weight issues were largely unheard of.
My grandmother's baking tins were, and still are, always full and I usually have home baking on the go, too.
Home baking, using the likes of the Edmonds Cookery Book, means you are using butter, not hydrogenated oils that are found in store-bought biscuits, and there is generally less sugar. It also doesn't contain preservatives or other additives for shelf stability.
As a child, I was envious of those kids who had white bread sandwiches with jam, a rollup, some bought colourful biscuits, a packet of chips and a muesli bar.
I am now thankful for my health and also for those choices my parents made.
Changing tack slightly, epigenetics is something that is topical right now in health circles.
We used to think that because something was inherited, we were likely to get it. Research now shows that our diet and environment are what activates certain genes.
We tend to live and act in a similar way to our parents and, therefore, get a lot of the same ailments.
This is great news for anyone who wants to change their destiny, so to speak.
For example, if Type 2 diabetes is prevalent in your family, you can make sure you move your body each and every day, eat more plant-based foods such as fresh vegetables, nuts and seeds and avoid sugary drinks. Only eat if you are hungry and stop when you feel satisfied - you can always come back for more later. Educate yourself on how to make better choices. Seek help.
We know now that most diseases are diet and lifestyle driven, therefore we can be proactive and make a positive difference.
Everything is in a state of constant change.
An adult human is made up of about 50 trillion cells. They are always in a cycle of replication, repair and death and they need to be nourished with food to thrive. Some cells regenerate within a few days, such as our stomach lining and our skin; our liver cells regenerate every few months and then some cells are slower (our bones take 7-10 years to completely replace the cells).
The World Health Organisation's definition of health is: ''a state of complete physical, mental and social wellbeing and not merely the absence of disease or infirmity (physical or mental weakness).''
It is never too late to make positive changes, so if you have been thinking about it, maybe make today the first day of the rest of your good life!
Note: If you like sandwiches, tomatoes next to the bread will result in it being soggy by lunchtime. Please do not do this to your kids.
-Dee Copland is a Dunedin naturopath and nutritionist. The advice contained in this column is not intended to be a substitute for direct advice from a health professional.