Zucchini is now in season. This versatile vegetable is also known as a courgette or summer squash or once fully grown, a marrow, Deanna Copland writes.
It dates back to the 1920s with a popular use in Italy in the well-researched Mediterranean diet.
Zucchinis are low in fat and sodium. They are also a source of protein, Vitamins A, B1 and B3, phosphorus and copper, and a very good source of dietary fibre, Vitamin C, Vitamin K, Vitamin B2, B6, folate, magnesium, potassium and manganese.
What's not to love about zucchini?
It can be boiled, steamed or stir-fried, leaving the skin intact. It is a great vegetable base for babies and toddlers when introducing foods.
Zucchini can also be eaten raw, sliced or shredded, in a cold salad, as well as lightly cooked in hot salads, as in Thai or Vietnamese recipes.
Mature zucchini (marrow) are well suited for cooking in breads or making delicious dishes such as Lebanese stuffed marrow.
Zucchinis can be cut with a spiraliser to make zucchini noodles ('zoodles'') for a low-carbohydrate, more nourishing alternative to pasta. You can purchase a spiraliser for around $40 from kitchen-ware shops.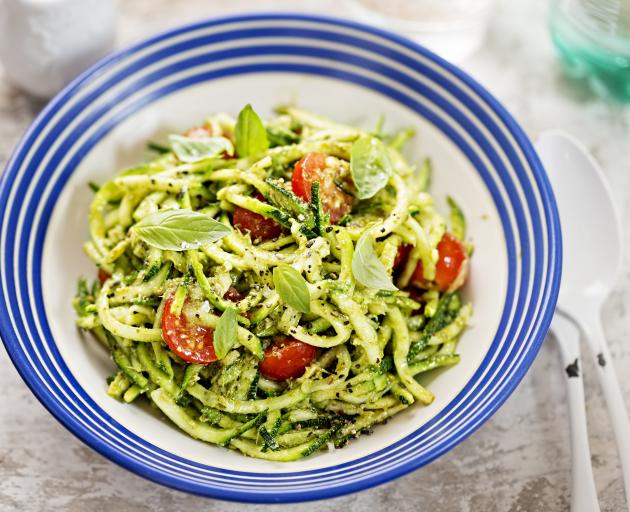 Cherry tomato and avocado zoodles
Serves 2-3
Ingredients
3 medium courgettes, ends removed
1 cup cherry tomatoes, halved
Sauce
1 large ripe, but not brown avocado
¼ cup olive oil, plus extra for cooking zoodles
½ tsp salt
½ cup fresh flat leaf parsley
¼ cup spring onions
1 garlic clove
juice of 1 lemon
freshly ground pepper, to taste
Method
Pulse all sauce ingredients together until smooth in a blender or food processor. Set aside.
Spiralise the zucchini into noodles. Heat a large skillet/wok over medium-low heat and add olive oil.
Add the zoodles and tomatoes and toss well to coat.
Cook until the zoodles have softened slightly, tossing often, for about 2 to 3 minutes. Remove from heat.
Add the avocado sauce. Toss until combined. Season with salt and pepper and serve immediately. Basil leaves are a perfect garnish to this dish.
Cooked chicken mince would also be a nice addition to add some protein.