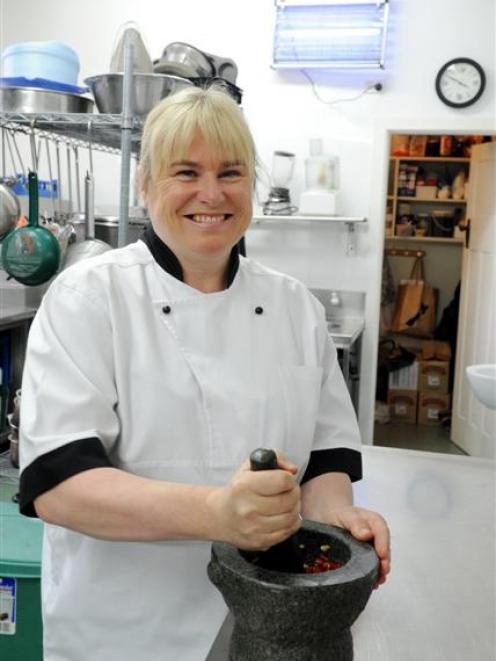 Helen Mason
Two Chefs Bistro
Dunedin
Why and how did you become a chef?
I enjoyed cooking as a child, baking seven things on a Saturday morning, cooking at holiday camps and entering cooking competitions. I was accepted for a Lion Breweries apprenticeship straight from school, and went to Otago Polytech for a diploma in cookery.
Biggest professional challenge?
The biggest challenge is the day-to-day running of our restaurant amd trying to maintain standards we have set.
Favourite ingredient?
At the moment, fresh pomegranate is my favourite ingredient - so delish in a Moroccan warm salad of roasted eggplant and feta.
Best cooking tip?
Taste, taste, taste.
What type of food do you like to eat?
What a question. I love all food, otherwise I wouldn't be a very good chef (take note all student chefs). Food fresh from my garden or the Dunedin farmers' market, food cooked by someone else, especially my sisters, or food in Paris, Rome or Melbourne restaurants.
Who cooks at home?
Because we are both chefs, we usually fight over who is going to make even cheese on toast.
Favourite meal?
Crayfish and Champagne (happens very rarely).
Favourite kitchen gadget?
I have two favourite gadgets at present - our Robot Coupe ice-cream machine and our new digitally controlled smoker, which we use for our own smoked salmon and bacon.
How have people's tastes changed?
People are definitely more educated with their palates from travelling and the prolific number of annoying cooking shows on telly. Of course, everyone is a restaurant critic, no matter what their knowledge. Trends are hopefully turning back from molecular foams and spheres that look and taste like a pea (why didn't they just use a pea?) to simple, seasonal, fresh and tasty food.
Gordon Ramsay or Jamie Oliver?
Probably more of a Rick Stein girl myself but, if I have to choose, it would be Gordon, purely because of his pedigree (Marco Pierre White yelled at him all day when he was a young chef), drive for perfection and stamina for working the amazing long hours to achieve what he did.
---
Lime and Honey Cream
This is a handy recipe for summer. Just set in individual glasses and top with whatever chopped fresh fruit you like and a wafer or shortbread.
INGREDIENTS
750 ml cream
zest and juice of 3 limes
zest and juice of 1 lemon
180g honey
fruit of your choice to put on top: chopped mango, strawberries, stonefruit or melon
METHOD
Heat cream over medium heat in a saucepan for about eight minutes. Remove from heat and cool slightly. Add juice, honey and zest to cream and mix well. Strain all into a jug but add back 1 teaspoon of zest. Cool and pour into six glasses. Set in fridge overnight. To serve, top with fruit, maybe drizzled with limoncello, whipped cream and a wafer.
---