Feel like you are in a rut, cooking the same dishes with the same ingredients all the time?
Well British celebrity chef Jamie Oliver has been listening and has created a new cookbook, 7 Ways, aimed at mixing things up for those cooks.
"7 Ways exists to give you new ideas for the ingredients you already know and love."
The recipes provide plenty of inspiration, but are straightforward enough for every day of the week, he says.
It is the third book in Jamie's trilogy, following 5 Ingredients and Veg.
For this book, Oliver studied data that showed the foods that people bought each week. He then wrote the book around 18 "hero" ingredients - such as broccoli, chicken breasts, fish, eggs, mince, sweet potato, potato, mushrooms, cauliflower and steak - and provided seven different ways to cook them.
"We all know that everyone cooks the same small repertoire of recipes, so I want to help you expand on that and arm you with some new favourites."
Oliver says he has tried to keep things simple with maximum flavour and fun.
In an effort to break down barriers, he has included everything from slow-cooked dishes to ones that can be made in 10 minutes.
There is a large section of "Fakeaways" as well as one-pan wonders, tray bakes, pastas, salads and soups.
Most ingredients can be found in supermarkets and he uses a lot of "cheat" ingredients such as pastes and condiments.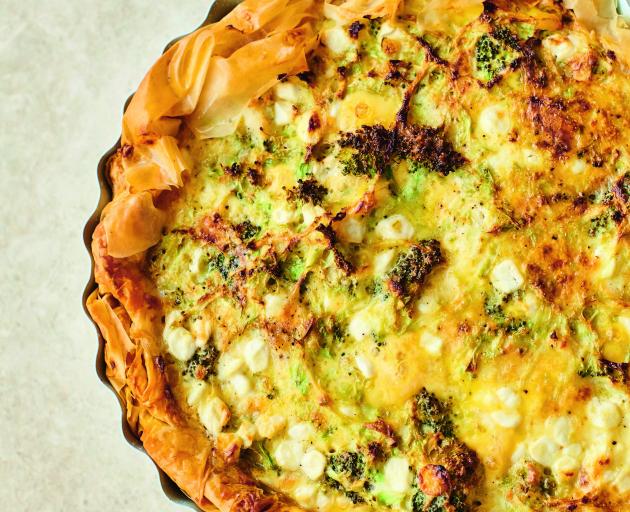 Easiest broccoli quiche
Red pesto-layered filo, cheddar and cottage cheese 
Serves 6
Time 1 hour 20 minutes
1 head of broccoli (375g)
6 large free-range eggs
1 heaped tsp English mustard
300g cottage cheese
50g cheddar cheese
3 Tbsp red pesto
270g filo pastry
olive oil
Method
Heat the oven to 180degC.
For the filling, trim the tough end off the broccoli stalk.
Coarsely grate the remaining stalk, then break the florets apart. Lightly beat the eggs in a bowl, add the mustard, cottage cheese and grated broccoli stalk, grate in the cheddar, add a pinch of sea salt and black pepper and mix together.
Loosen the pesto with 3 tablespoons of water. Lay two sheets of pastry in an oiled loose-bottomed tart tin (25cm wide, 4cm deep), overlapping them in the middle.
Brush all over with some of the pesto mixture, then repeat the layers until you've used up all the pastry, brushing with pesto as you go. Roll and scrunch the filo in at the sides. Pour in the filling, then poke in the broccoli florets.
Place on a baking tray and cook at the bottom of the oven for 50 minutes, or until golden and set. Let it rest for 10 minutes before tucking in.
energy 364kcal | fat 17.8g | sat fat 5.6g | protein 22.6g | carbs 31.2g
sugars 4.8g | salt 1.8g | fibre 4.6g
My kinda butter chicken 
Fragrant spices, tomatoes, cashew butter and yoghurt 
Serves 2
Time 40 minutes
2–3 fresh mixed-colour chillies
350g ripe mixed-colour cherry tomatoes
4 cloves of garlic
6cm piece of ginger
1 Tbsp garam masala
4 heaped Tbsp natural yoghurt
2 150g free-range skinless
chicken breasts
olive oil
2 Tbsp smooth cashew butter
Method
Halve and deseed the chillies. Place in a large non-stick frying pan on a high heat with the tomatoes and blacken all over, turning occasionally.
Meanwhile, peel the garlic and ginger, and finely grate into a large bowl. Add most of the garam masala, a pinch of sea salt and black pepper and 1 tablespoon of yoghurt.
Deeply score the chicken breasts at 1cm intervals, then massage with the marinade.
Once charred, remove the tomatoes and chillies to a board, returning the pan to a medium heat with half a tablespoon of olive oil and the chicken.
Cook and char for 10 minutes, turning halfway, while you pinch off and discard the tomato skins and roughly chop 1–2 of the chillies, to taste.
Remove the gnarly chicken from the pan and go in with the tomatoes, chopped chillies and cashew butter.
Pour in 250ml of boiling kettle water and stir to pick up the sticky bits. Let it bubble vigorously for 2 minutes and once it starts to thicken, return the chicken to the pan, turning in the sauce for a final 2 minutes, or until cooked through, then remove to a board.
Off the heat, season the sauce to perfection, then ripple through the remaining yoghurt.
Slice the chicken and serve with the remaining chilli and garam masala.
energy 435kcal | fat 20.7g | sat fat 4.8g
protein 45.2g | carbs 17.5g
sugars 11.1g | salt 0.8g | fibre 3.4g
Quickest white fish tagine
Sweet cherry tomatoes, harissa, asparagus and fluffy couscous
Serves 2
Time 15 minutes
150g couscous
4 cloves of garlic
olive oil
250g ripe mixed-colour cherry tomatoes
250g asparagus
2 heaped tsp rose harissa
2 150g white fish fillets, skin off,
pin-boned, from sustainable sources
1 lemon
2 Tbsp natural yoghurt
Method
Place the couscous in a bowl, add a pinch of sea salt and black pepper, then just cover with boiling kettle water, and cover.
Peel and slice the garlic, then place in a shallow casserole pan on a medium-high heat with 1 tablespoon of olive oil, stirring while you halve the cherry tomatoes, adding them to the pan as you go.
Snap the woody ends off the asparagus, roughly chop the spears and stir into the pan, then season with salt and pepper.
Rub most of the harissa over the fish, sit it on top of the veg, finely grate over the lemon zest and squeeze over half the juice.
Add 150ml of water, cover, and cook for 5 minutes, or until the fish is just cooked through.
Fluff up the couscous. Ripple the remaining harissa through the yoghurt, then spoon it over the fish and couscous. Serve with lemon wedges, for squeezing over.
energy 560kcal | fat 13.4g | sat fat 2.2g
protein 43.5g | carbs 70.2g
sugars 10.9g | salt 1.5g | fibre 4.9g