Allyson Gofton looks at New Zealand's fascination with beetroot.
Fresh beetroot, sliced, pickled and canned, was once the staple of the Kiwi summer picnic table, and for many it may still be. But now, this once home garden stalwart has become the super-vege ''par excellence'' of the decade.
If you're to believe everything you read, the magenta-coloured bulb can help you run faster, lower your blood pressure, help prevent dementia, help you hold your breath under water and improve the libido - of both sexes.
What more could you want in a vegetable? Well, apparently, we want size-specific beets and speed, as beetroot takes too long to cook - really, people?! Beetroot now comes conveniently cooked and packed ready for you to slice or dice and tuck in to. The down side is the cost - cooked and packaged it's four to five times the price of raw beetroot per kilogram.
As for size, we, the consumers, believe smaller is sweeter, and thus our options are usually confined to beets around 50mm-75mm in diameter. But that's not the case. Larger beets just require longer cooking and of all the vegetables out there, beetroot is one of the easiest to cook - just put on a rack in the oven and bake. For those truly living life on a treadmill, there are many other ways to get your beetroot fix, via juice, shots, powders and even chips.
Beetroot's new-found fame is attributed to the compound betacyanin, which gives the glorious magenta colour. Eaten freshly grated or cooked, beetroot is rich in fibre, something not obtainable in the processed form.
Also, adding vibrancy to the classic red variant is Chioggia or Candy Cane Beetroot, flaunting its flesh with alternate concentric circles of magenta and pale pink to white rings. Golden Beets are a rich, canary-gold coloured flesh. For the home grower, there's even a white beetroot.
Sales of beetroot have stormed ahead in recent years. Up until 2014 its production did not rate a mention in NZ Horticulture's annual report. As its own category, beetroot appears in 2014 when we grew 16,000 tonnes. By 2106 that figure was 30,000 tonnes. We grow more beetroot than kumara, capsicums or beans.
Cooking beetroot
When cooking, never peel, cut the root end, or cut the stalks closer than 5-7 cm to the bulb. To do any of these will cause the beets to bleed and lose both flavour and the magic betacyanin, which will be better retained in baked beetroot than in boiled. Even better, eat it raw, grated and included in salads and sandwiches.
Baked beets have the most intense flavour but require double the cooking time of other root vegetables. Oil lightly, sprinkle with salt, place on a baking paper-lined tray and bake in a moderate oven for about 11/2-2 hours.
Candy Cane beetroot is the exception, cooking in half the time of the standard varieties. Baked and left unpeeled until required, beets can be stored most successfully in the refrigerator in a sealed container for a good week to 10 days. Peel before serving.
When possible, I buy beetroot with the leaves on as they are packed with vitamin A, have a delicate spinach-like taste and can be added to a mixed leaf salad or cooked with spinach or silverbeet in a knob of butter with a gilding of nutmeg - delicious.
Beetroot chips keep company with other snack foods now, but making them is way cheaper than buying them, and they taste fresher.
Wash, slice 3-4mm thick, spray with oil, place on a baking paper-lined tray and bake in a moderately hot oven for 20-30 minutes, turning once, until firm.
Alternatively, ultra-thin slices can be deep-fried, dusted with a seasoned salt mix and used as a garnish - perfect with a creamy spaghetti dish or grilled chicken or duck breast.
Ginger beetroot and nut tabbouleh with honey dressing (Serves 6)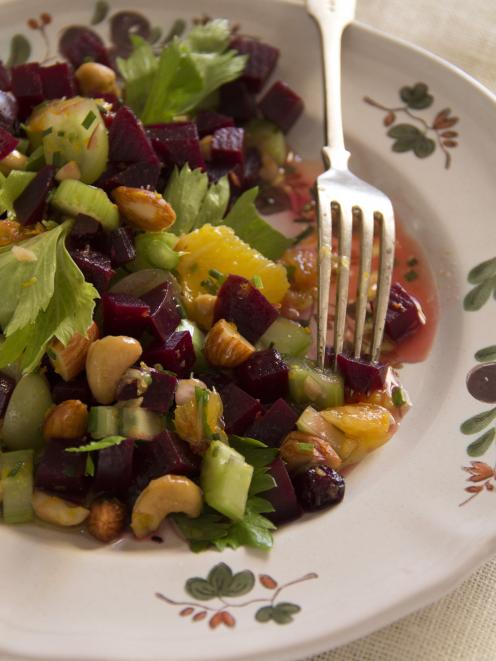 This is a basic idea from which you can make many variations. Other ways I serve this dish is to vary the dried fruit and nut mix, crumble in feta, toss in cooked pasta shapes, add avocado and grated lime rind or pomegranate seeds. For herbs, mint and basil are wonderful, and garlic can be added if wished.
500g beetroot 250g nut and fruit medley mix
4 stalks celery, with leaves
250g green grapes
2 oranges
1/4 cup chives, finely chopped, or use spring onions
1 Tbsp freshly grated ginger
For the dressing
1/3 cup oil
1/3 cup cider vinegar
1/3 cup honey, manuka is wonderful here
1 tsp mustard, any type, seeded or smooth
Method
Cook the beetroot by boiling or baking. To bake, rub with a little oil and place on a tray in a 180degC oven for about 1 1/2-2 hours, depending on size. When cooked, a skewer can easily be inserted into the centre of the beets. Cover and cool, then peel off the skin using a peeler or a small knife.
To boil, place the beets in a large saucepan of cold water with a dash of salt and bring to the boil. Lower the heat and simmer gently, again for 1 1/2-2 hours or until the skin of the beets peels away easily.
Drain, plunge into cold water and peel the beets using the side of your thumb to push the skin away. Cover and cool.
Cut the beets into 3-5mm dice. Pick out any large nuts from the nut and fruit mix and chop roughly.
Finely dice the celery stalks to the same size as the beetroot, and chop the celery leaves finely. Halve the grapes. Grate the rind from the orange and set aside. Cut away the bitter white pith and discard. Dice the flesh finely.
In a large bowl, toss the beets, fruit and nuts, celery, orange rind and flesh, herbs and ginger. Season well.
Mix all the dressing ingredients together and season with salt, pepper and a squeeze of lemon or lime juice and pour over the salad. Toss to mix.
Delicious the next day once flavours have really combined.
- Bite.co.nz