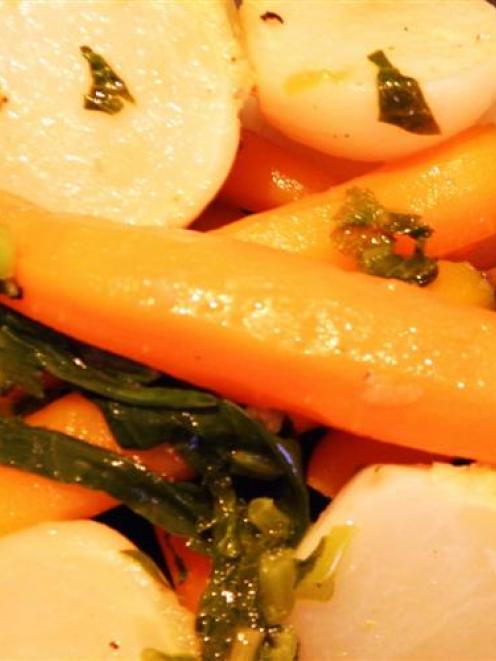 This sweet combination of spring carrots and the slightly more piquant white turnips makes an excellent accompaniment to any meal.

1kg carrots, trimmed and cut lengthways in half
50g butter
1 Tbsp honey
50ml water
1 Tbsp balsamic vinegar
1 Tbsp chopped parsley
Sea salt and black pepper
600g turnips, peeled and halved, keeping the inside leaves of the tops
50g butter
1 Tbsp honey
50ml water
1 Tbsp Balsamic vinegar
1 Tbsp chopped parsley

Put all the ingredients for the carrots except the vinegar and parsley in a heavy-based pan and place over a high heat until the mixture is simmering away.
Add the turnips and turn the heat right down, covering the pan and cook for about 10 minutes, frequently checking and stirring the carrots to make sure they do not stick and burn.
When the carrots are almost cooked, uncover the pan, increase the heat slightly and stir in the turnip tops and balsamic vinegar.
Cook for 3 minutes, then turn off the heat and stir in the parsley.

• Alison Lambert will be demonstrating this recipe at the Otago Farmers Market on Saturday.