You may never look at or eat silverbeet the same way after trying this wickedly spiced and aromatically sweet combination. It is worth the effort.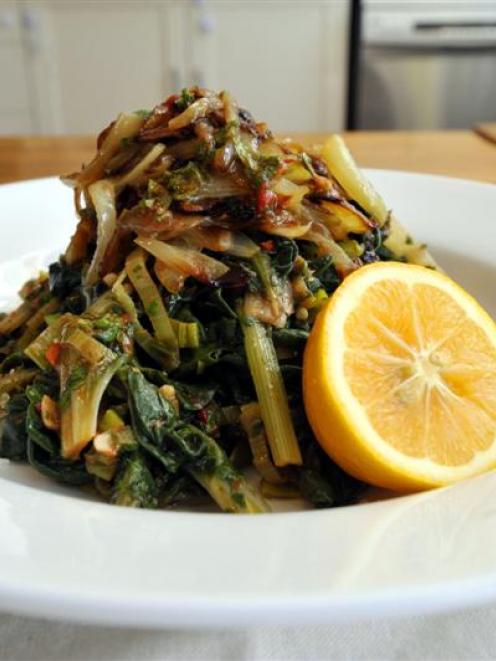 Tabil sauce
1 cup fresh coriander
1 Tbsp caraway seeds, roasted and crushed
1/2 head of garlic, cloves peeled
2 Tbsp tomato puree
2-4 red chillies, seeds removed if desired
80ml olive oil
Silverbeet and onions
80ml olive oil
2 onions, sliced
1 tsp red wine vinegar
1 leek, finely sliced
1 bunch silverbeet, stems removed and cut roughly
1 clove garlic, crushed
Juice of 1 lemon
Salt and pepper
1-2 tsp Tabil sauce

First make the tabil by whizzing all the ingredients, except oil, together in a processor, then slowly add the oil until a smooth paste has formed. Set aside.
Heat half the oil (40ml) in a pot and cook the onions over a medium-high heat for 10-15 minutes until they are soft, sweet and caramelised. Stir in the vinegar and set aside.
Heat the remaining oil and saute the leek until it softens, add the silverbeet and garlic. When it has wilted, add the lemon juice and season with salt and pepper. Cover and lower the temperature and braise the silverbeet for 10 minutes. Remove the lid and turn up the heat and stir in the tabil.
Remove from the heat and serve on a platter, piled high with the sweet, sticky onions and scatter over some wedges of lemon.
---
Alison Lambert, chef at the Otago Farmers Market, will demonstrate this recipe at the market on Saturday morning.
---