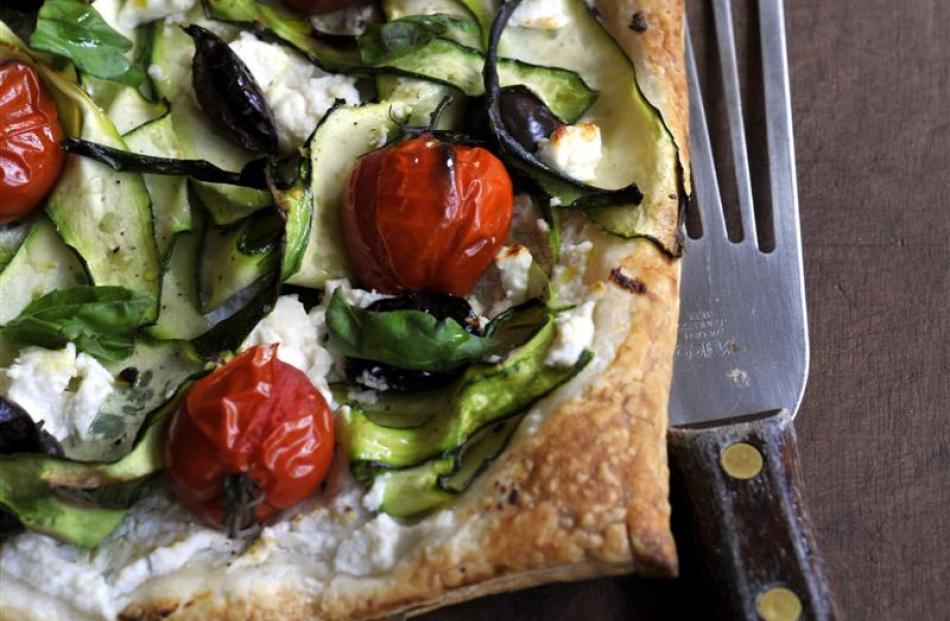 This recipe is the perfect base for any number of delicious toppings. I always have ready-rolled pastry in the freezer, which is perfect for a quick tart like this. Be creative with the vast array of delicious seasonal produce.
Serves 2-4
1 sheet ready-rolled puff pastry
1 zucchini, peeled into strips with a potato peeler
12 pitted olives
6 cherry tomatoes
2 Tbsp ricotta or creme fraiche
1 tsp whole grain mustard
50g feta cheese
Sea salt and freshly ground pepper
6 fresh basil, marjoram or oregano leaves
Preheat oven to 200degC.
Place the puff pastry sheet on to a baking tray. Prick the centre of the pastry, leaving a 1cm rim around the edges.
Mix the ricotta or creme fraiche with the mustard and sprinkling of salt. Spread it over the base of the pastry.
Drizzle a little oil over the zucchini strips and basil, a sprinkle of salt and pepper and crumbled feta cheese. Pile this over the pastry and scatter over the tomatoes and olives.
Bake until the pastry is golden brown and the tomatoes are just about to burst (15-20 minutes).
Serve hot or cold with one last drizzle of extra-virgin olive oil.
---
Alison Lambert will demonstrate this recipe at the Otago Farmers Market on Saturday.
www.alisonmarketchef.blogspot.com
---