We are all aware of the impact Covid restrictions have had on events across the country. One of the casualties was the annual new releases tasting by the Alexandra Basin Winegrowers which is held in Clyde every Labour Weekend.
Unable to run the public event, the local growers put on their "Best Foot Forward" tasting and a winegrowers dinner, and invited me and my tasting colleague, Ricky Collins, to join them.
I sometimes think of the phrase "small is beautiful" in relation to Alexandra basin wineries, as so many of them are just that. Few are readily available in other parts of the country, but can be found in Central Otago retailers and restaurants, as well as at their respective cellar doors and online.
A visit to one of their cellar doors will invariably allow you to meet one of the owners, where they can share their passion for their land and their wines.
For me, it was a marvellous opportunity to gain a snapshot of the region, through both some current releases and a number of older wines, and spurred an enthusiasm to go back and explore further.
Kiwi chardonnay on top
Highly respected American wine critic James Suckling has released his top 100 wine list for 2021, culled from the more than 25,000 wines evaluated over the year.
Sitting at No 1 is the 2020 Kumeu River Mate's Vineyard Chardonnay, which the Hong Kong resident reviewed earlier in the year, giving it a score of 100/100. This is an extraordinary result for the Brajkovich family at Kumeu River, but also recognition for the New Zealand industry.
Sadly, the wine sold out some time ago in the domestic market, so you will just have to keep your eyes peeled for the 2021 vintage when it is released next year.
Back to the future
There is a growing movement overseas, and in particular in biodynamic vineyards, to go back to using horses to plough their vineyards. This can reduce compaction of vineyard soils (which also has a beneficial effect on water runoff) and lowers emissions.
Churton Vineyard, in Marlborough, is doing just that with a couple of Clydesdale horses, and it was running a Pledge Me campaign to help fund this project. Check the progress on the vineyard's website.
Three wines from the Alexandra basin
2021 Judge Rock The Guilty Organic Pet-Nat
Price RRP $30
Rating Very Good to Excellent
Unfiltered so cloudy. Yeasty notes, strawberry, fruit pastilles, sweetly fruited. Effervescent, initial fruit sweetness with dried strawberry and mixed berries, tending drier on the mid-palate and close. There's a refreshing tanginess to this as notes of green apple and almond appear, with a bittersweet touch adding contrast to the finish. A good food choice too.
Ruru Central Otago Rose
Price RRP $23
Rating Very Good to Excellent
Fragrant, perfumed, dried strawberry, with savoury and stony mineral qualities that build with aeration. Fruit sweetness leads, yet the palate is dry with that attractive savoury quality joined by a wisp of salinity, adding freshness. There's silkiness here, a sense of crunchiness too, with an almondy bittersweet character bringing this to a close.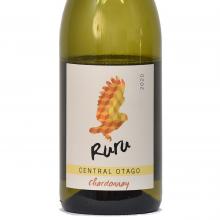 2020 Ruru Central Otago Chardonnay Price Cellar Door
Price  RRP $29
Rating Excellent
Bright and engaging nose. Tropical fruits, juicy fruit gum, nutty nuances. Creamy, rich, flashes of toast and caramel, again the tropical fruit to the fore, but with a citrusy undercurrent on the finish. There's power and depth here, but with a nice sense of freshness too, and a long, appealing close. A lot to enjoy here for chardonnay fans.