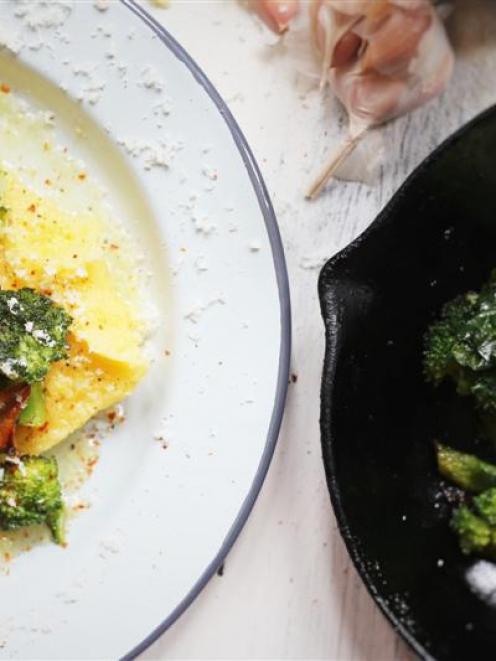 I do realise I have gone on a marathon of broccoli lately but it is widely available at the moment and it is tasting good.
Polenta is a wonderful option and pretty much goes with anything you put with it.
I love to add lashings of butter and cheese, and, as you can imagine, when served with broccoli it makes for a wonderful dinner.
Soft polenta with broccoli
Serves 4
Ingredients for the polenta
1.5 litres water or vegetable stock
700g polenta (instant)
salt and freshly ground pepper
60g parmesan cheese, finely grated, plus extra for serving
30g butter, cubed
50g olives, stoned and roughly chopped
6 sprigs fresh thyme leaves
For the broccoli
500g broccoli, cut into long florets
½ Tbsp olive oil
2 garlic cloves, finely sliced
pinch chilli flakes
sea salt and freshly ground pepper
Method
Begin by placing one large heavy based pot with 1.5 litres water or stock on stove for the polenta, and you will need another pot of water for blanching the broccoli.
Get all your preparation, such as cutting the broccoli, grating the cheese etc, done and set aside.
When you have all your preparation done, begin by blanching the broccoli.
When the water is boiling plunge in the broccoli and cook until tender (3-5 minutes). Drain and refresh immediately under cold running water, drain and set aside.
Now on to the polenta. When the water or stock is boiling, gradually add the polenta while whisking or stirring vigorously until all the polenta is added.
Turn down the heat to low and continue to stir. This will bubble so do take care. Season well with salt and pepper.
In a frypan add the oil, garlic and chilli flakes and cook until lightly golden. Add the broccoli and a dash of water. Saute until warmed through. Season lightly.
Finish the polenta with the butter and parmesan cheese and stir until mixed through, taste, and adjust the seasoning if necessary.
Serve on warmed plates with the juicy broccoli on top and drizzle over any oil and garlic that is left. Serve with more parmesan cheese and eat immediately.
Alison Lambert is one of the demonstrators at the Otago Farmers Market in Dunedin on Saturday mornings.
-tasteofmylife.com