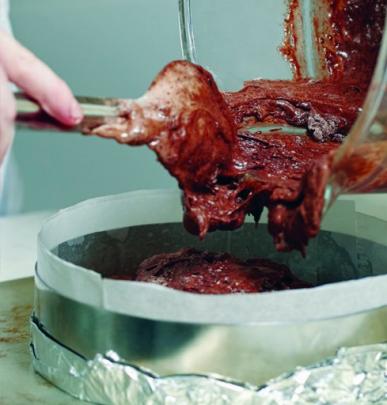 Top New Zealand baker Dean Brettschneider has put out a new book for the home baker - coincidentally just in time for the Fresh Food Show's Great Southern Bake-off, where the title of best chocolate cake in the South is at stake.
We have plundered the book for some inspiration and tips from the The Great Kiwi Bake Off judge. A new series of the popular television show premieres October 16 on TVNZ 2.
Christchurch-born and bred, Brettschneider, who opened his first bakery in Dunedin 25 years ago, says the most important thing in baking is to have fun.
Fun is what Gilbert's Fine Food owner Kevin Gilbert is hoping the competition to find the best chocolate cake in the South will be.
Gilbert and Fresh columnist Annabel Langbein will judge the competition looking at flavour, quality, visual appeal, decorations and creativity.
Gilbert is also urging young bakers to have a go at baking with sections for junior bakers (aged 5-9 and 10-14).
Their challenge is to decorate a Living in Otago-themed cake.
"It's all about creativity and design, so bakers don't need to be too worried about the flavour on this occasion; it's all about how their entry looks."
Get it
Kiwi Baker at Home Dean Brettschneider, Potton and Burton, $49.99
Basic chocolate sponge
Ingredients
5 eggs, warmed 150g castor sugar
150g plain flour
5g baking powder
50g cocoa powder
50g melted butter
Method
(See slideshow above for photos)
1. Using an electric mixer with a whisk attachment, whisk warmed eggs and sugar until the ribbon stage (when the mixture is thick and will hold its own weight for about 10 seconds when trailed on itself).
2. Sift flour with baking powder and cocoa powder, then carefully fold flour mixture through the egg mixture.
3. Once flour is three-quarters way incorporated into egg mixture, add melted butter and continue to fold through gently. Avoid over mixing at this stage otherwise you will lose all the precious air bubbles you have created.
4. Immediately pour mixture into a 20cm round greased and floured cake tin. Place into a preheated oven set at 190degC and bake for 25-30 minutes, until cake is set.
Chocolate very berry layer cake
Makes 1 20cm round cake
Creating a light and airy chocolate sponge is an art as well as a science, but once that is done, pair it with lightly whipped chocolate cream and fresh berries, and the combination is simply divine. Make at least four hours in advance to ensure that the flavours of the chocolate cream and sponge meld together before serving. Enjoy with a chilled crisp sweet dessert wine.
Ingredients
1 quality basic chocolate sponge
fresh strawberries, raspberries and blueberries
100g chocolate shavings
icing sugar, for dusting
edible flowers, for decorating
Chocolate cream
100g good-quality dark chocolate chopped into small pieces
400ml whipping cream
Method
Prepare the chocolate cream a day ahead. Place the chopped chocolate into a bowl. Heat the whipping cream in a small saucepan until just below the boiling point. Pour the hot cream over the chopped chocolate and stir until the chocolate has completely melted. Strain into a container. Cover and refrigerate until needed.
The next day, place the chilled chocolate cream into a mixing bowl. Using an electric mixer fitted with a whisk attachment, whisk the cream until soft-medium peaks.
Prepare the chocolate sponge and set aside to cool completely in tin. Remove cake from tin.
Using a serrated knife, cut sponge horizontally into three equal layers.
Using a palette knife, spread 150g chocolate cream on the first layer of sponge, then place the middle layer of sponge on top. Press down gently. Repeat to spread with another 150g chocolate cream, then sandwich with the final layer of sponge. Press down gently.
Spread remaining chocolate cream over top layer of sponge and sprinkle with chocolate shavings. Arrange fresh berries on cake, then dust lightly with icing sugar. Finish with edible flowers.
Deluxe chocolate lamingtons
Makes 12 small cakes
Rather than use a soft, light airy sponge, I have used my deluxe chocolate cake recipe to make these lamingtons. Coating them in chocolate ganache adds that extra indulgence that really sets this apart from its Kiwi counterpart. Enjoy with your favourite coffee. I enjoy mine with a flat white.
Batter
80ml milk
½ tsp cream of tartar
90g plain flour
35g cocoa powder
145g sugar
½ tsp baking soda
¼ tsp baking powder
40ml vegetable oil
1 small egg
1 tsp vanilla extract
50ml hot water
Ganache
120g dark chocolate, roughly chopped
220ml whipping cream
200g desiccated or shredded coconut
Method
Lamingtons can be prepared a few days ahead and kept in the freezer before coating with the ganache and coconut.
Preheat oven to 180degC. Grease 12 silicone muffin cups with cooking spray or line with paper cupcake cases.
In a small bowl, whisk the milk and cream of tartar with a fork. Set aside for 5 minutes.
Prepare batter. Sift the flour, cocoa powder, sugar, baking soda and baking powder into a mixing bowl. In another mixing bowl, combine the oil, egg and vanilla with a wooden spoon. Add the milk mixture and stir to combine. Add flour mixture and mix until just combined. Slowly add hot water and mix for 12 minutes until batter is smooth and well combined.
Pour batter evenly into prepared muffin cups and bake for 15 minutes or until a skewer inserted into the centre of cakes comes out clean.
Let cakes sit in muffin cups for 10 minutes, before removing to a wire rack to cool completely. Place in the freezer to freeze before coating.
Prepare the ganache. Place the chopped chocolate in a bowl. Heat the cream in a small saucepan over medium-high heat until just under boiling point. Pour hot cream over chocolate and stir until well combined. Leave to cool to room temperature.
Remove the frozen cakes from the freezer. Dip cakes one at a time in ganache and coat well. Place on a wire rack to allow excess ganache to drip off. Place ganache-coated cakes one at a time in desiccated or shredded coconut and toss until evenly coated. Place on a tray to set. This is a great job for two people, one to dip and one to coat.
Cake basics
Points to consider when making a sponge. —
• Ensure that your equipment is free from grease and clean.
• Prepare all ingredients correctly and weigh your ingredients accurately. 
• Always adhere to the procedures and mixing times stated in the recipe.
• Avoid over-mixing when folding in the flour as this will result in a loss of volume in the baked product. Bake immediately.
• Always check  the oven is heated to the correct  temperature required for the product. 
Baking guidelines
Always bake in a standard oven (not a fan-forced oven) for the best results. The chart below is a general guide to baking sponges. All times and temperatures are guides only and will vary from oven to oven.
                              Temperature                      Time
Sponge cakes      180degC-200degC           20-30 minutes
Swiss rolls            220degC-230degC           5-7 minutes
Cooling
Once the sponge comes out of the oven, it should be allowed to stand in the tins or tray for 10-15 minutes to allow it to settle and become firm. This will avoid it being damaged.
Great Southern Cake Off
Entries must be registered at www.kiwihomeandliving.co.nz/southern-cake-off before 5pm on Friday, October 26, with judging on November 4 at the Whitestone Cheese Fresh Food Show at the Great Kiwi Home & Living Show.
Registrations and more details on the Living in Otago youth baking competition www.kiwihomeandliving.co.nz/icingonthecake.
Get it
Kiwi Baker at Home Dean Brettschneider, Potton and Burton, $49.99