Summer means fresh berries, and they are here in all their glory.
First to reach our plates were local strawberries in early December. Raspberries arrived just before Christmas and now, in full swing, are blackberries, karaka berries and boysenberries. We are simply spoilt for choice. We have just harvested our blackcurrants, the redcurrants are only a week away, and Northland blueberries are getting cheaper by the week. They won't be here forever, so enjoy the true taste of summer while it lasts.
A simple almond tart piled up with strawberries is the perfect answer for a special afternoon tea. If the heat is on these holidays, cool down and keep it light with a refreshing summer berry salad and milk gelati. An easy, yet elegant way to finish any meal is with a gorgeous chocolate tart. Smothered in raspberries, it is an absolute showstopper!
Recipes are from Bevan's latest book, Riverstone Kitchen Simple.
---
Strawberry almond tart
Serves 10
Ingredients
1 recipe sweet shortcrust pastry, blind baked (see recipe)
250g unsalted butter
250g caster sugar
250g almonds, ground
4 free-range eggs
1 tsp vanilla essence
50g plain flour
1kg strawberries, hulled and cut in half
½ cup vanilla sugar syrup
Vanilla sugar syrup
1 cup caster sugar
¾ cup water
½ tsp vanilla bean paste
Sweet shortcrust pastry
Makes 1 28cm pastry case
175g unsalted butter, room temperature
75g icing sugar
2 free-range egg yolks
250g plain flour
1 Tbsp cold water
Method
Preheat oven to 160degC. Beat butter, sugar and almonds in a mixing bowl until well combined. Add eggs, one at a time, until well incorporated then add vanilla essence and flour and mix well. Spread frangipane mixture over pastry base with a spatula and bake for 45 to 50min or until golden brown and just set. Remove from oven and allow to cool before removing from baking tin. Place strawberries in a bowl with the vanilla syrup. Lightly toss together and place on top of the frangipane tart. Serve immediately with pure cream or vanilla ice cream.
Vanilla sugar syrup
Place all ingredients into a small saucepan and bring to the boil over a medium to high heat. Remove from heat and allow to cool completely before use. Store in an airtight container for up to one month.
Sweet shortcrust pastry
Cream butter and sugar in a mixing bowl until light and pale. Add egg yolks, one at a time, mixing well. Mix in flour and just enough cold water to bring the pastry together. Knead lightly, roll into a ball, wrap in plastic wrap and refrigerate for 30min or overnight. Preheat oven to 180degC. Unwrap pastry, slice thinly and press into a 28cm fluted tart mould with a baking paper-lined removable base. Ensure pastry is evenly and thinly spread, about 2mm thick. Remove excess pastry from around edges. Refrigerate pastry base for 10min before lining with a sheet of baking paper. Fill with baking beans and blind bake for 15 to 20min or until golden brown. Allow to cool before removing beans.
Wine match: rose.
---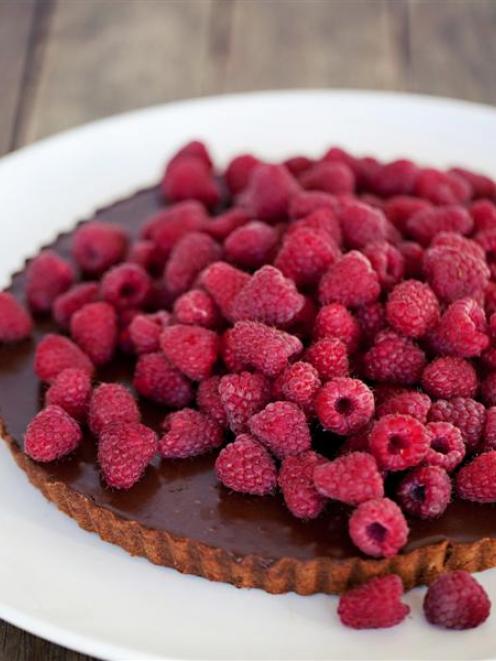 Chocolate tart with fresh raspberries
Serves 10
Ingredients
28cm fluted sweet pastry case, blind baked (see strawberry almond tart recipe)
650g 70% dark chocolate buttons
350ml milk
220g unsalted butter
250g caster sugar
3 free-range egg yolks
800g fresh raspberries
150ml fresh cream, lightly whipped to serve (optional)
Method
Place chocolate and milk into a large stainless steel bowl. Heat over a large pot of simmering water, stirring until chocolate has melted. Cream butter and sugar until pale and creamy, add egg yolks and mix well. Stir the creamed mixture into the warm chocolate until well combined. Return the bowl with the chocolate mixture on to the pot with the simmering water and stir for a further 1-2min until the chocolate mixture darkens slightly as it warms up the eggs and sugar. Pour chocolate mixture into pastry tart base and refrigerate for one and a-half hours. Remove tart from tart ring and place gently on a flat serving plate. Scatter raspberries over tart and dust with icing sugar. Slice with a very hot knife and serve with fresh cream if desired.
Wine match: Noble riesling
---
Summer berry salad with milk gelati
Serves 4
Ingredients
2 cups fresh cherries
1 cup fresh blackberries
2 cup fresh raspberries
1 cup fresh boysenberries
icing sugar for dusting
Milk gelati
Makes 1 litre
600ml full-cream milk
200ml cream
50g milk powder
150g liquid glucose
70g caster sugar
Method
Scatter fruit between four bowls and top with milk gelati. Dust with icing sugar if desired and serve immediately.
Milk gelati Place all ingredients into a heavy-based saucepan and stir over a medium to high heat. Heat to 80degC (use a heat-proof thermometer) then remove from heat, transfer to a stainless steel bowl and refrigerate until completely cold. Churn in an ice-cream machine according to manufacturer's instructions.
Wine match: Moscato d'asti
---
• Bevan and Monique Smith own the multi-award-winning Riverstone Kitchen, just south of the Waitaki bridge in North Otago. Bevan is also author of Riverstone Kitchen: recipes from a chef's garden and Riverstone Kitchen Simple.