I'm using my slow cooker year-round nowadays, yet with the shortest day just passed, and winter's icy chill upon us, this form of cooking has even greater appeal.
Casseroles, stews etc shout comfort food plain and simple when you are snuggled up at home on a wintry night.
For my money, Cotes du Rhone is a marriage made in heaven for these dishes. Possibly the most widely available French wine style and wallet-friendly to boot, its combination of rich fruit, spices, savoury and earthy notes with a bit of tannic backbone amounts to nirvana with accompanying protein.
The delightful selection below will get you started, there are so many more to experiment with.
2016 Cuvee du Vatican Cotes du Rhone Villages
Price: $22.50
Rating: Excellent to outstanding
Beautifully fragrant nose of spices, earth and mixed berries. Powerfully fruited and mouth-filling, an enticing savoury, umami note floods the mid-palate with garigue herbs a backdrop, the whole neatly framed by tannins. Juicy and with excellent length, this leaves you salivating and wanting more.
Absolutely delicious; more please!
2016 Les Courtilles Cotes du Rhone
Price: $23-$24
Rating: Very good to excellent
Alluring nose of smoke and bonfire before the heady Grenache perfume takes over. Chewy and mid-weight, a zesty, tangy note plays the soprano, the darker, savoury notes the bass. This has deceptive power, building in structure and fruit intensity the longer it sits in the glass.
Youthful, but already very drinkable.
No website available.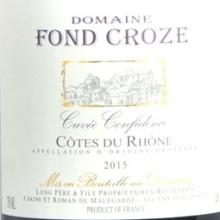 2015 Domaine Fond Croze Cotes du Rhone Cuvee Confidence
Price: $22
Rating: Excellent to outstanding
Darker fruited nose, a balsamic hint at first, stony, tilled earth as the fruit swells. Dark and brooding power to the fruit expression, contrasting blueberry and raspberry fruit notes to the savoury licorice. Powerfully structured yet in neat balance to the wine's obvious intensity and power. Lovely flow through the palate to the long, chewy close.
Fabulous stuff.
2015 Paul Jaboulet Aine Cotes du Rhone Parallele
Price: $24.25
Rating: Excellent
Subtle but appealing nose, hinting earthy and savoury, then bran biscuit and mixed fruits. The palate belies the nose with real intensity in the mouth, darker fruits, plums, wild herbs and an almost  salty note that creates tangy freshness, leaving you salivating. Nice grip and a long finish with the flavours lingering in the mouth.
A game of two halves here.
2014 Guigal Cotes du Rhone
Price: $27
Rating: Excellent
Savoury nose with bonfire embers and wild herbs. A rush of flavour fills the mouth with lovely fruit concentration. Violets, roses, mixed fruits, wending their way back to the savoury theme, with a little salty undercurrent. An enticing lip-smacking quality, balanced by fine tannins, with a little warm glow on the close.
Lots of appeal here.
2015 Famille Perrin Cotes du Rhone Reserve
Price: $29-$30
Rating: Very good
A little wilder at first with tilled earth and funk, the perfumed fruit flowing in.
Medium weight, with youthful freshness and appeal, excellent balance and drinkability created by the fruit richness, which grows over time creating a counterpoint between the fruit sweetness, yet appealingly dry finish.
A nice intro to Cotes du Rhone.