The Gimblett Gravels dozen varies in its composition each year, both in varietal mix and in producers featured, with this 2015 edition featuring five Syrahs ranging from the excellent value category to the truly aspirational.
All of them different, all of them showing the great strides that have been made with this grape and all of them utterly delicious.
Symmetry of column size meant the addition of one of the lovely blended reds too.
In a departure this year, the boxed set has been made available for sale through the Gimblett Gravels body.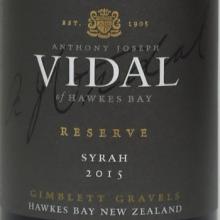 2015 Vidal Reserve Gimblett Gravels
Syrah
Price: $24.99
Rating: Excellent
Voluminous nose of plum, dark fruits, pepper, spice and lovely savouriness.
Powerfully structured palate driven by acidity and tannins at first, all the other elements waiting in the wings for their time on the stage, remaining dusty, savoury and spicy.
The fruit wells up but this is still very young with more to offer. Great value.
2015 Trinity Hill
Gimblett Gravels
Syrah
Price: $35
Rating: Excellent to Outstanding

Bonfire notes, dark fruits, savoury elements. Voluptuous, fleshy, tilled earth melding with dark fruits: juicy boysenberry crunchiness to the mid palate, approachable already yet structure underlying it.
Fruit sweet yet dry, building in intensity.
This one quietly won me over to its charms, forcing me to up my rating.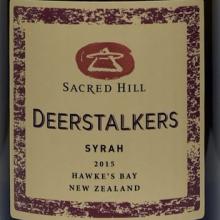 2015 Sacred Hill
Deerstalkers
Syrah
Price: $69.99
Rating: Excellent to Outstanding
Fragrant and floral, blueberry and violets, adding char, earth and tar.
A sweet lift to the mixed red and dark fruits, yet with a real tangy zing offering a refreshing counterpoint.
The tannins build deceptively, offering real backbone, giving chewiness on the long close, which layers tar and earth on the growing fruit depth.
2015 Craggy Range Gimblett Gravels
Le Sol
Price: $135
Rating: Outstanding
Blackberry & blackcurrant with a hint of crushed leaf and pepper.
Pepper and spice on the palate, richness to the fruit, becoming ever more sumptuous adding touches of warm leather and black olive and a long, savoury finish.
Wonderful flow through the mouth, impeccable balance and for all its richness, amazing lightness. Superb.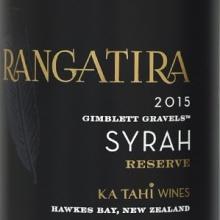 2015 Ka Tahi Rangatira Reserve
Syrah
Price: $29.99
Rating: Excellent to Outstanding
A touch different; the alluring waft of bonfire on the beach with a whiff of seashell.
Richly fruited, playing in the dark fruits spectrum with crunchy boysenberry. Notes of dusty white pepper, balsam and soy, sweetness to the mid palate with good grip.
Outside the mainstream perhaps, yet plenty going on here.
2015 Te Awa Single Estate
Gimblett Gravels
Merlot Cabernet
Price: $29
Rating: Excellent

A fragrant nose with red fruits, raspberry and cedary oak. The palate is at once savoury, spicy and earthy while a core of red and darker fruits runs through the wine, offering an undercurrent of crushed herb.
While this fattens up and the tannins build, this is medium bodied, built on elegance and fineness. Excellent value here.