Beaujolais (the wine and the region in France) is on my mind as I plan to visit the area this year, roughly half an hour's drive northeast of the city of Lyon, Beaujolais: produced from the red grape Gamay (or Gamay Noir a Jus blanc to give it its full name), is the mainstay of the bistros in Lyon (locally known as ''bouchons''), beloved for its bright, juicy, quaffable nature: what the french would call a ''vin de soif''.
While Beaujolais has recovered from the excesses and loss of cachet caused by the annual Beaujolais Noveau circus, much is still made in large volumes; however, the 21st century has seen a return to traditional methods and a focus on the Cru wines with much greater depth of flavour.
These are still not ''big'' wines by any means, but manage to combine a thirst-quenching drinkability with a wealth of flavour and detail, while in comparison to their near northerly neighbours, Burgundy, they remain truly affordable.
Locally, NZ Winegrowers report 7.3ha of Gamay planted here, with Te Mata in Hawke's Bay having the lion's share with 6.3ha. They imported their own clone in 1995, producing it since 1997, and now export it to more than 40 countries.
Also in Hawke's Bay, Easthope Wines produced a single barrel (300 bottles) in 2015 from a small plot they have contracted from Lucknow Estate. A grower has planted some for them while they also plan to plant some themselves, so their production will grow.
The other 0.8ha is grown in Central Otago where Rippon also champions the variety, having planted the grape back in 1987. Used solely for a Gamay Rose until 2011, the maturity in their vines has seen them shift focus to red wine.
Duncan Forsyth from Mount Edward also had a Gamay epiphany following a trip to Beaujolais, planting vines upon his return and has released the first tiny crop from the 2016 vintage.
Finally; Yoshi Sato, of Sato Wines, has also fallen under the spell of Gamay and has just recently planted a vineyard in a cooler, higher elevation site with the first wine still some years away.
Our local versions will take some effort to find (even Te Mata with the greatest amount produced report their 2016 nearly sold out), but for fans of this variety your efforts will be rewarded.
2016 Te Mata Gamay Noir
Price: $25
Rating: Excellent
Raspberry, cranberry, wood-smoke, becoming savoury with aeration. The palate adds red and blackcurrants to the mixed berries, leaf, wood smoke and pencil shavings.
Slippery, supple and mouthfilling; this has a fresh vitality to its lipsmacking juiciness with a yummy, brambly wildness accenting the dry finish.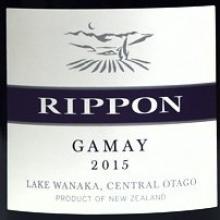 2015 Rippon Gamay
Price: $52
Rating: Excellent
Berry compote, concentrated blackberry fruit and tilled earth lead, becoming more fragrant and also savoury with time. Powerful blackberry fruit on the palate with undercurrents of stalk and leaf: a sweet fruit note lingering. Big tannins here with a crunchy chewiness that leaves one salivating. Structured, intense and youthful, with a beguiling bonfire note on the close.
Great with food.
2016 Mount Edward Muirkirk Vineyard Gamay
Price (cellar door): $35
Rating: Excellent to outstanding
Something a little wild and savoury here on top of mixed berries and raspberry. Dusty, earthy, blue and blackberry notes, sour cherry and cranberry with time. A lipsmacking fruit pithy chewiness to the palate that becomes more and more supple as fragrant fruit purity and lovely savouriness develops.
Hints of wet stone and a tangy note on the delightful close.