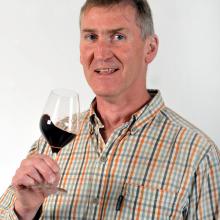 Mark Henderson samples some fine pinot noir.
My regular panellists Ricky and Alastair joined me on another blind journey to happy hunting grounds, with this strong selection of Central pinot noirs (with one Waitaki ''interloper'').
Vintage variation always brings its own nuances to wines, so our first ''sighter'' of a couple of flagship labels from 2015, while only a tiny sample, is still informative as to what may lie ahead.
For now though, we are well served by the 2014 vintage.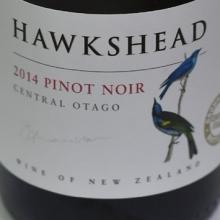 2014 Hawkshead Pinot Noir
Price: $44
Rating: Very good
Ripe on the nose, with raspberry, spice and oak seasoning. Quite rich and concentrated on entry with chewy tannins: air brings in liqueur cherry and a little funky hint. A bright acid note lends an appealing sweet and sour touch akin to tamarillo on the finish.
This tightens up a little: time should work its magic here.
2014 Tatty Bogler Pinot Noir
Price: $35
Rating: Excellent
Youthful and ripe with a perfumed element and a hint of rhubarb, developing a schisty, mineral note and a seasoning of wild herb. Finer, quite silky on the front palate with dark cherries and nice grip; that minerality returning with a touch of sweat.
Great flow through the mouth, building in weight and richness.  Very tasty.
2014 Chard Farm Mata-Au Pinot Noir
Price: $47
Rating: Excellent
A touch of smoky funk, campfire embers and some boiled sweets. Sweeter fruit on entry with dried strawberry, cherry and a touch of confectionery, which made it a little overly sweet at first. Aeration worked wonders here; however, the wine growing in interest with a lovely carry of flavour and nicely judged tannins.
A wee slow burner.
2015 Felton Road Cornish Point Pinot Noir
Price: $72
Rating: Excellent to outstanding
Musk and sweat at first, receding as the rich, ripe red fruits come out to play. Touches of raspberry and oak nuances. Powerful palate, bringing in plums and darker fruits, finding a delicate balance between lovely fruit richness without straying into over-sweetness: a savoury note with time. Nicely judged tannins.
Juicy yet beguiling.
2014 Valli Waitaki Vineyard Pinot Noir
Price: $65
Rating: Excellent
Noticeably different with lots of wild herb and stalk notes leading; a little funk and then red fruits flooding in. The palate adds forest floor and dried thyme with a real freshness and zing here. Deceptively rich; this dances on the knife-edge of ripeness and pulls it off.
Lots of complexity and fine tannins. Very enjoyable.
2015 Felton Road Bannockburn Pinot Noir
Price: $60
Rating: Excellent to outstanding
Dark and brooding, some char and bonfire with wild herbs to follow. Quite powerful in its dark fruit core, yet with a slippery texture and lovely integration. Quietly assured style with a wonderful flow through the palate: this doesn't shout from the rooftops, but is simply delectable.
This builds a lovely chewiness with time.
2014 Bannock Brae Pinot Noir
Price: $60
Rating: Excellent to outstanding
Fragrance on the nose with shoe polish and cherries, evolving to supple leather. The palate leads with dark fruits; spices, licorice and savoury notes with dark cherry, boysenberry and a salty stonyness becoming evident. Intense fruit here yet a lovely freshness on the finish as the tannins build.
A very complete and neatly balanced package.
2014 Rockburn Pinot Noir
Price: $50
Rating: Very good
Gunflint at first, making way for the brooding, dark fruits. Sweeter fruit floods the palate with hints of confectionery and toasty oak overlaying the cherries. This is a powerful wine, and while a little monolithic for now, has a fresh, zingy finish.
Very easy drinking, but I suspect that time will unlock more of this wine.