A group of friends and I meet occasionally for Sunday wine tastings.
One of my favourite themes is "the wild bunch'', where we take along less common varieties and wines we don't commonly get to drink or taste.
That theme also ties in neatly with last week's column about winery cellar doors, as cellar doors can be hugely fertile ground for discovering new varieties.
These may be pet loves of the owners/winemakers, experiments as to what might work in a given region, or attempts to future-proof against climate change.
Here's a group that may broaden your horizons.
2018 Astrolabe Chenin Blanc Sec
Price: $26
Rating: Very good to excellent
Refreshingly floral nose, expressive, notes of apple, quince and pineapple adding tropical fruits as it opens up. The fruit characters are powerfully expressed on the palate, richly textured with hints of honeyed sweetness yet finishing relatively dry due to the bright acidity.
An easy to enjoy intro to this Loire Valley white variety.
2012 Lone Goat Ehrenfelser
Price: $20
Rating: Very good to excellent
An uncommon German crossing that reminds me of aged Riesling with its toast, lime, musk and kero notes. Yellow peach, stonefruits apricot and honeyed notes flood the palate, the acidity keeping this just off dry on the smoky finish.
There's an appealing fruit salad element to the fruit, a snappy brightness and a little fruit pithy chewiness that tapers off a little on the close.
2016 Churton Petit Manseng
Price: $49 500ml
Rating: Excellent to outstanding
Pungent nose of butterscotch, fruit kernel and pineapple, flirting with a wild, oxidative note. Powerfully fruited, creamily rich and textured palate with real intensity of flavour as the pineapple and exotic fruits dance on the palate. Sweetly honeyed fruit here, yet the acidity snaps this into line giving lovely freshness with a long carry of exotic fruits on the relatively dry close.
Delicious.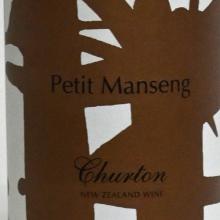 2017 Churton Petit Manseng Passerille
Price: $49 500ml
Rating: Excellent to outstanding
Sumptuous nose with beeswax, honey, musk and tropical fruits. Intensely luscious palate oozing with dry honey, fruit kernel and piquant, ripe tropical fruit notes, a little bittersweet note and zesty acidity creating an attractive counterpoint to the lush viscousness. This would be absolute magic paired with blue cheese!
Fascinating wine in a dessert style.
2016 Spade Oak Heart of Gold St Laurent
Price: $20
Rating: Very good to excellent
Fragrant nose with lots of interest: cranberry, licorice and savoury touches. There's a refreshing tartness woven around the notes of berryfruit, lead pencil, licorice, smoke and a little char. Vibrant, youthful with some silkiness and structure too.
The sweetness builds with time, but a little sweet & sour note on the close keeps it in line.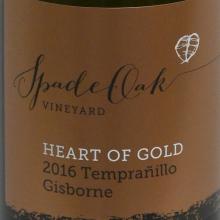 2016 Spade Oak Heart of Gold Tempranillo
Price: $20
Rating: Excellent
Subtle yet attractive nose of red fruits, cedar and tobacco; these flavours flow on to the palate, joined by spice nuances.
Medium weight fruit with an attractive texture that has deceptively powerful structure: the tannins seemed to dominate at first but a little food with it worked wonders, creating a supple, youthful and juicily appealing drop that came together beautifully.