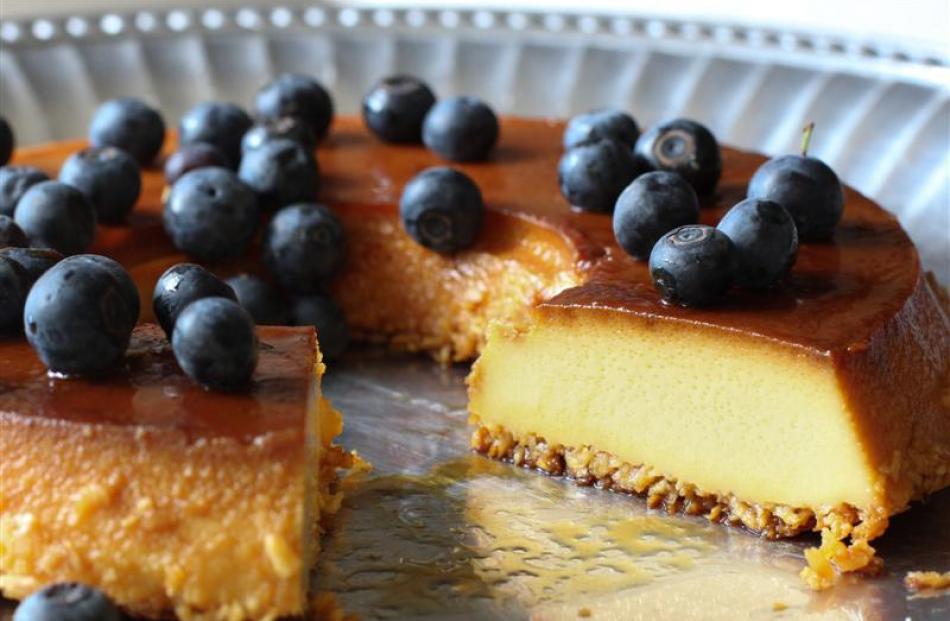 When a group of Clutha Valley School parents came up with the idea of doing a community cookbook, they had no idea what they were getting themselves into. Rebecca Fox talks to the team's ''food technician and stylist'', Joanna Jack.
Mammoth.
It was the only word Joanna Jack could come up with to describe the task of self-publishing a community cookbook, not just your average spiral-bound school cookbook, but a 360-page hardcover book that would not look out of place on anyone's coffee table, let alone in their kitchen.
It was a year of hard slog for the team of Clutha Valley parents - Mrs Jack, Renee Judson, Shelley Milne, Karen Tunnah, Fiona Wilson, Carmen Begg and Laura Hunter - after they had decided to take on the endeavour.
''We knew the sort of book we wanted to produce, but none of us had any experience. It was so new to us,'' Mrs Jack said.
''We wanted a really `styly' cookbook with a rustic feel.''
They also knew there were many really good cooks in the community who would have recipes to share, some quite coveted.
''The baking recipes have been a big hit in my household.''
The title Taste of the Valley was deliberate, as they hoped the recipes reflected many country communities around New Zealand.
It started with the school's children writing letters to celebrity chefs from around the country asking for their favourite recipes and then a ''call out'' was made to school families and members of the community asking for their favourite recipes.
As the recipes poured in, the group began to realise there were so many a spiral-bound or even softcover book was not going to be an option.
''We got more than 300 recipes and it was really hard to cull the recipes, as families had put in their favourites which is why it got so big.''
They also searched the community and op shops for great dishes and props to photograph the food with.
''We had an eye on a couple of local ladies who had good collections that we knew would make the food look really neat.''
They also wanted to reflect the school community and with pupils from 11 different cultures attending, they wanted recipes to show that.
''It's been fantastic to work with those families and learn how to make their dishes.''
They were also ''stoked'' with the replies from celebrity chefs, deciding to reprint their replies to the children to show their personalities.
Using their interests and skills, the group ''divvied up'' the jobs, with Mrs Hunter, mother of two school pupils and a keen photographer, taking on the photography for the book.
As well as recipes, the district's old schools were photographed, as were the Clutha Valley pupils.
Mrs Wilson, whose oldest child has just started school and whose youngest was born this year, took on the design aspect of the project, calling on skills in graphic design learnt at university and friends' advice.
Mrs Jack, with help from some of the recipe suppliers and group members, cooked up the dishes to be photographed and ''shot down the road'' to Mrs Hunter's, where the recipes were styled and photographed.
''I love cooking. Our families have been well fed through this.''
Mrs Milne and Mrs Judson worked tirelessly helping co-ordinate and proofread the copy and pitched in with anything else that needed doing, while Mrs Tunnah typed more than 42,000 words.
''We all worked so well together it was fun. We put in thousands of hours, all volunteered. If we'd had to pay someone it wouldn't have happened.
''There were many nights we were up after midnight.''
There was a lot of ''trial and error'', she said.
On one weekend the group packed up their nine children and headed to Wanaka, where a design friend helped them with the finishing touches.
''Looking back I wonder how we did it all.''
To see the finished product, which featured ''tried and true'' recipes using ingredients found in most kitchen cupboards, was a thrill.
''We're so thrilled. It's exactly what our vision was. We didn't think it would turn out as good as it has.''
Pre-orders of the book had seen 600 copies - a quarter of the print run - bought before its launch this weekend at the Clutha Valley House and Garden Tour.
The group then planned to sell the book through its online social media site and at fetes around the region.
---
Ciabatta
Ingredients
1 Tbsp yeast
1 Tbsp sugar
4 cups warm water
6 cups flour
½ tsp salt
Method
Place yeast, sugar and four cups of warm water into a big bowl and leave for half an hour.
Add 2 cups flour. Mix together and leave overnight.
The next morning add 4 cups of flour. Beat with wooden spoon. Leave 20 minutes then add salt.
Leave until lunchtime. Pour on to a floured bench and cut into two rolls (mixture is wet). Transfer to an oiled baking tray.
Bake 220degC-230degC (not fan forced) for 17-19 minutes. Cool on wire trays.
Jo Jack (mother of current pupils Olivia and Sophie)
---
Pumpkin, spinach and feta tart with brown rice crust
Filling
1 onion, chopped
4 rashers lean bacon, fat trimmed and chopped
2 cups cooked pumpkin, diced
1 cup cooked spinach, drained
100 grams feta cheese, chopped
⅓ cup grated edam cheese
1 cup milk
4 eggs
½ tsp dried thyme
freshly ground black pepper
Base
3 cups cooked brown rice
2 eggs
2 Tbsp grated parmesan cheese
1 tsp dried mixed herbs
Method
Preheat oven to 180degC.
To make the base
Place rice, eggs, parmesan and herbs in a bowl. Mix well. Press well into sides and base of a pie tin. Bake for 10 minutes.
To make the filling
Lightly spray a frying pan with oil and stir-fry onion and bacon until cooked. Combine with pumpkin, spinach and cheeses and place into rice crust.
Mix milk, eggs, thyme and pepper together in a bowl. Pour this over the other ingredients. Cook for 35-45 minutes or until filling is set and surface is golden brown. Leave to rest for 5 minutes before serving.
Makes great leftover lunch the next day too.
The Steel Family (past pupil)
---
Pudim
Pudim is a Brazilian dessert very close to New Zealand cream caramel. Very simple to make and delicious.
Ingredients
1 can of condensed milk
Same can of milk
4 eggs
desiccated coconut (optional)
10 Tbsp of sugar for the sauce 
Method
Beat condensed milk, milk and eggs together. Add coconut if you wish.
In a saucepan, melt the sugar until caramelised.
Thinly spread caramelised sauce over a round cake tin (round with a hole in the middle).
Pour mixture on top of it.
Put the tin with the mixture inside a larger rectangular cake tin of water so that the round tin is floating.
Bake at 150degC for about 1 hours.
Refrigerate if desired.
Sophia Johnston (current pupil)
---