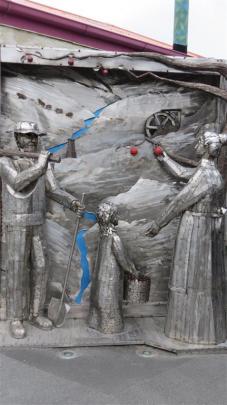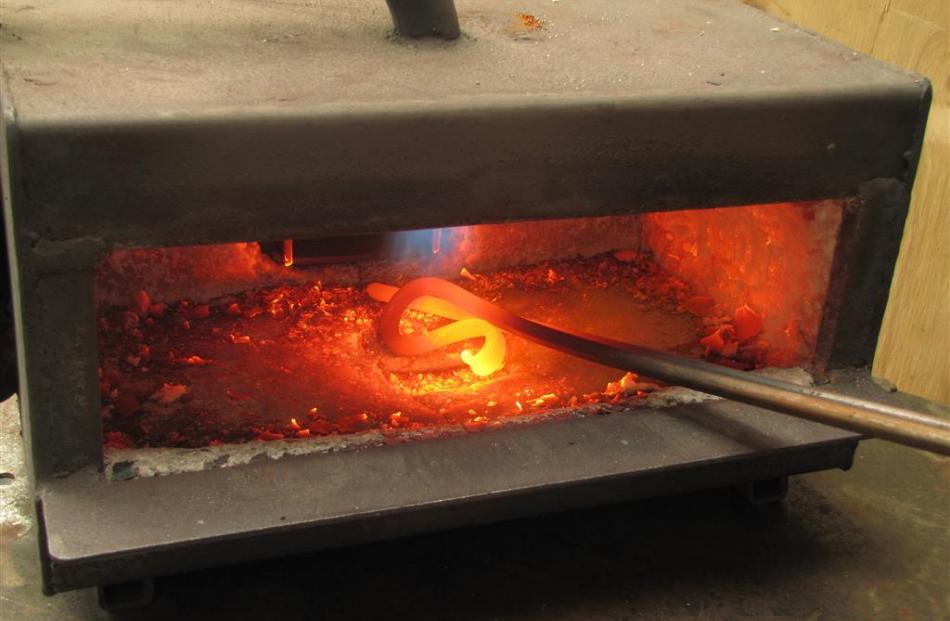 Roxburgh's Bill and Michelle Clarke have been forming metal into art for 20 years. Jono Edwards talks to them about their craft and moving away from forging to contemporary sculpture.
The workshop is a garage at the couple's Roxburgh home, its size doubled by a wooden extension roof starting at the garage door.
Hammers clutter wooden tables and other tools line the wall-mounted shelves.
The room has a sound palette made up of equal parts hammer bashing, forge-fire rumbling and easy-listening music. It is here Forge and Crafted's Bill (66) and Michelle (56) Clarke morph metal into both practical and decorative art pieces, ranging from forged gates to sculptures, mirrors and tables.
In the past 20 years they have made a name for themselves selling works around the country and internationally.
The equipment and methods the pair use are both ancient and modern, a contrast reflected in the style of their art.
Michelle says it began in the early 1990s when Bill, despite having no experience in the craft, made her a table.
"I saw it in one of the gardener magazines years ago and thought, 'Oh, do you think you can make that?' And blow me down, he went and did it.''
This lit a forge-fire under Bill, who quickly developed a passion for the craft.
"Then came an anvil, then a forge,'' Michelle recalls "and before too long he built up a stack of equipment.''
In 1995, the Roxburgh Area School caretaker began splitting his time between his day job and building up a business from his new love under the name Forged and Crafted.
"I really started to enjoy twisting and forming metal. It's manual labour, but there is a real creativity to it,'' he says.
Bill is self-taught. Before he began crafting professionally, he owned an orchard at Coal Creek near Roxburgh, where he learnt practical skills such as fixing tractors.
With this as a base, Bill also received tips in the early days from friend Albie Edwards, who worked as a farrier in Gore. But, largely, his knowledge was based on the many books be borrowed from the library as each new challenge arose.
"I just sort of threw myself in it and picked it all up as I went.''
Originally, Bill's most popular products were gates made of mild steel, a material which is easily mouldable due to its low carbon content.
A haunted-looking gate can be found at their house; opening on to their backyard, the gate is styled as a black vine ripe with bunches of (metal) grapes .
The process of gate-making starts with a steel rod, which Bill heats in his small gas forge until glowstick-red. He then places the rod on an anvil and strikes it several times with a hammer, morphing it as much possible before it cools. He repeats the process until the desired shape is formed before the rod is cooled and strengthened by being dipped into an oak barrel filled with water. The same is done to other pieces until they can be welded together as a finished product.
Bill's gas forge can heat metal up to 700degC, a power dwarfed by traditional coal forges which reach temperatures in the thousands.
"I would like to get one of those one day. I like the history of the old equipment.''
The added heat is attractive to Bill as it would mean he could work with Damascus steel; a modern re-creation of a metal ancient Syrians used to make swords.
But 700degC is more than enough to fill the garage with visibly rippling heat, especially on a dry Central Otago day.
"I don't forge in the summer if I can help it; it's too much. I try to plan it so I don't have to,'' Bill says.
When he began, the tools of past generations were an exciting concept, leading Bill to visit second-hand stores in the area to build his inventory. He has three pairs of old rusted tongs, used by farmers in the region over 100 years ago, which he still occasionally uses to grab hot metal out of the forge.
"It's very satisfying using these old tools. I used them a lot more than I do now.
"Every farm and orchard pretty much had a forge. But nowadays they are replaced with new things, machines like this, the modern welders,'' he says, pointing to an electronic welding machine, which has become a staple in Bill's work.
Michelle wasn't originally involved in the business as she was home-schooling their two children, Elisha and Sarah. Then, about 10 years ago, Michelle was able to join her husband in the workshop and begin crafting, too.
"We both always loved art, so the creativity of making these pieces was very appealing to me.''
At the same time, Bill took up crafting full-time, and the two opened a shop in a converted Shell station on Roxburgh's main road, Scotland St. There they had the space to work on larger projects, many of which now decorate the public areas of Roxburgh.
On a drive down Scotland St you will see two separate, rusted panoramic scenes of pioneer life and a large leaf-patterned sphere, which lights up at night.
These days, their interest has turned away from forging and large projects towards mid-sized stainless steel sculpture. Earlier this year they closed their store and now work back at the home workshop for commission.
"It's more lucrative and there is a lot of demand for it,'' Michelle says, "but you also get to be far more creative. You can imagine something, make it, and someone will want to buy it.''
The sculptures are mainly animals including lizards, hares and sheep. The most recent of Bill's creations is a life-sized stag, which is a source of pride for the pair.
The sculptures have a rustic hint to them but are unmistakably modern. Wire skeletons form the base of the creatures and metal is beaten and bent into shape to fit the musculature of the animal.
Michelle points at a sheep she has recently made on which holed metal ovals are stitched together like a patchwork doll.
"The piecing together is just like knitting, which I've done a lot of. Although I'm not happy with this one yet, It's not quite right, I need to shape it more.''
The shaping of animal sculptures has become something of a family activity.
Their daughter, Sarah (27), lives with her parents and is studying to be a naturopath, sculpting in her spare time. Their other daughter, Elisha (26), is married with two young boys, lives in Christchurch and, according to her parents, has really taken to the craft, sculpting whenever she can.
"She is really very good at wildlife sculpture,'' Bill says. "Horses, falcons. When Elisha was with us, she would work in the workshop pretty much full-time.''
The price of the pieces is based mainly on the workload.
Their popular stainless steel raupo sculptures generally take about 8 to 10 hours and cost between $750 and $1500. The most expensive piece to date is an 1880s-themed scene which is now sited next to public toilets on Scotland St; that took six months to create, at a cost of $50,000.
Despite the influx of interest that has them busy until next June, Bill and Michelle rarely turn down orders.
"As long as they are willing to wait ... and I am amazed at how long some people are willing to wait,'' Bill says.
Their customers comprise all types, from all over New Zealand, to England, the United States and Europe, he says.
"A couple from London were just passing through, travelling all around the country, and we ended up sending a big table over there,'' Michelle says.
Despite the workload, Bill feels they are lucky to be able to create for a living.
"It's great to have the chance to do this full-time. The demand only seems to be growing. There's no telling where the next order will come from.''