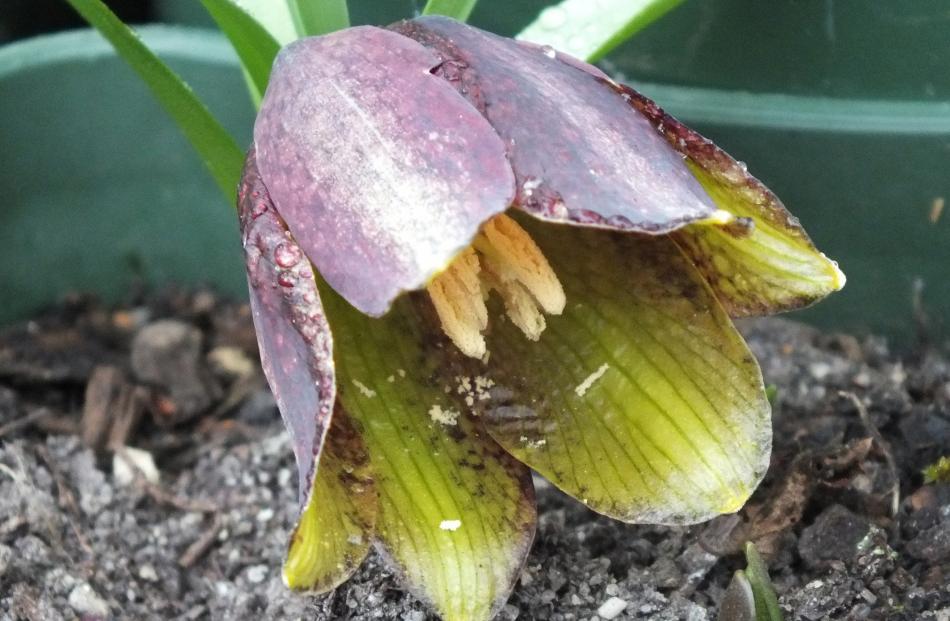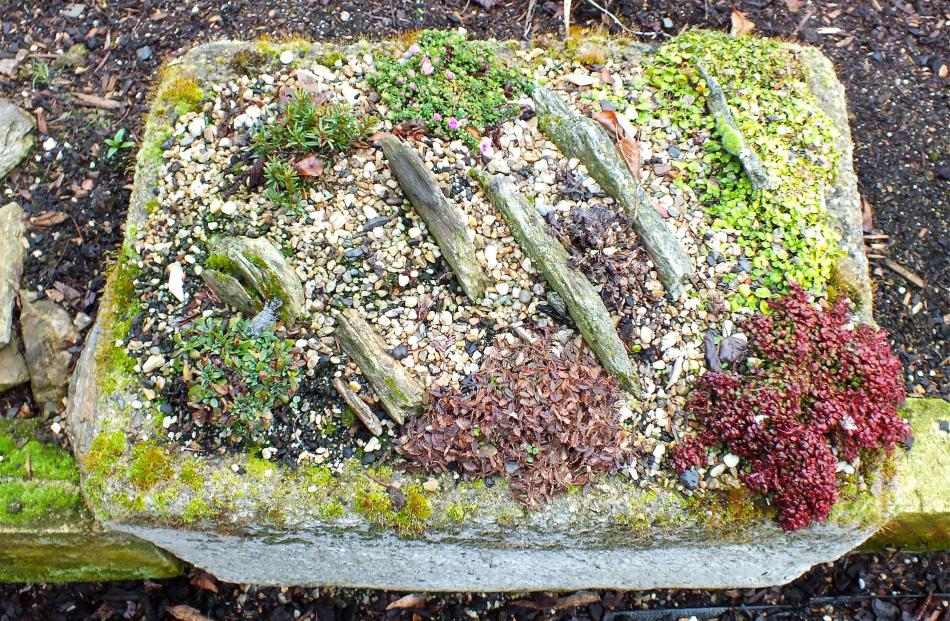 Small is beautiful in a South Otago garden. Gillian Vine reports.
Those who grow alpine and rockery plants claim they usually have something in flower all through the year. Lesley Cox's garden at Clarendon, in South Otago, proves the point with saxifrages, fritillarias and snowdrops among those blooming in winter.
She started growing tiny plants when she was 5 or 6, ``close to 70 years ago ... and I've been growing alpines seriously since I was about 13,'' she says.
In February 2013, she moved to Clarendon, taking truckloads of plants in pots and troughs.
``Virtually everything you see came with me to here,'' she says, indicating her expansive collection.
There are drawbacks, though, as rabbits are a pest that she, her partner and their dog never seem to get on top of, while her chooks scratch out anything left uncovered.
Lesley has a splendid collection of small bulbs, including about 20 different snowdrops (Galanthus) and it's easy to fall in love with the likes of Emerald Hughes, whose vivid green markings fade to lemon as blooms age.
Her crocuses are a knockout, too, with Crocus cvijicii x veluchensis an eye-catching apricot suffused with lavender. Lesley explains that this is a hybrid that appeared in a batch of seed in which a rich orangey gold crocus was pollinated by a purple-flowered species. It shows how exciting the results of hybridising can be.
Another unusual crocus is C. olivieri ssp. balansae Chocolate Soldier, whose history is fascinating. It was discovered and named by the naturalist, plant hunter and writer Edward Augustus (E.A.) Bowles before World War 1, then vanished. Some 80 years later, in 1997, a clump was found growing in the garden of Primrose Warburg, a renowned bulb collector and galanthophile (snowdrop fanatic), who had died the previous year. Before she died, she had given the Royal Horticultural Society's crocus group permission to take anything of interest from her garden after her death and it was members who found Chocolate Soldier, now assured of survival by sending it around the world.
Tiny narcissi are another of Lesley's interests and she has bred a number, including Susan Cox, named after her daughter. She has applied for registration of it with the American Daffodil Society and as only something different from the thousands already there is eligible for the register, to be accepted would be a coup.
``What's different is it's very, very vigorous,'' she says.
That characteristic set it apart from others grown from the same cross.
``This one will make five or six flowering-sized bulbs in a year,'' she says, adding that most daffodils take two to four years to double.
As well as bulbs, Lesley grows irises large and small, and is a member of the New Zealand Iris Society's national executive. The attraction is rather like that of alpines and rockery plants, as iris species and varieties can be selected to have blooms from April through to January.
Many of Lesley's plants are grown from seed. Some she collects from her own garden, while other seed is imported from all over the world. She is meticulous about obeying New Zealand's laws about bringing in material, something that regrettably means turning her back on the thousands of new plants discovered in central Asia and China over the past 20 years.
She is president of the Otago Alpine Garden Group and is planning to have some of her plants on sale at the show at St Peter's Church hall, Hillside Rd, on October 1 and 2.
Last year's show was a resounding success and the stallholders will all be returning, plus some additional sellers of small treasures so, added to the promise of good quality exhibits, the OAGG is hoping for strong public support.