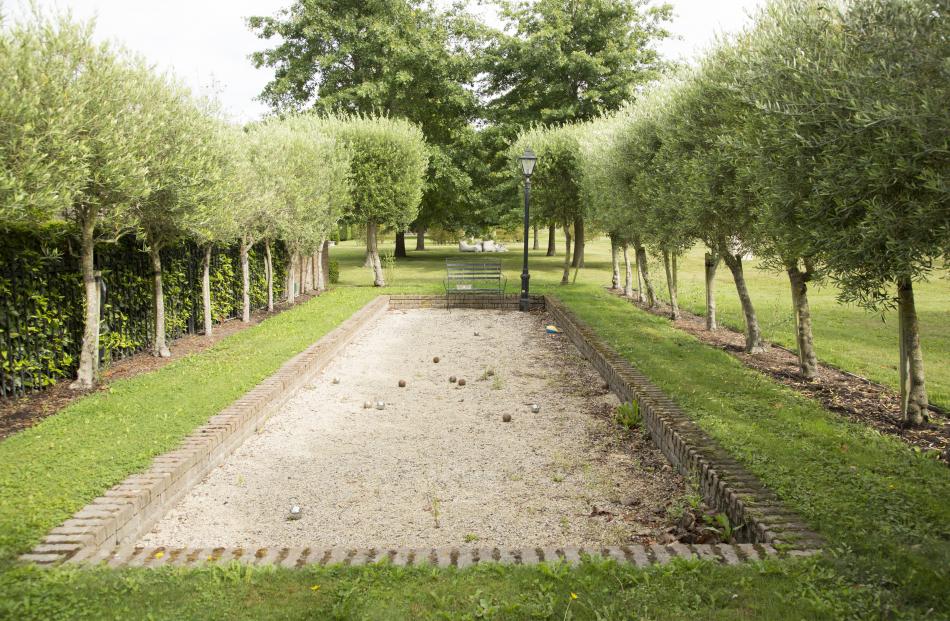 In this extract from Andy Ellis' new book Kiwi Backyard, he looks at the traditional-style garden of Jason Gunn. 
I first discovered my green-fingered tendency when I worked as a landscape gardener while on a cricket scholarship in England. I loved the job, which involved all sorts of work in some stunning English backyards. I was constantly blown away by the age of the specimen trees, the traditional box-hedging borders, and the rose gardens so immaculate I'm sure even Her Majesty the Queen would have taken a second look.
The traditional-style garden captures everything I love best about the formal garden look. Relatively simple and clean, traditional gardens rely on regular shapes, contrasting straight and curved lines, and symmetrical placement of plants and features. They usually include several of my favourite elements: box-hedge gardens, a grand formal lawn, specimen trees and of course some hedging.
When it comes to impressive hedging, there's no better example than the garden of my good mate Jason Gunn and his wife, Janine. Their garden has some fantastic examples of beautiful hedging, both traditional and innovative.
I grew up watching Jason on The Son of a Gunn Show (alongside his mate Thingee) and on What Now. He's such a champ, and not only super talented but also full of optimism and energy. It was so cool to visit his backyard, and see how at home he feels in those grand surrounds.
As you can see, Jason and Janine's backyard is an outstanding example of a traditional English garden with some definitively Kiwi touches, such as the circular screen of golden totara (
Podocarpus totara
`Aurea') planted around the ornate circular colonnade. There's also a French petanque court surrounded by pleached olives (
Olea europaea
), as well as an amazing formal parterre or knot garden of sharply clipped
Buxus sempervirens
, and a craggy cypress shelter belt. This garden really brought a smile to my face when I visited it. I was particularly taken with the statues cleverly positioned throughout - to my mind, they perfectly suit the traditional garden and contribute to a really opulent feel.
There are lots of reasons to include hedging in your own garden, especially if you're after that formal look of Jason's backyard, and there's a whole variety of different species to choose from. Since the early days of colonisation, buxus hedging has probably been the most popular form of hedging in New Zealand. I've used plenty of it in my properties. Left unclipped, a mature plant reaches 2m in height and spread and has a slightly rounded form, but it's easily kept to less than 60cm if you prefer a low hedge. The only problem with buxus is that, in recent years, it has started dying out in ugly, bald brown patches due to a fungal disease called buxus blight, which is much worse in northern parts of New Zealand. Regular spraying is needed to control the spread of the disease, so if you don't want to use chemicals it's better to look for alternatives. Good options would be Korean buxus (Buxus koreana `Green Gem') or a soft-leaved Japanese holly such as Ilex crenata. You could also use low-growing Lonicera nitida (known as "poor man's box" because it's cheap and speedy compared to buxus). Then there's bay laurel (Laurus nobilis) or native totara (Podocarpus totara), both of which make superb tall and slender hedges for bordering driveways and fencing areas with limited space. Box hedging (Buxus sempervirens) does require a bit of work, though, so it's lucky we Kiwis aren't afraid of getting stuck in. If you want to achieve a sleek, hard-edged look - and I do like a neat edge myself - you'll need to prune your hedge up to four times a year.
If you haven't gathered, I'm quite a fan of hedges. Maybe it's a product of my time in England, but I've definitely got a bit of a thing for the more formal look. There's just something about how the soft curves of a traditional garden, scattered with topiary and flowers, counter the harsh lines of a house that gets me every time. I also like that in a traditional garden you can have several distinct spaces, linked together by pathways softly lined with topiary and immaculate hedging. (There's that hedging again!) From a landscape architect's point of view, there's just so much to play with when it comes to a traditional garden, and it's fun to add a local twist by using native plants.