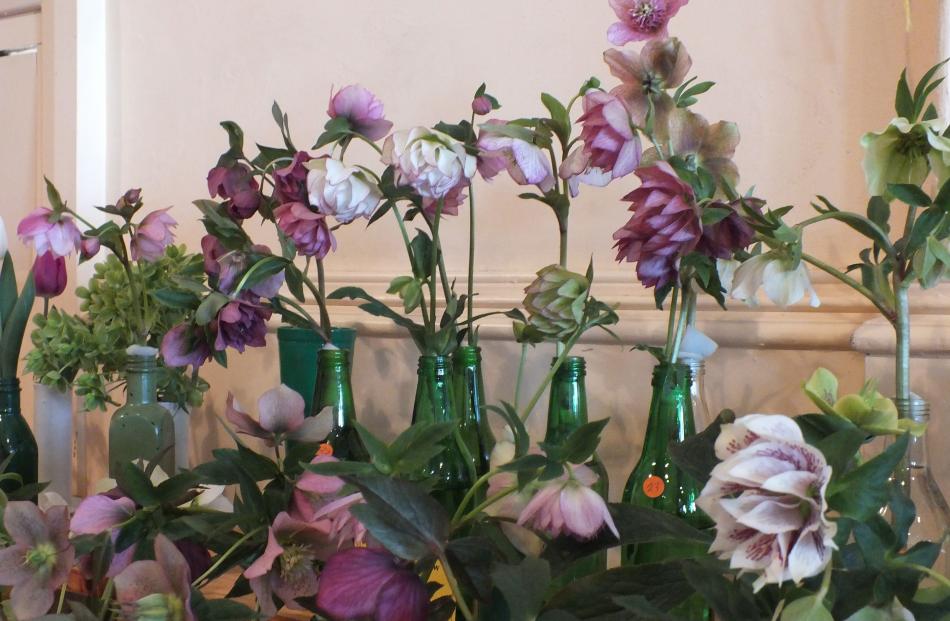 Flower shows are a welcome sign of spring. Gillian Vine  reports on two longstanding community shows. 
As garden clubs and community organisations falter from lack of members, it is cheering to see volunteers coming forward to ensure the survival of two longstanding spring flower shows.
Waikouaiti Presbyterian Church has been holding flower shows since at least 1910, while the West Taieri Horticultural Society was running summer and autumn shows in Outram as early as 1914.
Although newspaper reports indicate strong support, Outram as a venue seems to have been short-lived as by the late 1920s, the society was using Mosgiel halls.
Then in September 1932, a spring flower show, run by the West Taieri Women's Division of Federated Farmers (WDFF), was held in Outram's Agricultural Hall. Despite setbacks, such as no shows in World War 2, the Outram event lives on and is marking its 85th anniversary next Friday, September 15.
The WDFF ran spring and autumn shows until 1989, when the Maungatua Presbyterian Church took over the summer show in February. In September 1990, the last WDFF spring show was held and it was then agreed that the church would take responsibility for the spring event while the Outram Garden Club would stage the summer show. Those arrangements are still in place.
Like many flower shows, Outram's spring event came close to folding in recent years but a small group of determined supporters ensured its survival. Co-ordinators of the Maungatua show are Denise Chaplin, of Maungatua, and Outram's Daphne MacFarlane, who hope this year's event will be as well supported as last year's.
The story in Waikouaiti is similar, as the task of running the biennial show has been transferred from the church to the town's garden club. Show manager Stuart Brown is trialling a two-day event, so people unable to attend on the Friday can go to the show on Saturday.
From the earliest days, children have been encouraged by making their entries free. As well as flowers, paintings by school pupils add colour and organisers of both shows say their local schools are to be commended for continuing to support the event so enthusiastically and members of the public for providing sponsorship.Mr Brown said: "This year, we have an addition to the daffodil section, an 'extra' just for children.
"Another new section is wine and preserves, which I hope will be a lot of fun," he said.
Each show committee has worked to make entry as simple and inexpensive as possible, with the object being to get lots of entries and make their shows are as colourful and community-friendly as possible. At Maungatua, there is a flat charge of $2, regardless of how many classes and entered and at Waikouaiti, entries are 20c each, with a maximum fee of $5 (additional entries are free). For each event, there is no need to pre-enter — competitors just take entries along the evening before or on the morning of the flower show. There will be people on hand to advise on the correct class and to help with staging.
As a way of welcoming spring, Waikouaiti and Outram seem to have it sussed.
The shows
For show schedules or queries, contact Denise Chaplin (Maungatua), email chaplin.millbank@xtra.co.nz or phone 486-2635; or Stuart Brown (Waikouaiti), email brown.sl@ihug.co.nz or phone 465-7646.
• The Maungatua Presbyterian Church spring flower show will be held in the church hall, Holyhead St, Outram on Friday, September 15. It is open from 2-6pm. Adult admission is $2, children free and afternoon tea is $3.
• The Waikouaiti community spring flower show will be held over two days, Friday, September 29 and Saturday, September 30, in the Events Centre, Main Rd, Waikouaiti. The show will be open to the public on the Friday from 2pm-5pm and 10.30am-3.30pm on the Saturday.  Entry is by gold-coin donation.