Many people dream of a laid-back lifestyle on the beach, but it often takes tough decisions and hard graft to get there. In this edited extract from Derek Morrison's Living the Dream, Dunedin couple Lyndon and Kirsty Fairbairn tell how they made it happen.
Our conversation is cut short. Lyndon has been studying the tide for the past 10 years. It's about to hit a sweet spot across the sand that has built up at a surf break a mere 100m from the front door of his house.
Some call the wave Lyndon's Left; others call it The Channel. Either way, Lyndon is its unofficial master. It's about to hit a 30-minute window when the wave will be at its very best.
Like most surfers, Lyndon Fairbairn is obsessed by the ocean. He plans his life around the ocean's tide pulses, swells and the wind that blows across its surface. Unlike most surfers, he has found a way to ensure the surf lifestyle he loves is sustainable across the arc of his life: financial freedom.
He knew early on that he would need to engineer his life to realise the future, and the freedom, he needed. Luckily, he met and married a girl with equal fervour.
Lyndon was born a few blocks away from his beachfront address in St Clair, Dunedin. He grew up in Bay View Rd and started surfing when he was 11. His father and older brother had taken up surf life-saving so the ocean was open slather. While he was at intermediate, the school went to the surf club to learn a bit about surf life-saving.
"They had these blue boards — little blue grommet boards and we got to have a go on those," Lyndon recalls.
"Me and my mate Tones [Tony McCombe], we just stood up straight away. And that was the start of it all."
Kirsty was born outside Canberra. Her mum is an Aussie and her dad is a Kiwi with Polish heritage.
"When I was about 6 months old, they packed up their Holden HQ station wagon with all their belongings, got on a boat and moved back home," she says.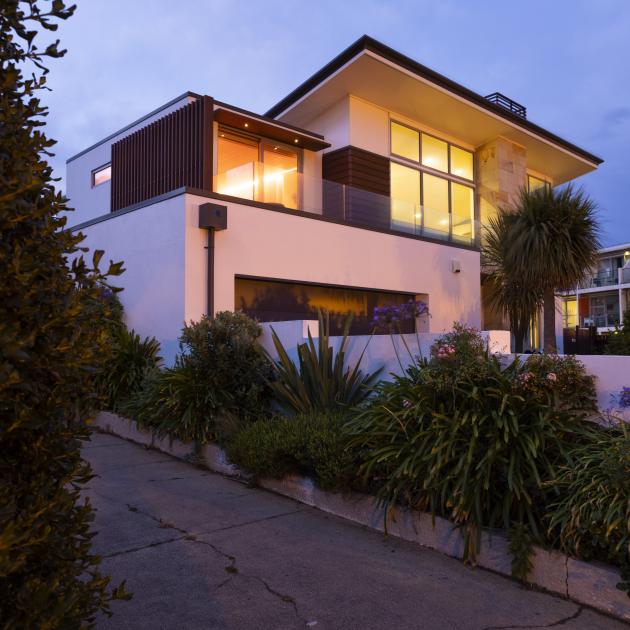 She attended Tahuna Intermediate and then Bayfield High School, where she met Lyndon in their last year of school, 30 years ago.
The following year, Kirsty started a bachelor of science degree at Otago University. They moved to Sydney in 1997, and she was writing up her master's thesis by then.
While Lyndon didn't know what he wanted to do, Kirsty knew exactly.
"I was involved in sport at high school as a runner," she says.
"I represented Otago a few times and Bayfield High School at national level. I'd do 800 metres, 1500 metres, three kilometres and cross-country. I was always interested in sport and I was always interested in science ... I decided to do nutrition, then did dietetics, then a master's and then a PhD, so I ended up studying for ten years."
Lyndon completed a degree in commerce and operations management.
"I went to uni to delay having to work, and then we got to Sydney and I started working," he recalls.
"I was managing a Pizza Hut, and it was appealing because it wasn't quite nine-to-five, so I could surf and work."
About a year into it, reality hit for Lyndon.
"It was like: well, this ain't going to cut it for the rest of your life and I don't want to have a job where I was only going to get three to four weeks to live my life and surf," he shakes his head.
"That freaked me out. That's when I thought, I really have to knuckle down and learn about money. I got a job at the very bottom rung at an investment bank, Zurich Investment Bank, in North Sydney. I was on the phones at a call centre and I was just answering the phones about people's managed funds, their insurance. I started to learn about money."
Soon enough, another division popped up within the bank: financial planning.
The company paid for Lyndon's diploma in financial planning at Deakin University in Melbourne. That's when Lyndon started getting serious about where he was going.
"If I wanted to have that freedom to surf, then money was going to be the key vehicle to doing that. I just wanted to learn everything about it."
Lyndon moved to another financial planning company, which established an investment property department. Helping people buy off-plan investment properties really clicked for him and planted the seed for his own company idea.
[He] paid a mate $260 to set up his website, he wrote all the content and that's how New Zealand Property Solutions started.
[The company] launched at the perfect time in the early 2000s. Online buying was starting to become a bit of a thing — particularly around investment property and buying in different countries. It was new and a big growth area.
In 2005, Kirsty fell pregnant with Liam and that posed a very big question.
"We asked ourselves: 'Do we want Kiwi kids or Aussie kids?' And that was a pretty straightforward decision," Lyndon laughs.
They moved back [to New Zealand] in October 2005.
In those last years in Sydney, they saved massively and bought several properties in Dunedin, since the Sydney market was beyond them at that stage.
In 2008, Lyndon sold his very successful company [and] received "a big wad of cash" for it.
"I remember when I was a grommet, just sitting out surfing The Channel on the little lefts, looking back at the houses thinking, 'If I ever had some money, I'd buy this one'," he says.
"We tried to buy it privately and thought we were paying too much. Then the owner listed it with an agent and we ended up paying way more than we were going to privately."
They bought the house in 2009; it was tenanted at the time. Lyndon immediately sat down with his brother-in-law, Dick Geeves,who is a builder. They started to make plans for the dwelling. The person who built the house had the living area downstairs and a "rabbit warren" of small rooms upstairs — where the views are.
"The architect suggested taking the first floor off and starting again," Lyndon says. "So we just built it up. We wanted the elevated views, upstairs living and downstairs bedrooms."
They started the rebuild in January 2011 and had moved in by May. In 2018, they added an extra room for the [two] children and the balcony out the front.
Once the build was complete, the home commanded a greater presence on the site and that affected its feeling of privacy.
They have blinds along the front of the house that can be positioned anywhere from the top to bottom of the window's height.
"You can see the surf, but people can't see you," Lyndon says.
"It's a corner house and it's on the beach and it's quite visible. People naturally think there's no privacy, but I think there's quite a bit."
"And I've got The Channel, which is right there," Lyndon smiles, pointing to a wave that is peeling beautifully towards us.