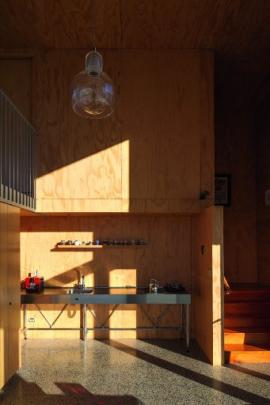 Big House, Small House, New Homes by New Zealand Architects, the latest book by John Walsh and photographer Patrick Reynolds, shows why New Zealand's residential architecture is so well-regarded. Here's an edited extract.
Taieri Mouth is a coastal community 40 or so kilometres south of Dunedin.
Southerners, when looking for a holiday home, or crib in local parlance, usually went north to Warrington or inland to Wanaka.
Taieri Mouth was left for hardier folk to enjoy.
Even now, the amenities are provided by the site rather than the local council. The place's attractions include a long stretch of empty white sand and the narrow gorge of the Taieri River as it cuts its way down to the Pacific.
Odd, then, to find a sophisticated and urbane-looking pavilion by McCoy and Wixon Architects sitting exposed on a rectangle of raked gravel up on the hill.
The house is a decent distance from anything else and therefore cannot be said to create any disharmony. The tabula rasa allows sweeping views in all directions; the owners' telescope set up in the living room brings to mind the watch once kept by lighthouse keepers on this sometimes treacherous coast.
Hamish Wixon's minimalism is used to good effect in the house, although there is no missing the fact that this is a luxurious and well-crafted object by any standard, let alone local precedent.
A small number of plain textures vie for attention on the exterior, where the dark board is framed by carefully detailed metal corners.
Double-height glazing opens up the natural pine ply interior, which glows warmly at night for, at this isolated site, curtains on a house are as superfluous as clothes on a swimmer.
The whole structure sits on a low plinth of timber decking with a sheltering recess that seems to be waiting for a traditionally constructed small sailboat to take up residence.
Genuine cribs are often awkward-looking things, built up out of other structures and added to as family numbers grow and funds allow.
Deliberately or not, the proportions of this contemporary example recall the happenstance fit of traditional improvised solutions. The slightly top-heavy bedroom storey is jettied out from the living area, and the height of the two stacked boxes on the small footprint almost causes the composition to teeter.
Inside, the space opens out impressively, with the single large bedroom having its own internal mezzanine. The kitchen bench looks like something you might find in a potter's studio, but with all visual clutter dispatched to ply-fronted cupboards. A polished concrete floor flows seamlessly, while a free-standing wood stove and exposed flue pick up on the workshop theme.
No misjudged architectural rhetoric here, then; just a good, clean, modern crib.
---
Giveaways
• The Otago Daily Times has five copies of Big House, Small House, New Homes by New Zealand Architects, the latest book by John Walsh and photographer Patrick Reynolds to give away. To go in the draw for one write your name, address and daytime phone number on the back of an envelope and send it to Big House, Small House, ODT Editorial Features, Response Bag 500011 Dunedin, or email playtime@odt.co.nz with ''Big House, Small House'' in the subject line, to arrive before Tuesday.
---