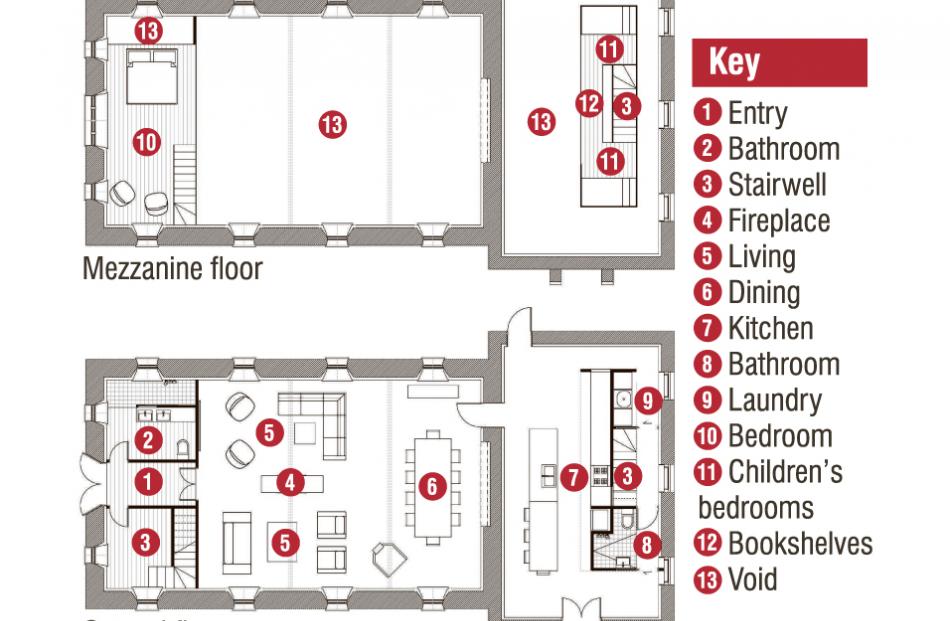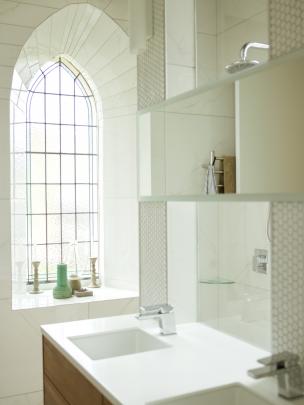 While a category 2 historic places status protected the St John's Presbyterian Church and Sunday school in Cromwell from demolition, it made them a daunting prospect for prospective buyers, writes Caroline Foster in this extract from Repurposed. 
In 2004 the St John's Presbyterian Church and Sunday school buildings in the historic precinct of Cromwell faced an uncertain future. Their category 2 historic places status protected them from demolition, but made them a daunting prospect for prospective buyers. It was only when Brendon and Kerry Urlich chanced upon the buildings that the impasse was broken.
The Urlichs are long-term ex-pats and, with a young family, were looking for a home to anchor them to New Zealand while Brendon Urlich's international career took them abroad for years at a time.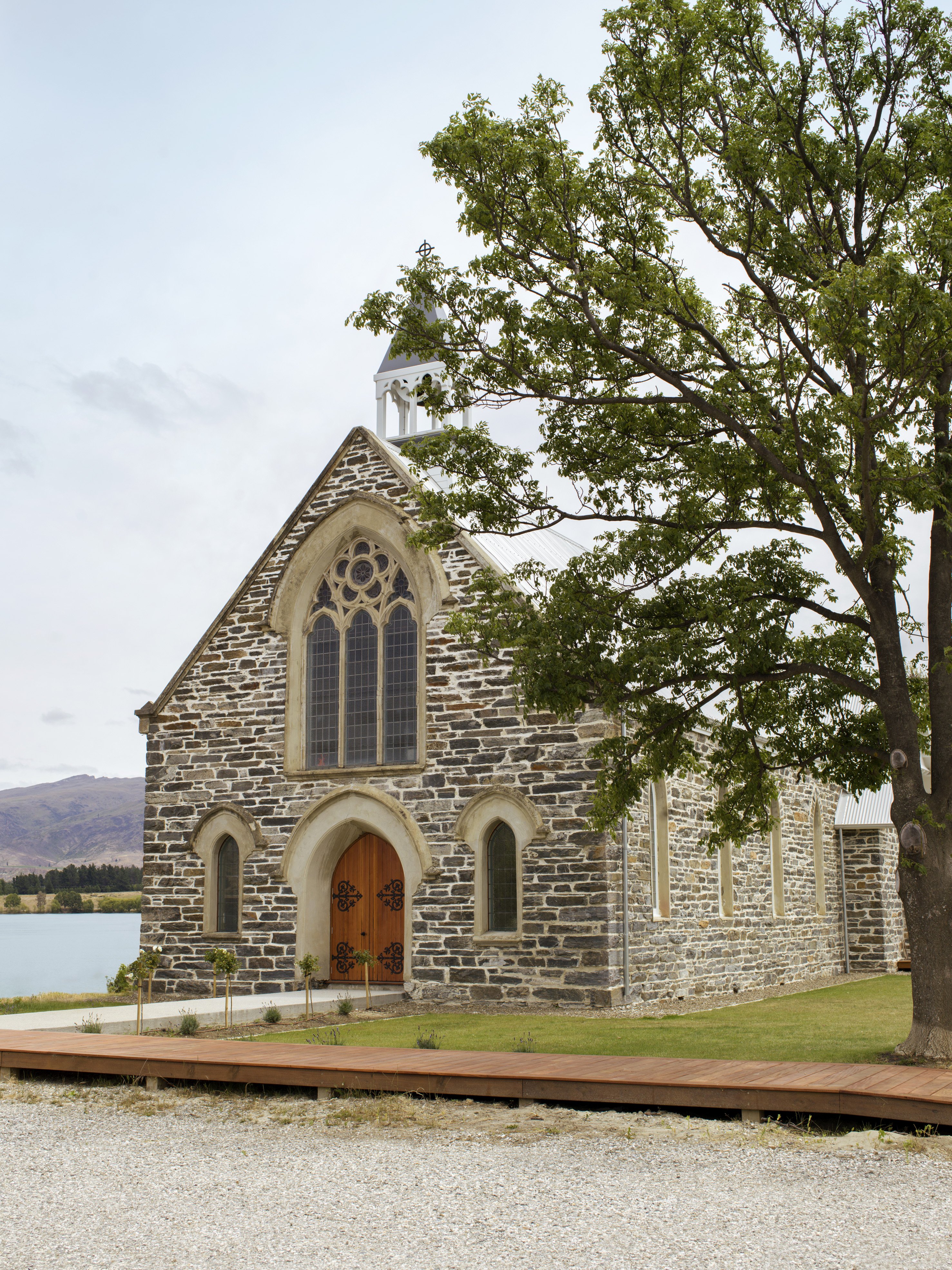 The decaying, though lovely, church on the edge of Lake Dunstan spoke to them - despite their having no previous connection to the area - and they commissioned an engineer's report to explore their options. Unsurprisingly, 135 years of extreme weather and decades of poorly executed repairs had taken their toll and they were advised that, although apparently solidly built of stacked schist, the buildings were in need of significant repairs and strengthening.
Undaunted, they completed the purchase and embarked upon two years of planning while the church authorities completed a new church large enough to allow the parishes of Cromwell and Bannockburn to amalgamate. It was not until 2006 that the building was deconsecrated and work could begin.
Restoring the structure was only one of many challenges. Converting a religious building of historical significance to domestic use brought with it a whole new level of complexity. Not only did the change-of-use regulations need to be satisfied, but the heritage status meant the external appearance could not be altered, and repairs had to be both invisible and of a suitable quality.
The first task was to make the structure dry and weathertight. The exterior stonework was repaired and repointed in schist-compatible mortar, the roof reclad and the flashings and guttering replaced so that water flow was directed away from the walls - all in such a way that to all appearances, no changes had been made.
As the building dried out, it steadily changed colour, a visual barometer of progress.
"We watched it happen between visits," Mr Urlich remembers.
"We were not permitted to install dampproofing, so doing whatever was possible to direct the water away from the building was the only way possible to address the damp. The consequent colour change was a visual thing but the actual drying out immediately made a huge difference to the comfort levels within."
As further protection against the harsh Central Otago winters, an internal timber-framed shell was inserted and the cavity between this and the exterior walls filled with what Mr Urlich describes as "big-time insulation". In addition to minimising heating costs and keeping the building cool in summer, the straight lines of this shell lend a crisp, contemporary look to the interior.
As required by the heritage status, the Gothic arched windows and cathedral ceilings are unchanged, although the building has been extensively strengthened by the insertion of steel beams in various areas. Below them - freestanding and distinctly secular in mood - internal wall dividers and large items such as the wall of kitchen storage have been constructed as "floating" elements. Not only can they be removed or remodelled should the need arise but, being separate from the original structure, they touch only lightly upon it.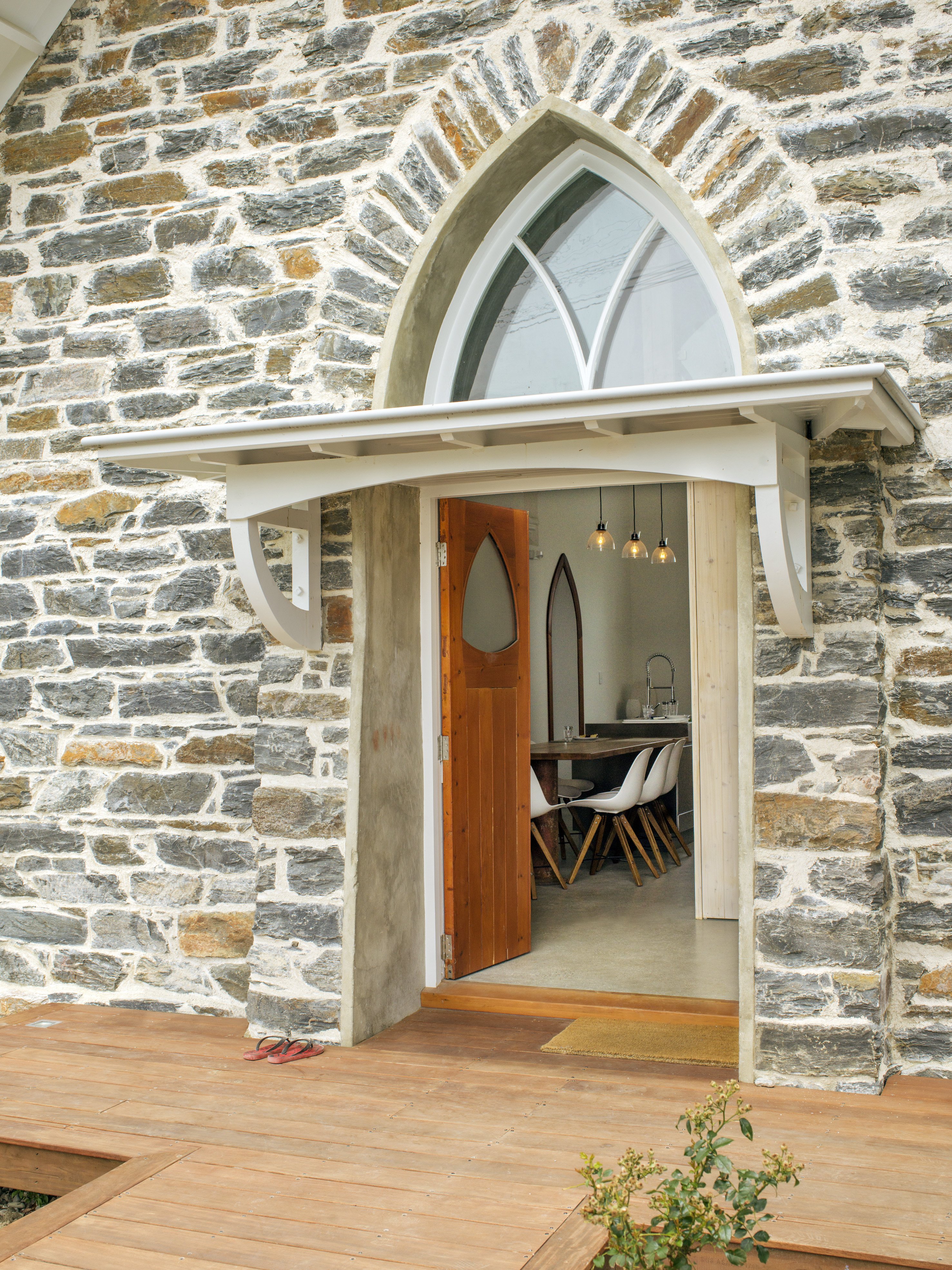 None of the original materials have been wasted. The 19th-century European beech and Baltic pine wall linings (which originally arrived from Europe in the form of shipping crates) were recycled for a second time into flooring and match-lining for the ceilings. The original rimu floor joists became skirtings, architraves and kitchen furniture. All the recycled timber was remilled to remove the wear and tear of its previous uses, but it retains the patina of age that adds character and depth to the finished result.
All involved in the restoration take immense pride in what has been achieved. Project manager Anthony Robertson relished what it took to "see an old building come back to better than it was originally. Nothing was straight and there were numerous shapes and angles that all needed to be addressed with handmade solutions. It was very labour intensive but immensely satisfying. It's not often we get the opportunity to do something like this."
Mr Urlich acknowledges it would have been cheaper to build from new, but they did not regret a cent.
"Work like what we've done here doesn't come cheap. But the satisfaction we've gained from making it good for another 140 years is immense, and knowing it will be our family's base for generations is a huge thing. It's hard to put a figure on that."
Designer notes 
Every piece of timber from the original structure has been repurposed into another use. This has  both minimised waste and  imbued the newly constructed
elements with the softening patina of age.
European beech and Baltic pine brought to New Zealand in the 19th century in the form of packing containers and originally used to line the walls have been
recycled for a second time into flooring and ceiling linings.
Internal partitions have largely been designed as "floating elements" so that their presence does not intrude on the integrity of the original structure.