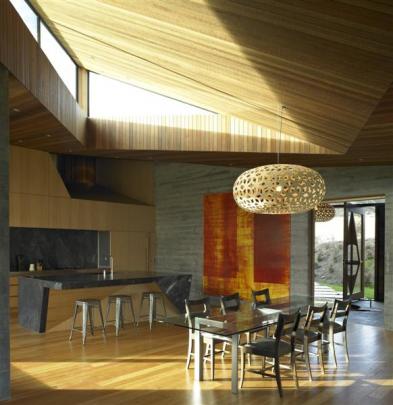 Although generous in size and theatrical in its expression, this Wanaka retreat is an intimate home with a sense of informality. A rock-like, multifaceted house tucked into a rugged hillside near Wanaka was celebrated in the 2010 Southern Architecture Awards.
Te Kaitaka is nestled among the tussock-covered hills of Roy's Peninsula on the shores of Lake Wanaka and surrounded by large valleys bisecting high mountain ranges.
This natural environment, along with local building traditions, was the inspiration for architects Nicholas Stevens and Gary Lawson.
Abstracted triangulated geometries and origami-like folds and cuts were used to create a sculptural form that related to the alpine landscape and was made with reference to the forms and textures of the area's timber woolsheds.
Local planning rules required a building platform that was no greater than 25 metres square.
The design process began with a square piece of paper. This was tilted to create a roof plane that mirrored the slope of the land, then trimmed to fit the undulating landform and to create courtyards to the east and the west.
The roof plane was sliced on the angle and folded up to form skylights; the edges were folded down to form walls.
The house features an intriguing reversal of the usual arrangement of a concrete exterior and timber interior.
In Maori culture, the cloak, Te Kaitaka, is a symbol of shelter and nurturing. In this retreat, a skin of natural cedar cloaks the raw concrete structure, like tussock draped over the rocky landscape.
The weathered camouflage exterior gives way to a cave-like interior, where concrete and stone provide a sense of protection from the power of the landscape and the extreme climate.
The central living area comprises a series of diagonally-interlocking spaces, which culminate in a cavernous aperture, carved through to the upper floor.
Shafts of winter sunlight penetrate deep into the space through raised, angular skylights and deep-framed windows.
The roof plane dips low, forming a sheltered verandah, framing views to the lake and mountains.
Textured concrete walls combine with rough-hewn schist floors and band-sawn, oiled timber ceilings. A subtle scent of cedar permeates the space.
The house is owned by an Auckland family and will eventually become their permanent home.
As well as being recognised in the local awards, Te Kaitaka was a finalist in the house category of the World Architecture Festival Awards held recently in Barcelona.
---
The specs
Floor area: 500sq m.
Bedrooms: 4.
Bathrooms: 5.
Heating: Two large fireplaces and underfloor heating. The concrete construction provides high thermal-mass.
Architects: Nicholas Stevens and Gary Lawson of Stevens Lawson Architects, Auckland.
Builder: Tony Quirk Builders, Wanaka.
---