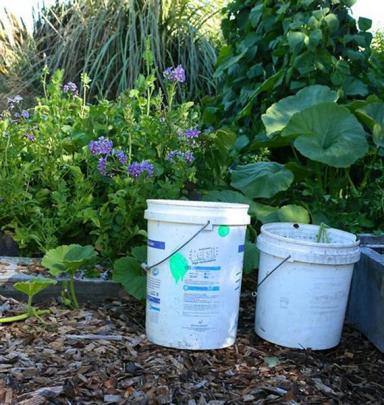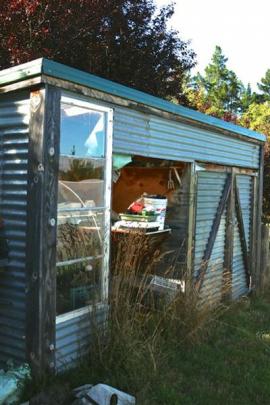 Ben Elms (aka Dr Compost) takes a look at upcycling in the garden.
Gardening could be called a hobby but I think it's much more than that; you connect with nature, with mother earth.
Now I'm not getting all airy-fairy, but if there was a gardening cult/religion I think I'd be tempted to join the ''Cult of Gardenology''.
What a greener world we might live in if this one took off.
(New members welcome.)
In the interests of saving money, upcycling materials for use in the garden would be one of my new cult's 10 commandments of the garden.
Commandment No 8: Somebody's waste is someone else's treasure.
(Don't ask what the other nine are; they've not been written yet).
Buying a kitset wooden compost bin gets costly, so the cheap option is to build it yourself from scratch.
Wooden pallets are a fantastic source of timber to build a compost container with; a species to themselves, they seem to breed exponentially, consequently there is always a healthy supply available somewhere looking for a new home.
We're lucky enough to have Wanaka Wastebusters in my neighbourhood, where there are treasures galore to be found and upcycled.
This is my first port of call when looking for something particular for the garden.
I can't remember the last time I bought a bucket; there's always something at Wastebusters that used to have a former use but will now serve as a decent solid bucket for the cult gardener.
So rather than me blathering on more than needs be, or trying to sign you up to my new cult (membership is free, contact the Otago Daily Times for more details), here are some useful upcycling ideas.
Trusty wooden pallets can build a compost bin with as many bays as you need.
Three bays is an optimum size (seven pallets), space allowing.
Try to find similar-sized pallets in good nick to keep the aesthetics good in your vege garden.
Driving around a business/industrial area, it won't take long to spy a pile or two of pallets needing a new home.
Always ask before you take. Usually you're doing a business a favour and they'll be happy to let you take them for free.
Wooden pallets can be used in a myriad of ways, from a fence to a pallet vertical vege garden.
That's not to mention other non-gardening upcycling uses, from beds to tables to firewood.
There are pages devoted to upcycling pallets on the internet; check them for more ideas.
As shiny as new garden tools are, they really don't make them like they used to!
You can't beat that Sheffield steel of yesteryear.
I'm always on the lookout for old tools.
These days they're starting to sell at a premium, but can still be worth every dollar.
You can still find an old fork or hoe that just needs a bit of elbow grease with some sandpaper and a rub of oil and it's as good as new.
Many a greenhouse has been built using old doors and windows.
These days there are a lot of aluminium windows available.
The best glasshouse I've seen was made completely out of old windows and doors.
They also used old builder's rubble mixed with a bit of concrete to create a mega back wall for extra thermal mass.
Even on the coldest nights this greenhouse rarely drops below zero.
You can also build small seed-propagating spaces or cloche beds using a window on a wooden frame.
Windows can also be used to heat up the early season soil to help germinate seeds struggling with awkward spring weather patterns.
Raised beds can be made from an assortment of materials hungry for a new life.
Old bricks and roofing iron are perfect for this.
Put a wooden capping on the roofing iron to avoid cuts and scratches.
Many a small and larger tunnel house has been built with a mix of recycled materials, with old irrigation pipe as the struts and waratahs for supports.
Plastic bottles with the bottoms cut out can be used as cloches in the spring to protect young seedlings from cold nights.
Old perforated flow pipe can be cut to size and used as a tree protector.
Stake well so it doesn't flap in the wind, damaging your tree.
It keeps the rabbits nicely at bay.
A bicycle wheel on top of a pole, with multiple strings pegged to the ground all the way around, becomes a great beanpole feature.
Old Venetian blinds/ice-cream containers cut up become great labels for seedlings.
Old baths can be easily turned into vege beds or worm farms, egg cartons can be used for sowing seeds, car tyres for growing spuds, old CDs on fishing line can act as a bird deterrent and there's nothing like an old leather boot or gumboot with some flowers popping out of it.
Then there's stuff growing around you that can have another use: hazel suckers make sturdy poles that can be used for tepees or pole frames for your beans and tomatoes.
All your weeds can be stuck in a bucket of water and upcycled into a nutrient-rich liquid fertiliser ... So there's a few goodies you can reuse and upcycle but there's plenty more out there.
The only thing holding you back is your imagination.
• Ben Elms (aka Dr Compost) gives composting advice as part of the Dr Compost project to reduce food and garden waste going to the landfill, funded by the Queenstown Lakes District Council.