SKY WATCH: The new year starts with a bang for stargazers in this part of the world, writes Dr Ian Griffin, as on Sunday morning, the planets Mars and Jupiter will appear extraordinarily close together in the pre-dawn sky.
Weather permitting, this should be a splendid celestial spectacle, and I will be heading to one of my favoured spots on Otago Peninsula, which has an unobstructed view of the eastern horizon, to ensure I get the best view.
Such a close approach is called a conjunction by astronomers.
Jupiter and Mars will be closest at about 3.30am, when they will be separated by less than half the diameter of the full moon.
However, if you miss Sunday's close approach, the planets will form a pretty pairing every morning for the next couple of weeks. It's well worth watching.
By carefully observing the relative motions as Mars passes Jupiter, you can see for yourself that we live in a dynamic ever-changing solar system.
Jupiter will be the brighter of the two planets. It will look like a bright yellow/white ''star'' and will be visible slightly lower in the sky than its redder cousin, Mars.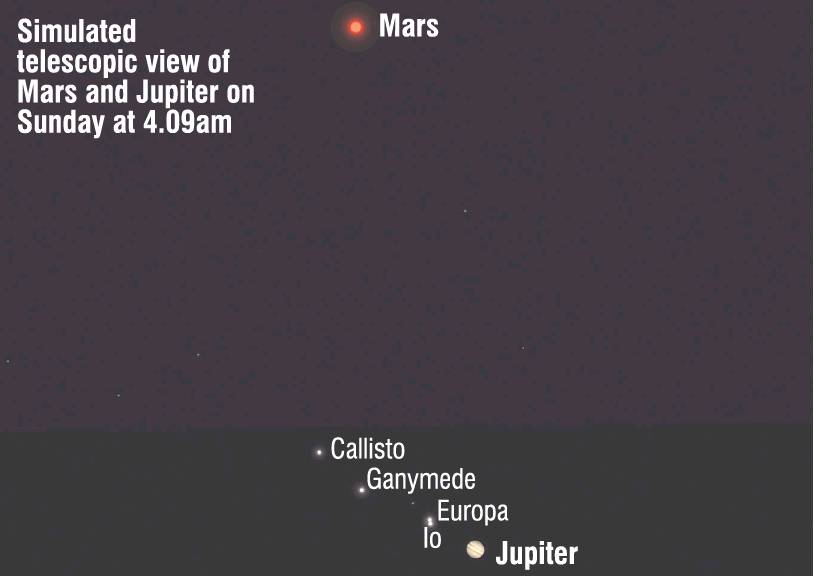 While the two planets appear to be close together, this is, of course, a line-of-sight effect. In fact, this week, Mars is approximately 285 million kilometres from Earth, while Jupiter, at 880 million kilometres, is nearly three times more distant.
The planets rise just before 2.30am in the eastern sky, and by 4.30am (just after the closest approach), both Mars and Jupiter will be 10 degrees above the eastern horizon.
If you have a telescope, Sunday's conjunction is a rare opportunity to see two planets in the same field of view.
This week's chart is drawn for just after 4am, when the planets will be higher in the sky. It shows that if you point a telescope at this celestial pairing, you should easily be able to see Jupiter's cloud belts and four major moons.
If the sky is really clear you might even catch a glimpse of a white polar cap on Mars' tiny disc.