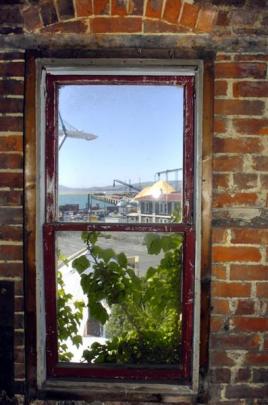 It's been the scene of mariners, mystery and murder. But its new gig is music. Nigel Benson visits Chick's Hotel.
• Quiet as a grave
All hotels have their stories and legends.
Fact and fiction mix freely when lubricated with spirits.
But few have quite as contentious a history as Chick's Hotel in Port Chalmers.
And, more than a century on, the arguments continue.
Chick's was lying dormant until two years ago, when the old hotel once again became a focal point in Port.
Publican Hector Hazard arrived in Port in 2004, after a career working as a bicycle courier in London and Melbourne.
"It's such a nice community here. I could see it clearly, because I'd just arrived," he recalls.
Mr Hazard established table tennis nights at the Masonic Lodge, which grew to include band gigs, before signing a 15-year lease at Chick's and reopening its doors on August 21, 2008.
"Chick's wasn't really planned," he says.
"It had been empty for two years and I was just looking for a roof over my head. It was in such a state and nobody else was interested in it.
"I realised what a good opportunity it was and decided to give it a go and it's all just happened organically, really. The community got right behind it.
"People helped paint and get it all up to scratch. Then we just started doing gigs and here we are 18 months later and it's going OK. Lady Luck's definitely been on our side," he reflects.
"It's a fascinating and intriguing building. It's rare to find a pub like this that hasn't been homogenised into something tasteless. The bands love playing here and staying here."
Chick's Hotel was built in 1876 by former Port Chalmers mayor Henry "Harry" Dench, on the site of his Jerusalem Coffee and Chop House and Billiard Saloon, which he opened in 1864.
The Otago Daily Times carried an advertisement for the new hotel on December 26, 1877.
"A fine three-storey building of blue stone and brick, with a flat roof, which affords a promenade and splendid view. Contains 22 rooms, the smallest of which is 13 by 3 feet, and all furnished in the very best and most comfortable manner.
" There are bath-rooms for Ladies and Gentlemen, supplied with hot and cold, fresh and salt water, boats for the use of the boarders and altogether there are possible few watering-place hotels in the Colonies which afford better accommodation."
The new hotel was called the Jerusalem Hotel, but known by locals as "Dench's Hotel", because pubs were commonly named after the owner.
However, Mr Dench hit financial problems in 1878 and was forced to sell the business.
"His debt at the time was £1583 2s, and his assets 450," the Otago Witness reported on September 28, 1878.
Local carrier George Chick bought the hotel in 1879 and it would be known as Chick's forever more.
Mr Chick had arrived in Port Chalmers from England on the Challenger in 1870, working his passage as second steward.
He later married Ellen Warry in 1871 at St Paul's Cathedral in the Octagon.
But it would be a tragic union, as four of their children died in infancy in the hotel. They now lie buried in the old Port Chalmers cemetery. Of the Chick's' nine children, only three survived to adulthood.
Tragedy struck again, 14 years later, on October 28, 1894, when Mr Chick (47) sailed to Australia to collect his brother-in-law, William Warry (37), from Orange, New South Wales.
On the voyage back, the ill-fated Wairarapa struck Miners Head on Great Barrier Island and sank shortly after midnight on Sunday, October 28, 1894. Mr Chick and Mr Warry drowned, along with 133 other souls.
The Wairarapa sinking resurfaced in 1976, during a diving expedition conducted by late diving pioneer Kelly Tarlton and his friend, Dr Simon Cotton.
Dr Cotton, now aged 83, is retired in Auckland.
"The wreck was on the northwest coast of Great Barrier, in a very inhospitable place," he recalls.
"Kelly Tarlton was a good friend of mine and he had rights of salvage. We dived on the wreck a couple of times and Kelly was also working on it with a pump.
"We had a chap called Ralph Reynolds working on it with us. The crew started to whisper to me that Ralph had found a gold ring. I confronted him about it. It was an absolutely immaculate gold ring, like it had just come off someone's finger.
"The ring had initials inside it. I can't remember exactly what, but there were three initials. I went to the ship's manifest and Chick's was the only name that fitted the initials perfectly. It was definitely his ring. There's no doubt in my mind at all.
"I said to Ralph: 'You know the rules. It needs to go back to the family'. He agreed, but then he disappeared off the compass soon after that."
In her 1982 book Bricks and Mortar, Ophir author Lois Galer shed more light on the old pub's secrets, including tales of a dungeon and tunnel leading to the harbour.
"The story goes that a hapless young man who became a little too tipsy for his own good might just have recovered consciousness either shackled in the dungeon below, or outward bound for foreign seas," she wrote.
"I tried to find my way down the tunnel to the harbour, but it was all blocked off."
She also recorded the story of an old Port Chalmers identity who lived next door to the pub and how "the sound of moaning from the dungeon would keep him awake at night".
There are legends also recalled by George Chick's great-great-granddaughter, Barbara Whitham, of Kapiti Coast, Wellington.
"We used to hear stories about how they'd take drunk sailors down into the cellars and then ship them out on the ships. It was one of those things that Mum and Grandma used to talk about," she told the Otago Daily Times.
"We were told as children about the dungeon where young sailors were held prior to being shanghaied and shipped out via a series of tunnels leading to the docks. There's even a note in an old family Bible that said shanghaiing was still secretly happening.
"It's also stated in an old Port Chalmers town plan that Chick's was built over part of the original jail.
"The basement was also used as a overflow jail for prisoners from the local lock-up, with meals being served with the assistance of the Chick family. The tunnels' entrances were later sealed up, so we were told."
Another of Mr Chick's great-great-grandchildren, Sue Gale, of Dunedin, had also heard the story.
However, Port Chalmers historian Ian Church says time has entangled fact and fiction.
"Shanghaiing wasn't being practised in New Zealand in the 1870s. It was well over by then. But it's a good story," he says, chuckling.
"The chains in the cellar were actually used for lowering beer barrels down - not tying up sailors. And the tunnels were built because there used to be a creek by Mount St and, where the fire station is now, was the first Port Chalmers post office.
"Early accounts of Port talk about people having to wade through the creek to get to the post office."
Mr Church himself remembers playing in the tunnels as a boy in the 1950s.
"A big, brick tunnel came out by the wharf and when we were kids we'd see how far we could walk up it. We never went very far, to be honest, because it was quite scary."
The Port Otago container terminal now covers the tunnels' secrets.
"Chick's did have a connection with prisoners, though, because the courthouse was on the corner, where Tucketts Corner is now, and there were cells behind the courthouse. The prisoners' meals came from Chick's."
The hotel was showing signs of disrepair by the early 1950s.
In July, 1952, the Licensing Control Commission asked the licensee "to show cause why the licence should not be cancelled".
The top floor of the hotel had not been used "for a number of years", it noted.
Chick's Hotel "was in very poor order inside, one floor being completely disused and certain amenities in the remainder of the premises were below the standard expected by the commission in licensed premises", the report read.
The remains of the 26 single rooms on the top floor of the Historic Places Trust Category 2 listed building are still condemned and, today, can only be accessed by an external fire escape.
"Chick's Hotel was known the world over to visiting seamen back then," Mr Church says.
"It was virtually the first hotel you saw when you got off at the wharf. The ships all had 60 or 70 men, in those days, and they were in for weeks.
"It wasn't like today, where they might only have a crew of 20 and be in and out in a night. Port Chalmers had nine hotels up until the 1900s."
In 1903 the Port Chalmers electorate went "dry" and Chick's lost its licence until May, 1905.
Tragedy struck again at the hotel, on August 2, 1914. Scots ship carpenter Hugh McArthur died when his bed caught fire.
After Mr Chick's untimely death, his widow Ellen, son William and daughter Edith ran the hotel until 1921.
During that time Port Chalmers flirted with prohibition, voting to go dry for a few years just after the turn of the century.
Hotels at the port banded together to stay in business, taking their case as far as the Privy Council, in London, before winning back their licences in 1905.
Having surmounted such obstacles, it was a family dispute that would finally sour the enterprise for the Chicks.
"My great-grandmother, Edith, took my grandmother, Ellen Beck, to America with her on holiday," George Chick's great-great-granddaughter, Sue Gale, says.
"Ellen was the younger sister in the family and her older sister, Olive Ivy Questard [nee Beck], was furious.
"She never never spoke to her family again. In fact, my mother, Lorraine, grew up not even knowing she had an Auntie Olive."
It would mark the end of the Chick family connection with the hotel.
"My grandmother Olive was the granddaughter of George and Ellen Chick and was born in the top floor of Chick's Hotel," Barbara Whitham says.
"She was not a happy person being left behind. We believe she ran the hotel into debt and never spoke to her mother again. This is true, as my mother, Margaret Erica Beck, told us the story. My grandmother was a cold and hard woman."
Mr Church has his own memories of the hotel.
"I remember when Fred La Hood had the pub, when I was a teenager in Port in the '50s. He had a barman called Jack McMillan, who used to call everyone 'Pal', so everyone called him 'Pal'.
"Chick's was the roughest pub in Port back then and got the scruffy element. Not a lot of locals went there, to be honest. But you never saw any trouble in pubs in those days."
"I remember the police raided Chick's one night and we had to climb over the back fence. On another occasion, I was going in after hours and my brother-in-law was helping my father out the door.
"Dad asked me: 'What are you doing here?' and I told him: 'The same thing as you!'.
"It's a lovely old pub, though. If I won $10 million, that's the building I'd buy and I'd do up all the stonework and turn it into the Port Chalmers museum."
The hotel and port had a brief revival in fortunes in 1971, with the construction of the Port Otago container ship facilities and the growth of trade in logs, sawn timber and woodchip exports.
But both the building and patronage had declined until its current new lease of life.
"Once you stick your neck in you've got to keep going," Mr Hazard says.
"We've got fresh ideas. We're going to start developing the day trade, which Chick's hasn't done before. I'm also keen to get food and a cafe going. You can't just sell beer and coffee. You've got to have something else these days."
A second-hand record shop, Too Tone Records, has been opened in the former restaurant area by Tony Renouf. It will stock music and merchandise of bands playing at the hotel.
Meanwhile, a collaboration with Volunteer Otago will soon result in the hotel hosting underage gigs by young bands from midday to 4pm on Saturdays.
"It's important for venues to think about the future," Mr Hazard muses.
• Be there
Tonight at Chick's Hotel is the Katharticus album launch, with 2009 South Island Battle of the Bands winner Special Neadz, Brain Leak and Banjo Stuey. There is a $5 cover charge.