One in every 113 people in the world is displaced, including many young people who have earned the right to a fresh start and help, Ian Munro writes.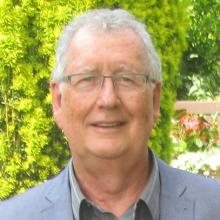 Two years on June 23, I was in the United Kingdom. It was the day of the Brexit vote and an interesting time to be there. However, the historic importance of that day was pushed aside for me by a chance meeting I had two days later.
I was leaning on the railing along the promenade in a southern England town stoically enjoying the cold, grey, drizzly summer's day and watching the waves break on the stony beach.
Unsurprisingly, no-one else was around, so I was a little taken by surprise when a young man suddenly appeared at my side silently waving a piece of paper in one hand while pointing at it with the other.
I was aware I was out of sight of traffic and passersby and wasn't sure just what to prepare myself for.
As it turned out I needn't have worried. This young man was in a worse predicament than I've ever been in or am likely to be.
With his handful of English words, he indicated he wanted me to tell him what was in the letter. It was from the Government, telling him his benefit had been approved and what he needed to do next. His name was Ali and he lived in a flat in the town.
It's very difficult to mime an official Government letter and was just as difficult to tell him I wasn't a local and probably wasn't the person to help him.
I then worked on finding out a little about him and he produced an earlier letter, informing him he'd been granted refugee status.
I managed to discover he was only 18, was Iranian, had walked, trained and hitchhiked to France over two years, had been in the camp in Calais and had got across to England on the axle of a truck.
He was now living alone in a flat in this tired seaside town.
By now words had failed me, too. The issues and dramas of a New Zealand teenager, while serious in many cases, paled somewhat by comparison with what this young man had been through.
From age 16 he'd been travelling on his own, roughing it and living in camps, and had never been to secondary school because of the events prior to his fleeing Iran.
We conversed in our strange way until the rain arrived and we went our separate ways, but I often think about him and wonder how he's coping and how I could have better helped him.
One in every 113 people in the world is displaced and there are many, many Alis out there, very similar to the Tampa boys New Zealand took in.
They have earned the right to a fresh start and, if you have the opportunity to assist these young people or their families in any way, they deserve it.