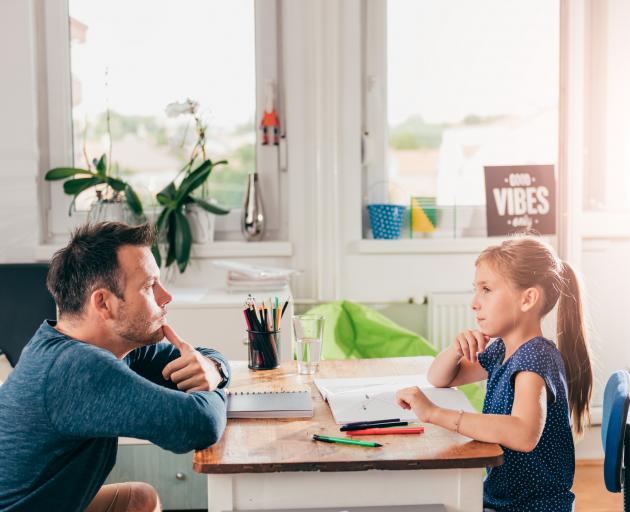 Communication is important in any relationship, writes parenting coumnist Ian Munro.
Several weeks ago, I wrote about the importance of communication with our youngsters and sideways listening.
However, there is another, equally important communication channel and that's between us, their parents. We need to talk, talk, talk, compromise if necessary, and then agree, agree, agree.
I've found that, more than anything else, it's important that there's agreement about the rules and boundaries parents are going to set and that both apply them consistently. For example, when one says that homework or chores must be finished before television is watched and the other lets them watch whenever they want, there'll be trouble.
And that trouble will be that the kids end up setting the rules: they do what they want when they want, usually by playing one parent off against the other. And when they become teenagers, watch out; neither parent will have much, if any, authority.
Parents must be in agreement on the penalties for breaking rules or disobeying instructions and then they must apply them equally. Not doing so undermines the authority of the other parent. And guess what? While you might think you're a bit of a hero in your kids' eyes for letting them off, they won't see you that way. They'll only see you as a pushover. There's no respect to be gained by being one of those and, eventually, they'll walk all over you.
If these things are not talked through and sorted because it  seems too hard or leads to arguments, then confusion will reign. Without boundaries, children will behave in an aimless manner, developing disturbing, often anti-social behaviours. They will grow up feeling that their parents don't actually care about them or what happens to them. So why bother about anything.
"I'm obviously a pretty worthless sort of person".
Worse, where parents have abdicated their authority, it's also possible for one of the children to become the boss of the others, making their lives miserable. Eventually, this youngster graduates to become the boss of the family. The resident bully.
Lack of communication between parents can also allow a child to become a key person in the adult relationship, becoming, perhaps, a confidant or a rival for the other parent's attention. This goes way beyond just playing parents off against each other. In this way, the youngster can manipulate one parent emotionally and punish the other parent at will.
Communication and co-operation brings consistency, which means your children know where they stand. They know where the line is; they know that applies yesterday, today and again tomorrow. This sense of consistent continuity gives tremendous security and makes for a settled and happy child.